Fumito Ueda confirma que The Last Guardian sigue en desarrollo
19:18 5/12/2011 | Aunque no especifica si se ha ido de Sony o no.
---

El creador de The Last Guardian, sorprendido por la positiva reacción a su juego
9:57 3/2/2010 | Fumito Ueda presentó su próximo título en el E3 09.
---

No habrá continuaciones ni de Ico ni de Shadow of the Colossus
13:19 30/9/2009 | Fumito Ueda no cree que pudiesen hacer algo mejor.
---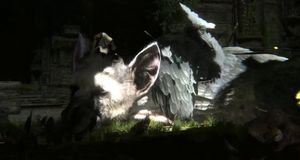 1:52
TGS
El nuevo tráiler de la aventura del Team Ico que llegará a finales de 2011.
Galería de imágenes y wallpapers de The Last Guardian para PS3 con diferentes resoluciones y en alta definición (HD).
Última: 19:46 26/4/2014
Opinión de
trguero
el día 19:46 26/4/2014
I am serious China seller,We company sell brand clothing,lowest price,high quality
have brands: Nike,Adidas,Puma,Gucci,LouisVuitton,Armani,Burberry,Moncler,Ralph Lauren,Lacoste,Dolce Gabbana,Hugo Boss,Abercrombie Fitch,CalvinKlein,Dsquared2,Louboutin,Givenchy
welcome check my website: http://www.sstoree.com
---
Opinión de
sonniko
el día 25/11/2010
Será de lo mejor que se ha hecho nunca.
---
Escribe tu opinión sobre el juego
:
Todavía no hay vídeos compartidos. ¡Sé el primero!.