PlayStation ha anunciado PlayStation Indies, una oleada de ofertas en juegos independientes y de editoras medianas para PlayStation 4 y PlayStation 5 que durarαn hasta el 3 de marzo. En total, contando expansiones y contenidos adicionales rebajados, son mαs de 1000 tνtulos de oferta entre los que se incluyen ιxitos recientes como Fall Guys: Ultimate Knockout y Untitled Goose Game y joyas imperdibles como Hollow Knight y Cuphead.
No perdαis de vista Fall Guys: Ultimate Knockout por 14,99 €, Cuphead por 14,99 €, Overcooked! 2 por 12,49 €, Undertale por 10,49 €, The Walking Dead: Saints & Sinners por 27,99 €, la ediciσn completa de Little Nightmares por 7,49 € y Untitled Goose Game por 13,99 €.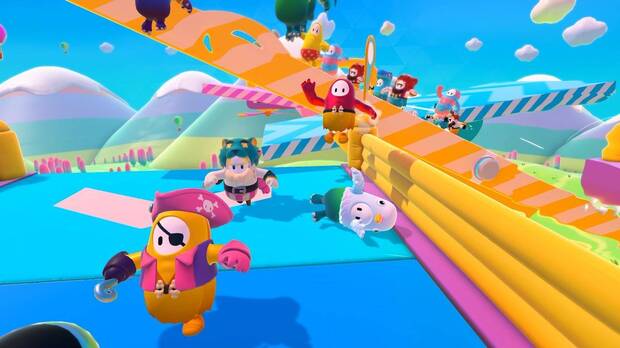 Otros de los juegos mαs destacados son:
Ratchet & Clank de PS4 serα gratis en marzo
En otras noticias sobre PlayStation, la compaρνa ha anunciado la vuelta de la campaρa Quιdate en Casa, que arrancarα en marzo ofreciendo gratis en PlayStation Store Ratchet & Clank para PS4 sin necesidad de ser suscriptor de PS Plus. En abril y mayo habrα otras promociones similares de parte de la marca japonesa.
Por otro lado, Sony emitirα un State of Play este jueves 25 de febrero a las 23:00 hora peninsular espaρola donde mostrarαn mαs informaciσn sobre 10 juegos que llegarαn a PlayStation 5 y/o PlayStation 4, tanto exclusivos de PlayStation Studios como tνtulos desarrollados por terceros.
A continuaciσn podιis consultar todas las ofertas disponibles en PS Store:
Todas las ofertas para Usuarios Plus
Todas las ofertas para usuarios estαndar
Juego σ pack
Precio
Oferta
Dto.
#Funtime

Hasta

14.99 €
7.49 €
50%
'Mamα me ha escondido el juego!

Hasta

4.99 €
3.49 €
30%
'Patrulla Canina todos a una!

Hasta

39.99 €
17.99 €
55%
ΏQuiιn quiere ser millonario?

Hasta

39.99 €
33.99 €
15%
13 Sentinels: Aegis Rim

Hasta

59.99 €
29.99 €
50%
16-Bit Soccer

Hasta

5.99 €
1.49 €
75%
1979 Revolution: Black Friday

Hasta

11.99 €
3.59 €
70%
2064: Read Only Memories

Hasta

21.99 €
4.39 €
80%
3D Billiard

Hasta

19.99 €
9.99 €
50%
3D MiniGolf

Hasta

19.99 €
9.99 €
50%
428: Shibuya Scramble

Hasta

49.99 €
9.99 €
80%
7th Sector

Hasta

19.99 €
9.99 €
50%
7th Sector Collector's Edition

Hasta

24.99 €
12.49 €
50%
8-Bit Armies

Hasta

29.99 €
5.99 €
80%
8-Bit Armies - Deluxe Edition

Hasta

34.99 €
6.99 €
80%
8-Bit Hordes

Hasta

29.99 €
5.99 €
80%
8-Bit Hordes - Deluxe Edition

Hasta

34.99 €
6.99 €
80%
8-Bit Invaders!

Hasta

29.99 €
5.99 €
80%
8-Bit Invaders! - Deluxe Edition

Hasta

34.99 €
6.99 €
80%
8-Bit RTS Series - Complete Collection

Hasta

59.99 €
14.99 €
75%
88 Heroes

Hasta

14.99 €
2.99 €
80%
9 Monkeys of Shaolin

Hasta

29.99 €
17.99 €
40%
911 Operator

Hasta

17.99 €
8.09 €
55%
A Fisherman's Tale

Hasta

14.99 €
7.49 €
50%
A Fisherman's Tale -Deluxe Edition

Hasta

19.99 €
9.99 €
50%
A Fold Apart

Hasta

17.99 €
8.99 €
50%
A Hole New World

Hasta

9.99 €
2.99 €
70%
A Knight's Quest

Hasta

24.99 €
4.99 €
80%
A Pixel Story

Hasta

10.99 €
5.49 €
50%
A Plague Tale: Innocence

Hasta

49.99 €
12.49 €
75%
A Tale of Paper

Hasta

14.99 €
8.99 €
40%
A Winter's Daydream

Hasta

5.99 €
3.59 €
40%
Abo Khashem

Hasta

23.99 €
8.39 €
65%
Absolver: Downfall

Hasta

29.99 €
7.49 €
75%
ACA NEOGEO PUZZLE BOBBLE

Hasta

6.99 €
3.49 €
50%
Accidents will Happen - Dangerous Driving Crash Mode Bundle

Hasta

34.99 €
15.74 €
55%
ACE COMBAT 7: SKIES UNKNOWN

Hasta

69.99 €
9.79 €
86%
Aces of the Luftwaffe

Hasta

4.99 €
0.99 €
80%
Aces of the Luftwaffe - Squadron

Hasta

14.99 €
7.49 €
50%
Aces of the Luftwaffe - Squadron Extended Edition

Hasta

24.99 €
9.99 €
60%
Aces of the Multiverse

Hasta

14.99 €
7.49 €
50%
ACT IT OUT XL! Un juego de adivinanzas

Hasta

9.99 €
2.99 €
70%
Action Henk

Hasta

14.99 €
2.24 €
85%
Active Neurons

Hasta

4.99 €
1.99 €
60%
Active Neurons 2

Hasta

4.99 €
2.99 €
40%
Actividad Paranormal: El Alma Perdida

Hasta

24.99 €
9.99 €
60%
Adam's Venture: Origins

Hasta

14.99 €
2.99 €
80%
Adam's Venture: Origins - Deluxe Edition

Hasta

19.99 €
3.99 €
80%
Aegis Defenders

Hasta

19.99 €
4.99 €
75%
Aegis of Earth: Protonovus Assault

Hasta

19.99 €
5.99 €
70%
AereA

Hasta

19.99 €
1.99 €
90%
AereA - Deluxe Edition

Hasta

24.99 €
2.49 €
90%
AeternoBlade II

Hasta

29.99 €
13.49 €
55%
AFL Evolution

Hasta

54.99 €
27.49 €
50%
AFL EVOLUTION PLUS SEASON PACK 2018

Hasta

59.99 €
29.99 €
50%
Agatha Christie - The ABC Murders

Hasta

19.99 €
2.99 €
85%
Aggelos

Hasta

14.99 €
7.49 €
50%
Agony

Hasta

19.99 €
3.99 €
80%
AI: THE SOMNIUM FILES

Hasta

59.99 €
23.99 €
60%
Air Hockey

Hasta

9.99 €
2.49 €
75%
Aircraft Evolution

Hasta

9.99 €
5.99 €
40%
Airport Simulator 2019

Hasta

29.99 €
10.49 €
65%
Akiba's Beat

Hasta

19.99 €
4.99 €
75%
AKIBA'S TRIP: Undead & Undressed

Hasta

34.99 €
8.74 €
75%
Albedo: Eyes From Outer Space

Hasta

14.99 €
4.49 €
70%
Alekhine's Gun

Hasta

19.99 €
2.99 €
85%
All-Star Fruit Racing

Hasta

19.99 €
3.99 €
80%
Alphaset by POWGI

Hasta

7.99 €
3.99 €
50%
Alteric

Hasta

5.99 €
1.79 €
70%
Alternate Jake Hunter: DAEDALUS The Awakening of Golden Jazz

Hasta

35.99 €
17.99 €
50%
American Fugitive

Hasta

19.99 €
4.99 €
75%
Amnesia: Collection

Hasta

28.49 €
2.84 €
90%
Amnesia: Rebirth

Hasta

28.49 €
19.94 €
30%
Amoeba Battle - Microscopic RTS Action

Hasta

17.99 €
10.79 €
40%
Amplitude

Hasta

19.99 €
13.99 €
30%
Ancestors Legacy

Hasta

34.99 €
17.49 €
50%
Ancestors: The Humankind Odyssey

Hasta

39.99 €
15.99 €
60%
Anima: Gate of memories

Hasta

19.99 €
5.99 €
70%
Anima: Gate of Memories - Arcane Edition

Hasta

29.99 €
14.99 €
50%
Another Sight

Hasta

29.99 €
14.99 €
50%
Another World - 20th Anniversary Edition

Hasta

7.99 €
3.19 €
60%
Anoxemia

Hasta

7.99 €
2.63 €
67%
Anthem : ediciσn Legiσn del Alba

Hasta

79.99 €
45.59 €
43%
AO International Tennis

Hasta

19.99 €
9.99 €
50%
AO Tennis 2

Hasta

54.99 €
19.24 €
65%
Apex Construct

Hasta

19.99 €
4.99 €
75%
Apocalipsis: The Tree of the Knowledge of Good and Evil

Hasta

5.99 €
2.39 €
60%
Aqua Moto Racing Utopia

Hasta

12.99 €
3.89 €
70%
Ara Fell: Enhanced Edition

Hasta

17.99 €
7.19 €
60%
Arca's Path VR

Hasta

16.99 €
4.24 €
75%
Arcade Archives ELEVATOR ACTION

Hasta

6.99 €
3.49 €
50%
Arcade Archives FRONT LINE

Hasta

6.99 €
3.49 €
50%
Arcade Archives TIME TUNNEL

Hasta

6.99 €
3.49 €
50%
Arcade Spirits

Hasta

19.99 €
11.99 €
40%
ArcaniA - The Complete Tale

Hasta

19.99 €
4.99 €
75%
Arise: A simple story

Hasta

19.99 €
11.99 €
40%
Arizona Sunshine

Hasta

39.99 €
9.99 €
75%
Arizona Sunshine - Deluxe Edition

Hasta

44.99 €
11.24 €
75%
ARK Park

Hasta

49.99 €
17.49 €
65%
ARK: Survival Evolved

Hasta

54.99 €
32.99 €
40%
ARK: Survival Evolved Explorer's Edition

Hasta

79.99 €
47.99 €
40%
Armikrog

Hasta

9.99 €
1.99 €
80%
ArtPulse

Hasta

12.99 €
1.29 €
90%
Ary and the Secret of Seasons

Hasta

39.99 €
19.99 €
50%
Ash of Gods: Redemption

Hasta

29.99 €
8.99 €
70%
Ashen

Hasta

39.99 €
17.99 €
55%
ASHES CRICKET

Hasta

29.99 €
14.99 €
50%
Assassin's Creed Odyssey - GOLD EDITION

Hasta

99.99 €
67.99 €
32%
Assassin's Creed Origins - GOLD EDITION

Hasta

99.99 €
62.99 €
37%
Assassin's Creed Syndicate Gold Edition

Hasta

49.99 €
14.99 €
70%
Assault Suit Leynos

Hasta

19.99 €
3.99 €
80%
Astιrix & Obιlix XXL 2

Hasta

49.99 €
9.99 €
80%
Astιrix & Obιlix XXL: Romastered

Hasta

39.99 €
19.99 €
50%
Asterix & Obelix XXL3: The Crystal Menhir

Hasta

39.99 €
13.99 €
65%
Astroneer

Hasta

29.99 €
19.49 €
35%
At Sundown: Shots in the Dark

Hasta

19.99 €
4.99 €
75%
Attack of the Earthlings

Hasta

19.99 €
11.99 €
40%
ATV Drift & Tricks

Hasta

19.99 €
11.99 €
40%
AVICII Invector

Hasta

19.99 €
9.99 €
50%
AWAY: Journey to the Unexpected

Hasta

16.99 €
4.24 €
75%
Awesome Pea

Hasta

5.99 €
2.39 €
60%
Awesome Pea 2

Hasta

4.99 €
2.99 €
40%
Axes

Hasta

4.49 €
3.14 €
30%
Axiom Verge

Hasta

17.99 €
8.99 €
50%
Azur Lane: Crosswave

Hasta

49.99 €
19.99 €
60%
Azur Lane: Crosswave - Deluxe Bundle

Hasta

9.99 €
3.99 €
60%
Azure Striker Gunvolt: Striker Pack

Hasta

34.99 €
19.24 €
45%
Bad North

Hasta

14.99 €
7.49 €
50%
Baja: Edge of Control HD

Hasta

29.99 €
4.49 €
85%
Balancelot

Hasta

7.99 €
5.99 €
25%
Baldur's Gate and Baldur's Gate II: Enhanced Editions

Hasta

54.99 €
27.49 €
50%
Balthazar's Dream (Release Bundle)

Hasta

9.99 €
4.99 €
50%
Banner Saga 1

Hasta

24.99 €
4.99 €
80%
Banner Saga 2

Hasta

24.99 €
4.99 €
80%
Banner Saga 3

Hasta

24.99 €
8.74 €
65%
Bartender VR Simulator

Hasta

17.99 €
12.59 €
30%
Batman - The Telltale Series - Season Pass

Hasta

14.99 €
7.49 €
50%
Batman: El Enemigo Dentro - Season Pass

Hasta

14.99 €
7.49 €
50%
Battle Chasers: Nightwar

Hasta

29.99 €
5.99 €
80%
Battle of the Bulge

Hasta

9.99 €
4.89 €
51%
Battle Planet - Judgement Day

Hasta

14.99 €
4.49 €
70%
Battlefield 1

Hasta

19.99 €
7.99 €
60%
Battlefield 4 Ediciσn Premium

Hasta

39.99 €
9.99 €
75%
Battlestar Galactica Deadlock

Hasta

29.99 €
14.69 €
51%
Batu Ta Batu

Hasta

4.99 €
2.99 €
40%
Bayonetta

Hasta

24.99 €
12.49 €
50%
Beach Buggy Racing

Hasta

9.99 €
4.99 €
50%
Bear With Me: The Complete Collection

Hasta

14.99 €
4.49 €
70%
Bear With Me: The Lost Robots

Hasta

4.99 €
1.49 €
70%
Beast Quest

Hasta

29.99 €
4.49 €
85%
Beholder 2

Hasta

14.99 €
4.49 €
70%
Beholder Complete Edition

Hasta

14.99 €
3.74 €
75%
BELOW

Hasta

24.99 €
12.49 €
50%
Ben 10

Hasta

19.99 €
7.99 €
60%
Beyond Blue

Hasta

19.99 €
13.99 €
30%
Bibi & Tina - Aventuras a caballo

Hasta

19.99 €
13.99 €
30%
Bibi & Tina en la granja de caballos

Hasta

19.99 €
13.99 €
30%
Bibi Blocksberg - La gran carrera de escobas 3

Hasta

19.99 €
13.99 €
30%
BIG BASH BOOM

Hasta

39.99 €
19.99 €
50%
BIG CROWN: SHOWDOWN

Hasta

12.99 €
2.59 €
80%
Big Pharma

Hasta

35.99 €
10.79 €
70%
BioShock: The Collection

Hasta

49.99 €
9.99 €
80%
Biped

Hasta

14.99 €
9.74 €
35%
Birdcakes

Hasta

5.99 €
1.79 €
70%
Birthdays the Beginning

Hasta

39.99 €
13.99 €
65%
Bit Dungeon Plus [Cross-Buy]

Hasta

6.99 €
3.49 €
50%
BL 3: Ediciσn Siguiente nivel PS4 & PS5

Hasta

74.98 €
50.23 €
33%
Black Desert: Traveler Edition

Hasta

29.99 €
22.49 €
25%
BLACKSAD: Under the Skin

Hasta

39.99 €
11.99 €
70%
Blackwood Crossing

Hasta

15.99 €
9.59 €
40%
Blaster Master Zero

Hasta

9.99 €
4.99 €
50%
Blaster Master Zero 2

Hasta

9.99 €
4.99 €
50%
Blasters of the Universe

Hasta

14.99 €
7.49 €
50%
BLAZBLUE CENTRALFICTION

Hasta

54.99 €
8.24 €
85%
BlazBlue Chronophantasma Extend

Hasta

19.99 €
4.99 €
75%
BLAZBLUE CROSS TAG BATTLE

Hasta

19.99 €
4.99 €
75%
BLAZBLUE CROSS TAG BATTLE Special Edition

Hasta

49.99 €
12.49 €
75%
Block-a-Pix Deluxe

Hasta

7.99 €
3.99 €
50%
Blood Waves

Hasta

9.99 €
4.99 €
50%
Bloodstained: Curse of the Moon

Hasta

9.99 €
4.99 €
50%
Bloodstained: Curse of the Moon 2

Hasta

14.99 €
8.99 €
40%
Bob Esponja

Hasta

29.99 €
19.49 €
35%
Bomber Crew

Hasta

14.99 €
2.99 €
80%
Bomber Crew Deluxe Edition

Hasta

23.99 €
4.79 €
80%
Bomber Crew: American Edition

Hasta

19.99 €
3.99 €
80%
Bonkies

Hasta

14.99 €
11.99 €
20%
Bonkies - Bananas Bundle

Hasta

17.99 €
14.39 €
20%
Borderlands 2 VR

Hasta

49.99 €
37.49 €
25%
Borderlands 3: Ediciσn Definitiva PS4 & PS5

Hasta

99.99 €
74.99 €
25%
Borderlands 3: Ediciσn Sϊper Deluxe PS4 & PS5

Hasta

79.99 €
57.59 €
28%
Borderlands: The Handsome Collection

Hasta

39.99 €
13.19 €
67%
Bound by Flame

Hasta

9.99 €
1.99 €
80%
Bounty Battle

Hasta

24.99 €
12.49 €
50%
BOXVR

Hasta

29.99 €
11.99 €
60%
Brain Beats

Hasta

14.99 €
11.99 €
20%
Brain Fitness del Profesor Rubik

Hasta

39.99 €
19.99 €
50%
Breeder Homegrown: Director's Cut

Hasta

4.99 €
1.99 €
60%
Bridge Constructor

Hasta

9.99 €
2.99 €
70%
Bridge Constructor Portal

Hasta

14.99 €
4.49 €
70%
Bridge Constructor Stunts

Hasta

9.99 €
2.99 €
70%
Bridge Constructor: The Walking Dead - PS4 & PS5

Hasta

9.99 €
5.99 €
40%
Bridge Constructor: The Walking Dead - PS4 & PS5

Hasta

9.99 €
5.99 €
40%
British Horror Bundle

Hasta

34.99 €
26.24 €
25%
Broforce

Hasta

14.99 €
3.74 €
75%
Brotherhood United

Hasta

8.99 €
6.29 €
30%
Brunswick Pro Billiards

Hasta

19.99 €
9.99 €
50%
Bubsy: Paws on Fire!

Hasta

24.99 €
7.49 €
70%
Bubsy: The Woolies Strike Back

Hasta

19.99 €
5.99 €
70%
Bucket Knight

Hasta

4.99 €
2.24 €
55%
Bud Spencer & Terence Hill - Slaps And Beans

Hasta

19.99 €
7.99 €
60%
Budget Cuts

Hasta

24.99 €
12.49 €
50%
Bug Fables: The Everlasting Sapling

Hasta

29.99 €
17.99 €
40%
Bulletstorm: Full Clip Edition

Hasta

39.99 €
9.99 €
75%
Bulletstorm: Full Clip Edition Duke Nukem Bundle

Hasta

44.99 €
11.24 €
75%
Bus Simulator

Hasta

39.99 €
19.99 €
50%
BUTCHER

Hasta

9.99 €
2.99 €
70%
BUTCHER: lote de Ediciσn Especial

Hasta

12.99 €
3.89 €
70%
Cake Bash

Hasta

19.99 €
14.99 €
25%
Caladrius Blaze

Hasta

19.99 €
2.99 €
85%
Call of Duty : Black Ops 4

Hasta

69.99 €
19.59 €
72%
Call of Duty : WWII - Digital Deluxe

Hasta

99.99 €
69.99 €
30%
Candle: The Power of the Flame

Hasta

19.99 €
5.99 €
70%
Cannon Brawl

Hasta

9.99 €
2.99 €
70%
Captain Tsubasa: Rise of New Champions

Hasta

59.99 €
35.99 €
40%
Car Mechanic Simulator

Hasta

29.99 €
16.49 €
45%
Cardpocalypse

Hasta

24.99 €
14.99 €
40%
Carrera con Ryan

Hasta

39.99 €
17.99 €
55%
Carto

Hasta

19.99 €
15.99 €
20%
Cartoon Network: Battle Crashers

Hasta

19.99 €
4.99 €
75%
CarX Drift Racing Online

Hasta

23.99 €
16.79 €
30%
CASE: Animatronics

Hasta

9.99 €
6.99 €
30%
Casey Powell Lacrosse 16

Hasta

19.99 €
9.99 €
50%
Casey Powell Lacrosse 18

Hasta

49.99 €
24.99 €
50%
Cast of the Seven Godsends - Redux

Hasta

6.99 €
2.09 €
70%
Castle Crashers Remastered

Hasta

16.99 €
10.19 €
40%
Cat Quest

Hasta

12.99 €
2.59 €
80%
Cat Quest II

Hasta

14.99 €
8.99 €
40%
Catch & Release

Hasta

19.99 €
14.99 €
25%
Catherine: Full Body

Hasta

39.99 €
17.99 €
55%
Catherine: Full Body Deluxe Edition

Hasta

49.99 €
20.99 €
58%
Cave Digger

Hasta

9.99 €
4.99 €
50%
Cave Digger

Hasta

14.99 €
7.49 €
50%
Caveman Warriors

Hasta

14.49 €
3.62 €
75%
CHAOSCHILD

Hasta

29.99 €
5.99 €
80%
Checkers

Hasta

9.99 €
2.49 €
75%
Chicken Police - Paint it RED!

Hasta

19.99 €
15.99 €
20%
Children of Morta

Hasta

21.99 €
10.99 €
50%
Chronus Arc

Hasta

14.99 €
7.49 €
50%
Cinders

Hasta

19.99 €
13.99 €
30%
Citadel: Forged with Fire

Hasta

39.99 €
19.99 €
50%
Cladun Returns: This Is Sengoku!

Hasta

19.99 €
4.99 €
75%
Close to the Sun Digital Deluxe

Hasta

29.99 €
10.49 €
65%
Cloudpunk

Hasta

24.99 €
16.24 €
35%
Clouds & Sheep 2

Hasta

9.99 €
1.99 €
80%
Coaster

Hasta

8.99 €
5.39 €
40%
CODE VEIN

Hasta

69.99 €
19.59 €
72%
Code: Realize ~Bouquet of Rainbows~

Hasta

49.99 €
14.99 €
70%
Code: Realize ~Wintertide Miracles~

Hasta

49.99 €
19.99 €
60%
Colecciσn del tesoro Kingdom

Hasta

29.99 €
19.49 €
35%
Colt Canyon

Hasta

14.99 €
8.99 €
40%
Commandos 2 & Praetorians: HD Remaster Double Pack

Hasta

39.99 €
19.99 €
50%
Conception PLUS: Maidens of the Twelve Stars

Hasta

59.99 €
23.99 €
60%
Conga Master

Hasta

8.99 €
1.79 €
80%
Contraptions

Hasta

8.99 €
2.69 €
70%
Crash Team Racing Nitro-Fueled - Ediciσn Nitros Oxide

Hasta

59.99 €
41.99 €
30%
Crashbots

Hasta

9.99 €
3.49 €
65%
Crayola Scoot

Hasta

29.99 €
5.99 €
80%
Creaks

Hasta

19.99 €
11.99 €
40%
Creature in the Well

Hasta

12.99 €
6.49 €
50%
Creed: Rise to Glory

Hasta

24.99 €
11.24 €
55%
CRICKET 19

Hasta

39.99 €
19.99 €
50%
Crimson Keep

Hasta

19.99 €
5.99 €
70%
Crimsonland

Hasta

9.99 €
2.99 €
70%
Croc's World 3

Hasta

5.99 €
1.49 €
75%
CrossCode

Hasta

19.99 €
13.99 €
30%
Crossing Souls

Hasta

14.99 €
3.74 €
75%
Crossovers by POWGI

Hasta

7.99 €
3.99 €
50%
Crypt of the NecroDancer

Hasta

15.99 €
3.19 €
80%
Crypto by POWGI

Hasta

7.99 €
3.99 €
50%
Crysis Remastered

Hasta

29.99 €
23.99 €
20%
CRYSTAR

Hasta

59.99 €
20.39 €
66%
Cube Raiders

Hasta

6.99 €
4.89 €
30%
Cuphead

Hasta

19.99 €
14.99 €
25%
Curious Expedition

Hasta

14.99 €
8.99 €
40%
Curses 'N Chaos

Hasta

9.99 €
5.99 €
40%
Cyberdimension Neptunia: 4 Goddesses Online

Hasta

39.99 €
13.99 €
65%
Dakar 18

Hasta

24.99 €
4.99 €
80%
Damascus Gear: Operation Osaka HD Edition

Hasta

23.99 €
11.99 €
50%
Damascus Gear: Operation Tokyo HD Edition

Hasta

9.99 €
4.99 €
50%
Dandara: Trials of Fear Edition

Hasta

14.99 €
5.99 €
60%
Danganronpa 1/2 Reload

Hasta

39.99 €
9.99 €
75%
Danganronpa Another Episode: Ultra Despair Girls

Hasta

29.99 €
4.49 €
85%
Danganronpa V3: Killing Harmony

Hasta

39.99 €
15.99 €
60%
Danger Zone

Hasta

14.99 €
3.74 €
75%
Danger Zone 2

Hasta

17.99 €
5.39 €
70%
Danger Zone Bundle: Danger Zone and Danger Zone 2

Hasta

18.99 €
5.69 €
70%
Dangerous Driving

Hasta

29.99 €
10.49 €
65%
Dark Rose Valkyrie

Hasta

49.99 €
14.99 €
70%
Dark Sauce

Hasta

4.49 €
3.14 €
30%
DARK SOULS : REMASTERED

Hasta

39.99 €
11.99 €
70%
DARK SOULS II: Scholar of the First Sin

Hasta

19.99 €
9.99 €
50%
DARK SOULS III

Hasta

49.99 €
12.49 €
75%
DARK SOULS III - Deluxe Edition

Hasta

69.99 €
17.49 €
75%
Darkness Rollercoaster - Anniversary Edition

Hasta

11.25 €
7.87 €
30%
Darkness Rollercoaster - Ultimate Shooter Edition

Hasta

8.99 €
6.29 €
30%
Darknet

Hasta

10.99 €
8.24 €
25%
Darksiders II Deathinitive Edition

Hasta

29.99 €
7.49 €
75%
Darksiders III

Hasta

59.99 €
14.99 €
75%
Darksiders Warmastered Edition

Hasta

19.99 €
4.99 €
75%
Darksiders: Fury's Collection - War and Death

Hasta

39.99 €
7.99 €
80%
Darkwood

Hasta

14.99 €
5.99 €
60%
Darkwood: lote de Ediciσn Especial

Hasta

17.99 €
7.19 €
60%
DARQ Complete Edition

Hasta

19.99 €
14.99 €
25%
DATE A LIVE: Rio Reincarnation

Hasta

29.99 €
11.99 €
60%
Dawn of Fear

Hasta

19.99 €
9.99 €
50%
Dawn of Man

Hasta

24.99 €
17.49 €
30%
Daymare: 1998

Hasta

34.99 €
17.49 €
50%
Days Gone

Hasta

69.99 €
45.49 €
35%
Dead Age

Hasta

14.99 €
2.99 €
80%
Dead Alliance

Hasta

29.99 €
4.49 €
85%
Dead Alliance : Multiplayer Edition

Hasta

19.99 €
2.99 €
85%
Dead Cells: The Fatal Seed Bundle

Hasta

29.99 €
20.99 €
30%
Dead End Job

Hasta

14.99 €
5.99 €
60%
Dead Island Definitive Collection

Hasta

29.99 €
5.99 €
80%
DEAD OR ALIVE 6

Hasta

69.99 €
20.99 €
70%
DEAD OR ALIVE 6 Digital Deluxe Edition

Hasta

84.99 €
25.49 €
70%
DEAD RISING 2 Off The Record

Hasta

19.99 €
12.99 €
35%
Dead Rising 4: Frank's Big Package

Hasta

49.99 €
31.49 €
37%
Dead Synchronicity: Tomorrow Comes Today

Hasta

19.99 €
5.99 €
70%
Deadlight: Director's Cut

Hasta

14.99 €
6.74 €
55%
Dear Esther: Landmark Edition

Hasta

9.99 €
2.49 €
75%
Death end re;Quest 2

Hasta

49.99 €
19.99 €
60%
Death end re;Quest 2 Deluxe Pack

Hasta

59.99 €
23.99 €
60%
Death end reQuest

Hasta

29.99 €
11.99 €
60%
Decay of Logos

Hasta

19.99 €
9.99 €
50%
Deep Ones

Hasta

5.99 €
2.09 €
65%
Defunct - Deluxe Edition

Hasta

19.99 €
0.99 €
95%
Degrees of Separation

Hasta

19.99 €
3.99 €
80%
Deiland

Hasta

14.99 €
5.99 €
60%
Deleveled

Hasta

8.99 €
4.94 €
45%
Deliver Us The Moon Digital Deluxe

Hasta

29.99 €
14.99 €
50%
Demon Gaze II

Hasta

49.99 €
12.49 €
75%
Demon's Crystals

Hasta

4.99 €
1.99 €
60%
Deployment

Hasta

11.99 €
3.59 €
70%
Descenders

Hasta

21.99 €
13.19 €
40%
Desperados III

Hasta

59.99 €
35.99 €
40%
Desperados III - Digital Deluxe

Hasta

69.99 €
41.99 €
40%
Destiny Connect: Tick-Tock Travelers

Hasta

39.99 €
19.99 €
50%
Destroy All Humans!

Hasta

39.99 €
25.99 €
35%
Devil May Cry 4 Special Edition

Hasta

24.99 €
7.49 €
70%
Devil May Cry 5

Hasta

24.99 €
22.49 €
10%
Devil May Cry HD Collection & 4SE Bundle

Hasta

44.99 €
19.79 €
56%
Diablo III: Eternal Collection

Hasta

69.99 €
19.59 €
72%
Dick Wilde

Hasta

14.99 €
4.49 €
70%
Dick Wilde 2

Hasta

19.99 €
9.99 €
50%
Die Young

Hasta

16.99 €
14.44 €
15%
Digimon World: Next Order

Hasta

59.99 €
14.99 €
75%
Dino Dini's Kick Off Revival

Hasta

9.99 €
3.99 €
60%
DIRT 5 PS4 & PS5

Hasta

69.99 €
52.49 €
25%
DIRT 5 Year One Edition PS4 & PS5

Hasta

89.99 €
67.49 €
25%
DiRT Rally

Hasta

19.99 €
12.39 €
38%
DiRT Rally 2.0

Hasta

44.99 €
10.79 €
76%
DiRT Rally 2.0 - Game of the Year Edition

Hasta

54.99 €
13.19 €
76%
Disaster Report 4: Summer Memories

Hasta

59.99 €
35.99 €
40%
Disgaea 1 Complete

Hasta

49.99 €
19.99 €
60%
Disgaea 4 Complete+

Hasta

49.99 €
29.99 €
40%
Disgaea 5 Complete Bundle

Hasta

39.99 €
19.99 €
50%
Disintegration

Hasta

29.99 €
14.99 €
50%
Dissection

Hasta

4.99 €
1.99 €
60%
Distrust

Hasta

14.99 €
3.74 €
75%
DmC Devil May Cry: Definitive Edition

Hasta

39.99 €
9.99 €
75%
DMC4SE Demon Hunter Bundle

Hasta

35.99 €
8.99 €
75%
Do Not Feed the Monkeys

Hasta

12.99 €
9.09 €
30%
Doctor Who: The Edge of Time

Hasta

24.99 €
13.74 €
45%
Dogfight

Hasta

9.99 €
2.49 €
75%
Dollhouse - Deluxe Edition

Hasta

34.99 €
6.99 €
80%
Don Bradman Cricket

Hasta

29.99 €
14.99 €
50%
Don Bradman Cricket 17

Hasta

34.99 €
17.49 €
50%
Don't Knock Twice

Hasta

19.99 €
9.99 €
50%
Don't Starve Mega Pack 2020

Hasta

32.99 €
16.49 €
50%
Don't Starve Together: Console Edition

Hasta

14.99 €
5.99 €
60%
Don't Starve: Console Edition

Hasta

13.99 €
3.49 €
75%
Donut County

Hasta

12.99 €
3.89 €
70%
Doodle God: Evolution

Hasta

9.99 €
6.49 €
35%
DORAEMON STORY OF SEASONS

Hasta

49.99 €
24.99 €
50%
Double Pug Switch

Hasta

7.99 €
4.79 €
40%
Downwell

Hasta

4.99 €
0.99 €
80%
Dracula's Legacy

Hasta

19.99 €
9.99 €
50%
DRAGON BALL FIGHTERZ - FighterZ Edition

Hasta

99.99 €
15.99 €
84%
Dragon Ball Xenoverse 1 and 2 Bundle

Hasta

89.99 €
17.99 €
80%
DRAGON BALL Z: KAKAROT

Hasta

69.99 €
27.99 €
60%
Dragon Marked For Death

Hasta

39.99 €
23.99 €
40%
Dragon's Lair Trilogνa

Hasta

19.99 €
9.99 €
50%
Dragones: El amanecer de los nuevos jinetes

Hasta

39.99 €
15.99 €
60%
Drawful 2

Hasta

10.99 €
5.49 €
50%
Dread Nautical

Hasta

19.99 €
6.79 €
66%
DreamBall

Hasta

5.99 €
4.19 €
30%
Dreaming Canvas Valentine Special Bundle

Hasta

3.99 €
1.99 €
50%
Dreams

Hasta

39.99 €
29.99 €
25%
Dreamwalker: Never Fall Asleep

Hasta

14.99 €
2.24 €
85%
Drive Drive Drive

Hasta

9.99 €
4.99 €
50%
Drive on Moscow

Hasta

9.99 €
4.89 €
51%
Drowning

Hasta

2.99 €
1.49 €
50%
Drunkn Bar Fight

Hasta

17.99 €
14.39 €
20%
Duke Nukem 3D: 20th Anniversary World Tour

Hasta

19.99 €
4.99 €
75%
Dungeon Rushers

Hasta

14.99 €
2.99 €
80%
Dusk Diver

Hasta

34.99 €
17.49 €
50%
Dustoff Z

Hasta

11.99 €
5.99 €
50%
Dynamite Fishing - World Games

Hasta

4.99 €
0.99 €
80%
Earth Atlantis

Hasta

14.99 €
4.49 €
70%
Earth Defense Force 4.1: The Shadow of New Despair

Hasta

19.99 €
3.99 €
80%
EARTH DEFENSE FORCE 5 Deluxe Edition

Hasta

74.99 €
44.99 €
40%
EARTH DEFENSE FORCE: IRON RAIN Ultimate Edition

Hasta

89.99 €
44.99 €
50%
EARTH'S DAWN

Hasta

19.99 €
3.99 €
80%
EarthNight

Hasta

17.99 €
8.99 €
50%
Ediciσn definitiva Seρores de la guerra de Nueva York

Hasta

79.99 €
51.99 €
35%
Ediciσn Deluxe de Fallout 76: Amanecer de Acero

Hasta

69.99 €
55.99 €
20%
Ediciσn deluxe de LEGO Marvel's Vengadores

Hasta

69.99 €
43.39 €
38%
Ediciσn Juego del Aρo de Marvel's Spider-Man

Hasta

49.99 €
39.99 €
20%
Edna & Harvey: The Breakout - Anniversary Edition

Hasta

19.99 €
7.99 €
60%
eFootball PES 2021 SEASON UPDATE STANDARD EDITION

Hasta

29.99 €
22.49 €
25%
El Extraρo

Hasta

4.99 €
1.99 €
60%
El Juego para reuniones informales: Jackbox 2

Hasta

26.99 €
10.79 €
60%
El lote BioWare

Hasta

59.99 €
35.99 €
40%
El paquete de juego para fiestas Jackbox

Hasta

24.99 €
9.99 €
60%
El Paquete de Pelνculas Interactivas

Hasta

21.99 €
18.69 €
15%
Elea - Deluxe Edition

Hasta

14.99 €
1.49 €
90%
Ellen

Hasta

8.99 €
4.49 €
50%
Elliot

Hasta

5.49 €
3.84 €
30%
EMMA: Lost in Memories

Hasta

7.99 €
3.99 €
50%
Energy Balance

Hasta

3.99 €
1.59 €
60%
Energy Bundle (Energy Invasion, Energy Cycle, Energy Balance)

Hasta

7.99 €
3.99 €
50%
Energy Cycle

Hasta

3.49 €
1.74 €
50%
Energy Cycle Edge

Hasta

4.99 €
1.99 €
60%
Energy Invasion

Hasta

3.99 €
1.59 €
60%
Enigmatis Collection

Hasta

35.99 €
5.39 €
85%
Enter the Gungeon: A Farewell to Arms

Hasta

14.99 €
7.49 €
50%
Epic Word Search Collection

Hasta

7.99 €
2.79 €
65%
Epic Word Search Collection 2

Hasta

7.99 €
3.99 €
50%
Escape From Tethys

Hasta

9.99 €
5.99 €
40%
Escape Game Fort Boyard

Hasta

39.99 €
29.99 €
25%
Espire 1: VR Operative

Hasta

29.99 €
11.99 €
60%
Esports Life Tycoon

Hasta

19.99 €
14.99 €
25%
Euro Fishing

Hasta

17.99 €
11.69 €
35%
Evasion

Hasta

16.99 €
10.19 €
40%
Eventide 2: Sorcerer's Mirror

Hasta

14.99 €
2.24 €
85%
Eventide 3: Legacy of Legends Deluxe

Hasta

19.99 €
2.99 €
85%
Eventide Collection

Hasta

35.99 €
5.39 €
85%
EVERSPACE

Hasta

29.99 €
7.49 €
75%
Everybody's Golf

Hasta

39.99 €
25.99 €
35%
Everyday Heroes Bundle

Hasta

34.99 €
12.24 €
65%
Everything

Hasta

14.99 €
3.74 €
75%
Evoland Legendary Edition

Hasta

19.99 €
7.99 €
60%
Exist Archive: The Other Side of the Sky

Hasta

59.99 €
17.99 €
70%
Exit the Gungeon

Hasta

9.99 €
6.99 €
30%
Explosive Jake

Hasta

4.99 €
2.24 €
55%
Extinction

Hasta

29.99 €
4.49 €
85%
Extinction: Deluxe Edition

Hasta

39.99 €
5.99 €
85%
F1 2020

Hasta

69.99 €
48.99 €
30%
Fade to Silence

Hasta

29.99 €
10.49 €
65%
Faeria

Hasta

19.99 €
13.39 €
33%
Fairy Fencer F: Advent Dark Force

Hasta

29.99 €
11.99 €
60%
Fall Guys: Ultimate Knockout

Hasta

19.99 €
14.99 €
25%
Fallout 4: Game of the Year Edition

Hasta

69.99 €
45.49 €
35%
Fantasy Friends

Hasta

29.99 €
14.99 €
50%
Fantasy General II: Invasion

Hasta

32.99 €
16.16 €
51%
Far Cry 5

Hasta

69.99 €
43.39 €
38%
Far Cry 5 + Far Cry New Dawn Ultimate Edition

Hasta

119.99 €
74.39 €
38%
FAR: LONE SAILS

Hasta

14.99 €
6.74 €
55%
Farm Together

Hasta

19.99 €
14.99 €
25%
Farmer & Forestry Bundle

Hasta

29.99 €
10.49 €
65%
Farming Simulator 19

Hasta

29.99 €
22.49 €
25%
Farming Simulator 19 - Platinum Edition

Hasta

39.99 €
31.99 €
20%
Farming Simulator 19 - Premium Edition

Hasta

49.99 €
39.99 €
20%
Feist

Hasta

11.99 €
5.99 €
50%
Felix The Reaper

Hasta

24.99 €
2.49 €
90%
FIFA 21 Standard Edition PS4 y PS5

Hasta

69.99 €
47.59 €
32%
Fifty Words by POWGI

Hasta

7.99 €
3.99 €
50%
Fight'N Rage

Hasta

19.99 €
11.99 €
40%
Figment

Hasta

19.99 €
9.99 €
50%
Fill-a-Pix: Phil's Epic Adventure

Hasta

7.99 €
3.99 €
50%
Fimbul

Hasta

14.99 €
4.49 €
70%
Fire Pro Wrestling World

Hasta

49.99 €
14.99 €
70%
Fire Pro Wrestling World - Deluxe Edition

Hasta

89.99 €
26.99 €
70%
Firechief Bundle

Hasta

49.99 €
17.49 €
65%
Firefighters - The Simulation

Hasta

29.99 €
10.49 €
65%
Firefighters - The Simulation Platinum Bundle

Hasta

34.99 €
12.24 €
65%
Firefighters: Airport Fire Department

Hasta

24.99 €
8.74 €
65%
Firefighters: Airport Heroes

Hasta

29.99 €
14.99 €
50%
Firefighters: Plant Fire Department

Hasta

24.99 €
8.74 €
65%
Fishing Sim World: Bass Pro Shops Edition

Hasta

39.99 €
31.99 €
20%
Fishing Sim World: Pro Tour

Hasta

19.99 €
6.99 €
65%
Fishing Sim World: Pro Tour + The Catch: Carp & Coarse

Hasta

34.99 €
17.49 €
50%
Fist of the North Star: Lost Paradise

Hasta

19.99 €
9.99 €
50%
Five Dates

Hasta

12.99 €
10.39 €
20%
Five Nights at Freddy's

Hasta

7.99 €
6.39 €
20%
Five Nights at Freddy's 2

Hasta

7.99 €
6.39 €
20%
Five Nights at Freddy's 3

Hasta

7.99 €
6.39 €
20%
Five Nights at Freddy's 4

Hasta

7.99 €
6.39 €
20%
Five Nights at Freddy's: Help Wanted

Hasta

29.99 €
14.99 €
50%
Five Nights at Freddy's: Help Wanted - Bundle

Hasta

34.99 €
17.49 €
50%
Five Nights at Freddy's: Sister Location

Hasta

7.99 €
6.39 €
20%
Flashback

Hasta

19.99 €
1.99 €
90%
Flat Heroes

Hasta

9.99 €
4.49 €
55%
FlatOut 4 - Total Insanity

Hasta

19.99 €
4.99 €
75%
Flipping Death

Hasta

19.99 €
4.99 €
75%
Fluxteria Space Bundle

Hasta

4.99 €
2.49 €
50%
FMV Murder Mystery Bundle

Hasta

21.99 €
17.59 €
20%
Football Nation VR Tournament 2018

Hasta

12.99 €
5.19 €
60%
Football, Tactics & Glory

Hasta

39.99 €
13.99 €
65%
For The King

Hasta

24.99 €
6.24 €
75%
Forager

Hasta

19.99 €
12.99 €
35%
Forestry 2017 - The Simulation

Hasta

19.99 €
6.99 €
65%
FORM

Hasta

14.99 €
7.49 €
50%
Fort Boyard

Hasta

29.99 €
8.99 €
70%
Fossil Hunters

Hasta

13.99 €
6.99 €
50%
Freakout: Calamity TV Show

Hasta

10.99 €
5.49 €
50%
Freaky Awesome

Hasta

12.99 €
3.89 €
70%
FREEDIVER: Triton Down

Hasta

14.99 €
9.74 €
35%
Frostpunk: Console Edition

Hasta

29.99 €
11.99 €
60%
Fruit Ninja VR

Hasta

16.99 €
11.89 €
30%
Full Throttle Remastered

Hasta

14.99 €
4.49 €
70%
Furi

Hasta

19.99 €
5.99 €
70%
Furwind

Hasta

9.99 €
2.49 €
75%
Fury Unleashed

Hasta

19.99 €
9.99 €
50%
FUSER

Hasta

69.99 €
52.49 €
25%
FUSER VIP Edition

Hasta

109.99 €
93.49 €
15%
Gabbuchi

Hasta

7.99 €
3.99 €
50%
Gal*Gun 2 - Complete Edition

Hasta

59.99 €
35.99 €
40%
Gal*Gun: Double Peace - Ultimate Edition

Hasta

39.99 €
19.99 €
50%
GAL*GUNVOLT BURST

Hasta

9.99 €
3.99 €
60%
Galaxy of Pen & Paper +1 Edition

Hasta

12.99 €
6.49 €
50%
Gang Beasts

Hasta

19.99 €
9.99 €
50%
Garfield Kart - Furious Racing

Hasta

29.99 €
10.49 €
65%
Gem Smashers

Hasta

5.49 €
1.64 €
70%
Get Even

Hasta

29.99 €
4.79 €
84%
Ghost Giant

Hasta

24.99 €
12.49 €
50%
Ghost of a Tale

Hasta

24.99 €
9.99 €
60%
Ghoulboy

Hasta

7.99 €
3.99 €
50%
Giana Sisters: Twisted Dreams - Director's Cut

Hasta

14.99 €
4.49 €
70%
GIGA WRECKER ALT.

Hasta

24.99 €
12.49 €
50%
Gigantosaurus El Juego

Hasta

39.99 €
15.99 €
60%
Ginger: Beyond the Crystal

Hasta

19.99 €
5.99 €
70%
Giraffe and Annika

Hasta

29.99 €
19.49 €
35%
Glass Masquerade 2: Illusions Deluxe Edition

Hasta

29.99 €
13.49 €
55%
Glass Masquerade Double Pack Bundle

Hasta

21.99 €
3.29 €
85%
Gleamlight

Hasta

16.99 €
8.49 €
50%
Goat Simulator

Hasta

9.99 €
2.49 €
75%
Goat Simulator: The GOATY

Hasta

23.99 €
5.99 €
75%
God of War

Hasta

19.99 €
14.99 €
25%
GOD WARS Future Past

Hasta

49.99 €
7.49 €
85%
God's Trigger

Hasta

14.99 €
5.24 €
65%
Going Under

Hasta

19.99 €
13.39 €
33%
Golazo! Football League

Hasta

17.99 €
3.59 €
80%
Golem Gates

Hasta

24.99 €
7.49 €
70%
Golf With Your Friends

Hasta

19.99 €
11.99 €
40%
GoNNER

Hasta

9.99 €
1.99 €
80%
GONNER2

Hasta

12.99 €
9.74 €
25%
GONNER2 Lose Your Head Deluxe Bundle

Hasta

19.99 €
14.99 €
25%
GOOD DOG, BAD DOG

Hasta

16.99 €
4.24 €
75%
Goosebumps Dead of Night

Hasta

32.99 €
16.49 €
50%
GORN

Hasta

19.99 €
14.99 €
25%
Gotcha Racing 2nd

Hasta

9.99 €
4.99 €
50%
Grab the Bottle

Hasta

5.99 €
1.49 €
75%
Gran Turismo Sport

Hasta

19.99 €
9.99 €
50%
Grand Kingdom

Hasta

49.99 €
9.99 €
80%
Grand Prix Rock 'N Racing

Hasta

7.99 €
3.99 €
50%
Grass Cutter - Mutated Lawns

Hasta

6.99 €
2.79 €
60%
Grave Danger

Hasta

14.99 €
7.49 €
50%
GRIS

Hasta

16.99 €
6.79 €
60%
Guacamelee! 2

Hasta

19.99 €
3.99 €
80%
Guacamelee! 2 al completo

Hasta

23.99 €
4.79 €
80%
Guacamelee! Super Turbo Championship Edition

Hasta

13.99 €
2.79 €
80%
GUILTY GEAR

Hasta

9.99 €
4.99 €
50%
GUILTY GEAR Xrd -REVELATOR-

Hasta

19.99 €
9.99 €
50%
GUILTY GEAR Xrd Rev.2

Hasta

39.99 €
7.99 €
80%
Gun Club VR

Hasta

24.99 €
9.99 €
60%
Guns Gore and Cannoli 2

Hasta

12.99 €
5.19 €
60%
Guns, Gore and Cannoli

Hasta

9.99 €
3.99 €
60%
Gunvolt Chronicles: Luminous Avenger iX with Bonus

Hasta

14.99 €
8.99 €
40%
HAJWALA

Hasta

14.99 €
8.99 €
40%
Hammerwatch

Hasta

9.99 €
3.99 €
60%
Hand of Fate 2

Hasta

24.99 €
7.49 €
70%
Hand of Fate Deluxe Edition

Hasta

19.99 €
4.99 €
75%
Hard Reset Redux

Hasta

23.99 €
4.79 €
80%
Hard West: Ultimate Edition

Hasta

19.99 €
10.99 €
45%
Harvest Moon: Light of Hope Special Edition

Hasta

39.99 €
31.99 €
20%
Harvest Moon: Light of Hope Special Edition Deluxe

Hasta

44.99 €
35.99 €
20%
Harvest Moon: Mad Dash

Hasta

19.99 €
15.99 €
20%
Has-Been Heroes

Hasta

24.99 €
9.99 €
60%
Hayfever

Hasta

14.99 €
4.49 €
70%
Headspun

Hasta

12.99 €
6.49 €
50%
Heart&Slash

Hasta

19.99 €
5.99 €
70%
Heavy Fire: Red Shadow

Hasta

39.99 €
19.99 €
50%
Hell Warders

Hasta

14.99 €
5.24 €
65%
HELLFRONT: HONEYMOON

Hasta

9.99 €
2.49 €
75%
Help Will Come Tomorrow

Hasta

23.99 €
7.19 €
70%
Hero Defense

Hasta

29.99 €
8.99 €
70%
Heroes of Hammerwatch - Ultimate Edition

Hasta

19.99 €
15.99 €
20%
Heroine Anthem Zero Episode 1

Hasta

12.99 €
7.79 €
40%
HexaMaze

Hasta

19.99 €
9.99 €
50%
Hidden Through Time

Hasta

7.99 €
3.99 €
50%
HITMAN 2

Hasta

69.99 €
15.39 €
78%
HITMAN 2: Ediciσn Gold

Hasta

99.99 €
19.99 €
80%
Hitman HD Enhanced Collection

Hasta

59.99 €
17.99 €
70%
Holfraine

Hasta

4.99 €
2.49 €
50%
Hollow Knight: Ediciσn Corazσn Vacνo

Hasta

14.49 €
5.79 €
60%
Holy Potatoes! A Bundle?!

Hasta

24.99 €
18.74 €
25%
Holy Potatoes! A Weapon Shop?!

Hasta

14.99 €
7.49 €
50%
Holy Potatoes! We're In Space?!

Hasta

14.99 €
7.49 €
50%
Holy Potatoes: What the Hell?!

Hasta

14.99 €
11.99 €
20%
Home Sweet Home

Hasta

29.99 €
17.99 €
40%
HoPiKo

Hasta

6.99 €
2.09 €
70%
Hora de aventuras: Piratas del Enchiridiσn

Hasta

29.99 €
8.99 €
70%
Horizon Chase Turbo

Hasta

19.99 €
7.99 €
60%
Horizon Shift '81

Hasta

6.99 €
2.09 €
70%
Horror Stories

Hasta

1.99 €
0.99 €
50%
Hotel R'n'R

Hasta

18.99 €
11.39 €
40%
Hotel Transylvania 3: monstruos al agua

Hasta

29.99 €
8.99 €
70%
Hotline Miami Collection

Hasta

19.99 €
4.99 €
75%
Hotshot Racing

Hasta

19.99 €
10.99 €
45%
House Flipper

Hasta

24.99 €
16.24 €
35%
Hover

Hasta

24.99 €
6.24 €
75%
How to Survive 2

Hasta

14.99 €
2.99 €
80%
Hue

Hasta

14.99 €
2.24 €
85%
Human: Fall Flat

Hasta

14.99 €
7.49 €
50%
Hunt: Showdown

Hasta

39.99 €
15.99 €
60%
Huntdown

Hasta

19.99 €
10.99 €
45%
Hyper Light Drifter

Hasta

18.99 €
6.64 €
65%
Hyper Sentinel

Hasta

6.99 €
1.04 €
85%
HyperBrawl Tournament Ultimate Edition

Hasta

26.99 €
13.49 €
50%
Hypnospace Outlaw

Hasta

16.99 €
11.89 €
30%
I am Bread

Hasta

12.99 €
2.33 €
82%
I Expect You To Die

Hasta

24.99 €
12.49 €
50%
I Want To Be Human

Hasta

2.49 €
0.49 €
80%
I'm Hungry

Hasta

16.99 €
10.19 €
40%
I, AI

Hasta

9.99 €
6.99 €
30%
I, Zombie

Hasta

4.49 €
1.12 €
75%
Ice Age: Una Aventura de Bellotas

Hasta

39.99 €
17.99 €
55%
Ice Cream Surfer [Cross-Buy]

Hasta

7.99 €
2.79 €
65%
Iconoclasts

Hasta

19.99 €
5.99 €
70%
Ikenfell

Hasta

19.99 €
15.99 €
20%
Illusion of L'Phalcia

Hasta

14.99 €
8.99 €
40%
In Between

Hasta

11.99 €
3.59 €
70%
In Death

Hasta

29.99 €
14.99 €
50%
IN-VERT

Hasta

4.99 €
3.49 €
30%
INDIE BUNDLE: Shiness and Seasons after Fall

Hasta

14.99 €
3.74 €
75%
Indie Darling Bundle Vol.4

Hasta

49.99 €
7.49 €
85%
Industry Giant 2

Hasta

24.99 €
8.74 €
65%
Industry Giant 2 - Gold Edition

Hasta

19.99 €
6.99 €
65%
Inertial Drift

Hasta

19.99 €
13.99 €
30%
Inferno 2

Hasta

4.99 €
3.24 €
35%
Infinite - Beyond the Mind

Hasta

8.99 €
2.24 €
75%
Injustice 2: Standard Edition

Hasta

19.99 €
14.99 €
25%
InnerSpace

Hasta

19.99 €
5.99 €
70%
Inside My Radio

Hasta

14.99 €
3.74 €
75%
Instant Indie Collection: Vol. 1

Hasta

21.99 €
2.19 €
90%
Instant Indie Collection: Vol. 2

Hasta

24.99 €
2.49 €
90%
Instant Indie Collection: Vol. 3

Hasta

24.99 €
2.49 €
90%
Instant Indie Collection: Vol. 4

Hasta

29.99 €
2.99 €
90%
Instant Indie Collection: Vol. 5

Hasta

28.99 €
2.89 €
90%
Invisible, Inc. Console Edition

Hasta

19.99 €
4.99 €
75%
Ironcast

Hasta

12.99 €
4.54 €
65%
Irony Curtain - Revolutionary Edition

Hasta

29.99 €
4.49 €
85%
Irony Curtain: From Matryoshka with Love

Hasta

19.99 €
2.99 €
85%
Is It Wrong to Try to Pick Up Girls in a Dungeon? Familia Myth Infinite Combate

Hasta

39.99 €
27.99 €
30%
Island Flight Simulator

Hasta

19.99 €
9.99 €
50%
Island Time VR

Hasta

14.49 €
5.79 €
60%
Jagged Alliance: Rage!

Hasta

29.99 €
11.99 €
60%
Jetpack Joyride

Hasta

3.59 €
1.79 €
50%
Jewel Fever 2

Hasta

5.99 €
1.49 €
75%
JigSaw Abundance

Hasta

4.99 €
2.49 €
50%
JigSaw Solace

Hasta

3.99 €
1.99 €
50%
Job Simulator

Hasta

19.99 €
12.99 €
35%
Joe's Diner

Hasta

14.99 €
5.24 €
65%
John Wick Hex

Hasta

19.99 €
11.99 €
40%
JoJo's Bizarre Adventure: Eyes of Heaven

Hasta

69.99 €
9.79 €
86%
Journey

Hasta

14.99 €
4.94 €
67%
Judgment

Hasta

59.99 €
19.79 €
67%
JUMANJI: El videojuego

Hasta

39.99 €
17.99 €
55%
JUMP FORCE

Hasta

69.99 €
9.79 €
86%
Jump, Step, Step

Hasta

4.99 €
2.49 €
50%
Jurassic World Evolution

Hasta

49.99 €
9.99 €
80%
Jurassic World Evolution: Ediciσn Jurassic Park

Hasta

64.99 €
16.24 €
75%
Just a Phrase by POWGI

Hasta

7.99 €
3.99 €
50%
Just Shapes & Beats

Hasta

16.99 €
13.59 €
20%
Just Shapes & Beats Mega Bundle

Hasta

21.99 €
17.59 €
20%
KATANA KAMI: A Way of the Samurai Story

Hasta

29.99 €
14.99 €
50%
KAUIL'S TREASURE

Hasta

5.49 €
3.84 €
30%
Keep Talking and Nobody Explodes

Hasta

14.99 €
8.99 €
40%
Kentucky Route Zero: TV Edition

Hasta

21.99 €
13.19 €
40%
Kerbal Space Program Enhanced Edition

Hasta

39.99 €
9.99 €
75%
KILL la KILL - IF

Hasta

19.99 €
9.99 €
50%
Killing Floor 2

Hasta

29.99 €
9.89 €
67%
Killing Floor: Incursion

Hasta

19.99 €
7.99 €
60%
King's Quest: The Complete Collection

Hasta

29.99 €
5.99 €
80%
Kingdom Come: Deliverance

Hasta

29.99 €
19.49 €
35%
Kingdom Come: Deliverance Royal Edition

Hasta

39.99 €
25.99 €
35%
KINGDOM HEARTS HD 1.5 + 2.5 ReMIX

Hasta

49.99 €
12.49 €
75%
KINGDOM HEARTS HD 2.8 Final Chapter Prologue

Hasta

59.99 €
14.99 €
75%
KINGDOM HEARTS III

Hasta

69.99 €
20.99 €
70%
KINGDOM HEARTS Melody of Memory

Hasta

59.99 €
40.19 €
33%
Kingdom: New Lands

Hasta

14.99 €
3.74 €
75%
Kingdoms of Amalur: Re-Reckoning - Fate Edition

Hasta

54.99 €
35.74 €
35%
Knights and Bikes

Hasta

20.99 €
14.06 €
33%
Knights of Pen & Paper 2 Deluxiest Edition

Hasta

12.99 €
5.19 €
60%
Knights of Pen and Paper +1 Deluxier Edition

Hasta

14.99 €
5.24 €
65%
Knights of Pen and Paper Bundle

Hasta

21.99 €
8.79 €
60%
Knockout League

Hasta

19.99 €
11.99 €
40%
Kona

Hasta

14.99 €
2.99 €
80%
Kona VR Bundle

Hasta

19.99 €
3.99 €
80%
Kotodama: The 7 Mysteries of Fujisawa

Hasta

24.99 €
4.99 €
80%
Krinkle Krusher

Hasta

4.99 €
1.49 €
70%
L.A. Noire: The VR Case Files

Hasta

29.99 €
14.99 €
50%
La Tierra Media : Sombras de Mordor

Hasta

19.99 €
9.99 €
50%
LA-MULANA

Hasta

14.99 €
8.99 €
40%
LA-MULANA 2

Hasta

24.99 €
14.99 €
40%
Labyrinth of Refrain: Coven of Dusk

Hasta

49.99 €
19.99 €
60%
Lair of the Clockwork God

Hasta

17.99 €
9.89 €
45%
Langrisser I & II

Hasta

44.99 €
26.99 €
40%
Lanternium

Hasta

4.49 €
3.14 €
30%
Lapis x Labyrinth

Hasta

29.99 €
9.89 €
67%
Laserlife

Hasta

8.99 €
4.49 €
50%
Late Shift

Hasta

12.49 €
6.24 €
50%
LAWS OF MACHINE

Hasta

3.49 €
2.79 €
20%
Layers of Fear

Hasta

19.99 €
5.99 €
70%
Layers of Fear: Masterpiece Edition

Hasta

21.99 €
7.69 €
65%
Legend of the Tetrarchs

Hasta

14.99 €
8.99 €
40%
Legends of Ethernal

Hasta

19.99 €
14.99 €
25%
LEGO Batman 3: MΑS ALLΑ DE GOTHAM

Hasta

19.99 €
14.99 €
25%
LEGO DC Super-Villains: Deluxe Edition

Hasta

74.99 €
18.74 €
75%
LEGO Marvel Super Heroes 2

Hasta

59.99 €
14.99 €
75%
LEGO Star Wars : The Force Awakens Ediciσn Deluxe

Hasta

69.99 €
17.49 €
75%
Let Them Come

Hasta

7.99 €
2.63 €
67%
Levαntate: All Stars

Hasta

39.99 €
9.99 €
75%
Lichdom: Battlemage

Hasta

9.99 €
1.49 €
85%
Lichtspeer: Double Speer Edition

Hasta

9.99 €
2.99 €
70%
Lichtspeer: Double Speer Edition - OST Combo

Hasta

12.99 €
3.89 €
70%
Light Fairytale Episode 1

Hasta

9.99 €
4.99 €
50%
Ling: A Road Alone

Hasta

9.99 €
5.99 €
40%
Link-a-Pix Deluxe

Hasta

7.99 €
3.99 €
50%
Little Big Workshop

Hasta

19.99 €
15.99 €
20%
Little Dragons Cafι

Hasta

44.99 €
31.49 €
30%
Little Misfortune

Hasta

19.99 €
9.99 €
50%
Little Nightmares Complete Edition

Hasta

29.99 €
7.49 €
75%
Loading Human : Chapter 1

Hasta

29.99 €
4.49 €
85%
Lock's Quest

Hasta

19.99 €
7.99 €
60%
Lonely Mountains: Downhill

Hasta

19.99 €
13.39 €
33%
Loot Hero DX

Hasta

4.99 €
3.74 €
25%
Lord Of The Click

Hasta

4.49 €
3.14 €
30%
Lords of the Fallen

Hasta

19.99 €
2.99 €
85%
Lords of the Fallen Complete Edition

Hasta

29.99 €
4.49 €
85%
Lornsword Winter Chronicle

Hasta

19.99 €
11.99 €
40%
Los pilares de la Tierra de Ken Follet

Hasta

39.99 €
3.99 €
90%
Los Sims 4 Ediciσn Fiesta Deluxe

Hasta

49.99 €
12.49 €
75%
Lost Ember

Hasta

29.99 €
14.99 €
50%
Lost Wing

Hasta

7.99 €
5.59 €
30%
Lote All-In-One de KINGDOM HEARTS

Hasta

109.99 €
27.49 €
75%
Lote de Grand Theft Auto V: Premium Edition y tarjeta Gran tiburσn blanco

Hasta

44.99 €
32.39 €
28%
Lote de Grand Theft Auto V: Premium Edition y tarjeta Gran tiburσn blanco

Hasta

59.99 €
41.99 €
30%
Lote de Grand Theft Auto V: Premium Edition y tarjeta Tiburσn megalodσn

Hasta

89.99 €
62.99 €
30%
Lote de Juegos Crash Team Racing Nitro-Fueled + Spyro

Hasta

69.99 €
52.49 €
25%
LovecraftΒ΄s Untold Stories

Hasta

14.99 €
7.49 €
50%
Lumini

Hasta

9.99 €
5.99 €
40%
MachiKnights -Blood bagos-

Hasta

10.99 €
5.49 €
50%
Machinarium

Hasta

14.99 €
3.74 €
75%
Mad Games Tycoon

Hasta

29.99 €
14.99 €
50%
Mad Tower Tycoon

Hasta

29.99 €
23.99 €
20%
Maitetsu: Pure Station

Hasta

34.99 €
20.99 €
40%
Maneater PS4 & PS5

Hasta

39.99 €
23.99 €
40%
Maneater PS4 & PS5

Hasta

39.99 €
23.99 €
40%
Manifold Garden

Hasta

17.99 €
12.59 €
30%
Manual Samuel

Hasta

9.99 €
2.49 €
75%
Mars Alive

Hasta

16.99 €
10.19 €
40%
Mars Odyssey

Hasta

9.99 €
2.99 €
70%
Marvel vs. Capcom: Infinite - Deluxe Edition

Hasta

59.99 €
17.99 €
70%
Marvel vs. Capcom: Infinite - Standard Edition

Hasta

39.99 €
9.99 €
75%
Marvel's Avengers

Hasta

69.99 €
52.49 €
25%
Marvel's Spider-Man

Hasta

39.99 €
29.99 €
25%
Mask of Mists

Hasta

14.99 €
8.99 €
40%
Masquerade: The Baubles of Doom

Hasta

14.99 €
7.49 €
50%
Masters of Anima

Hasta

9.99 €
2.99 €
70%
Max and the Book of Chaos

Hasta

7.99 €
3.99 €
50%
Mega Man Legacy Collection 1 & 2 Combo Pack

Hasta

24.99 €
12.49 €
50%
Mega Man X Legacy Collection 1+2

Hasta

38.99 €
19.49 €
50%
Mega Man Zero/ZX Legacy Collection

Hasta

29.99 €
19.49 €
35%
Megadimension Neptunia VII

Hasta

29.99 €
8.99 €
70%
Megadimension Neptunia VIIR

Hasta

39.99 €
15.99 €
60%
Megaquarium

Hasta

23.99 €
17.99 €
25%
Melbits World

Hasta

14.99 €
4.49 €
70%
Melbits World Party Edition

Hasta

19.99 €
6.99 €
65%
Memories of Mars

Hasta

19.99 €
8.99 €
55%
Memory Lane

Hasta

3.99 €
1.99 €
50%
Mercenary Kings: Reloaded Edition

Hasta

15.99 €
9.59 €
40%
Mervils: A VR Adventure

Hasta

15.99 €
4.79 €
70%
Metal Gear Solid V: Ground Zeroes

Hasta

19.99 €
2.99 €
85%
Metal Gear Solid V: The Definitive Experience

Hasta

19.99 €
3.99 €
80%
Metal Gear Solid V: The Phantom Pain

Hasta

29.99 €
8.99 €
70%
METAL GEAR SURVIVE

Hasta

39.99 €
13.19 €
67%
Metal Wolf Chaos XD

Hasta

24.99 €
12.49 €
50%