Sony ha anunciado una nueva promociσn de Descuentos Dobles en PlayStation Store, rebajas de hasta el 30 % en una selecciσn de grandes tνtulos para los jugadores de PS4 y PS5 que se convierten en dobles rebajas de hasta un 60 % para los suscriptores de PlayStation Plus. Estarα disponible hasta el 23 de junio y en ellas podemos encontrar Borderlands 3 Ediciσn Siguiente Nivel que incluye los packs cosmιticos de forma final multiverso: Amara, FL4K, Moze y Zane. Por 50,24€ para usuarios no suscritos, mientras que para suscriptores PlayStation Plus baja a 25,49€ (antes 74,99€).
Tambiιn encontraremos el lote GTA V: Premium Online Edition y tarjeta Gran Tiburσn Blanco que permite disfrutar por completo de la trama de Grand Theft Auto V, acceder gratuitamente al mundo en constante evoluciσn de Grand Theft Auto Online y a todas las mejoras y contenidos existentes, como Golpe a Cayo Perico, The Diamond Casino & Resort, Golpe a The Diamond Casino, Trαfico de armas y mucho mαs. Tambiιn se incluye el Criminal Enterprise Starter Pack, la forma mαs rαpida de dar un impulso a tu imperio criminal en Grand Theft Auto Online, asν como una tarjeta Gran tiburσn blanco por valor de 1 250 000 GTA$ para gastar en GTA Online. Por 32,39€, suscriptores PlayStation Plus 19,79 € (antes 44,99€).
Red Dead Redemption 2: Ultimate Edition incluye todo el contenido del Modo Historia de la Special Edition, ademαs de contenido adicional para Red Dead Online. Por 64,99€, suscriptores PlayStation Plus 29,99 € (antes 99,99€).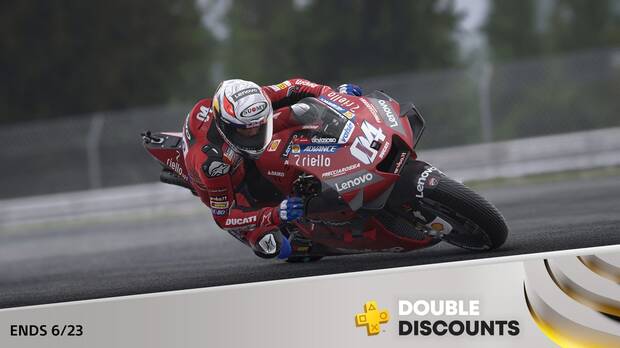 Otros tνtulos destacados -precios con la suscripciσn PS Plus- son:
Kingdom Hearts: Melody of Memory: 29,99 €
Assassin's Creed Odyssey: 19,59 €
Metro Exodus Gold Edition: 19,49 €
Gran Turismo Sport Spec II: 14,99 €
Hitman 2: 13,99 €
Fallout 76: 13,59 €
Persona 5: Dancing in Starlight: 10,19 €
God of War: 9,99 €
World War Z: 8,99 €
Metal Gear Survive: 7,99 €
Ghostbusters: The Video Game Remastered: 7,79 €
Bloodborne: 9,99 €
DRAGON BALL Z: KAKAROT Deluxe Edition: 35,99 €
RESIDENT EVIL 2 Deluxe Edition: 19,99 €
Sid Meier's Civilization VI: 11,99 €
UNCHARTED: El Legado Perdido: 9,99 €
UNCHARTED 4: El Desenlace del Ladrσn Digital Edition: 9,99 €
Todas las ofertas para Usuarios Plus
Todas las ofertas para usuarios estαndar
Juego σ pack
Precio
Oferta
Dto.
#SinucaAttack

Hasta

4.99 €
3.49 €
30%
'Has sido tϊ!

Hasta

19.99 €
9.99 €
50%
'Mamα me ha escondido el juego!

Hasta

4.99 €
3.99 €
20%
'Patrulla Canina todos a una!

Hasta

39.99 €
15.99 €
60%
11-11 Memories Retold

Hasta

24.99 €
3.99 €
84%
112th Seed

Hasta

4.99 €
1.99 €
60%
13 Sentinels: Aegis Rim

Hasta

59.99 €
26.99 €
55%
16-Bit Soccer

Hasta

5.99 €
1.67 €
72%
1971 Project Helios

Hasta

29.99 €
20.99 €
30%
1979 Revolution: Black Friday

Hasta

11.99 €
4.19 €
65%
2Dark

Hasta

19.99 €
5.99 €
70%
39 Days to Mars

Hasta

12.49 €
8.36 €
33%
3D Billiard

Hasta

19.99 €
9.99 €
50%
3D Billiards - Pool & Snooker

Hasta

24.99 €
18.74 €
25%
3D MiniGolf

Hasta

19.99 €
9.99 €
50%
60 Parsecs!

Hasta

9.99 €
5.49 €
45%
60 Seconds! Reatomized

Hasta

9.99 €
5.49 €
45%
7th Sector

Hasta

19.99 €
9.99 €
50%
8-Bit Armies

Hasta

29.99 €
4.49 €
85%
8-Bit Armies - Deluxe Edition

Hasta

34.99 €
5.24 €
85%
8-Bit Hordes

Hasta

29.99 €
4.49 €
85%
8-Bit Hordes - Deluxe Edition

Hasta

34.99 €
5.24 €
85%
8-Bit Invaders!

Hasta

29.99 €
4.49 €
85%
8-Bit Invaders! - Deluxe Edition

Hasta

34.99 €
5.24 €
85%
8-Bit RTS Series - Complete Collection

Hasta

59.99 €
11.99 €
80%
88 Heroes

Hasta

14.99 €
2.99 €
80%
9 Monkeys of Shaolin

Hasta

29.99 €
14.99 €
50%
911 Operator

Hasta

17.99 €
8.09 €
55%
99Vidas

Hasta

9.99 €
1.99 €
80%
A Fisherman's Tale -Deluxe Edition

Hasta

19.99 €
9.99 €
50%
A Hat in Time

Hasta

28.49 €
17.09 €
40%
A HERO AND A GARDEN

Hasta

4.99 €
2.99 €
40%
A Hole New World

Hasta

9.99 €
4.49 €
55%
A Knight's Quest

Hasta

24.99 €
4.99 €
80%
A Pixel Story

Hasta

10.99 €
3.29 €
70%
A Plague Tale: Innocence

Hasta

49.99 €
12.49 €
75%
A Summer with the Shiba Inu

Hasta

9.99 €
5.49 €
45%
A Way Out

Hasta

29.99 €
8.99 €
70%
A Winter's Daydream

Hasta

5.99 €
3.59 €
40%
Abo Khashem

Hasta

23.99 €
11.99 €
50%
Aborigenus

Hasta

4.99 €
3.49 €
30%
Absolver: Downfall

Hasta

29.99 €
8.99 €
70%
ABZΓ›

Hasta

19.99 €
9.99 €
50%
Access Denied

Hasta

4.99 €
1.74 €
65%
Accidents will Happen - Dangerous Driving Crash Mode Bundle

Hasta

34.99 €
13.99 €
60%
ACE COMBAT 7: SKIES UNKNOWN

Hasta

69.99 €
13.99 €
80%
Ace of Seafood

Hasta

8.99 €
2.69 €
70%
Aces of the Luftwaffe - Squadron

Hasta

14.99 €
5.99 €
60%
Action Henk

Hasta

14.99 €
1.49 €
90%
Active Neurons

Hasta

4.99 €
1.99 €
60%
Active Neurons 2

Hasta

4.99 €
2.49 €
50%
Active Neurons 3 - Wonders Of The World

Hasta

4.99 €
2.99 €
40%
Active Neurons 3 - Wonders Of The World

Hasta

4.99 €
2.99 €
40%
Active Soccer 2 DX

Hasta

9.99 €
3.99 €
60%
Adam's Venture: Origins

Hasta

14.99 €
1.49 €
90%
Adam's Venture: Origins - Deluxe Edition

Hasta

19.99 €
2.99 €
85%
AER - Memories of Old

Hasta

14.99 €
2.39 €
84%
AereA

Hasta

19.99 €
0.99 €
95%
AereA - Deluxe Edition

Hasta

24.99 €
1.24 €
95%
Aery - A Journey Beyond Time

Hasta

11.99 €
8.99 €
25%
Aery - Recuerdos Rotos

Hasta

14.99 €
11.24 €
25%
Agents of Mayhem

Hasta

19.99 €
2.99 €
85%
Agony

Hasta

19.99 €
3.99 €
80%
Air Conflicts Vietnam Ultimate Edition

Hasta

29.99 €
14.99 €
50%
Air Hockey

Hasta

9.99 €
2.49 €
75%
Air Missions: Hind

Hasta

29.99 €
14.99 €
50%
Airport Simulator 2019

Hasta

29.99 €
11.99 €
60%
Albedo: Eyes From Outer Space

Hasta

14.99 €
4.49 €
70%
Alekhine's Gun

Hasta

19.99 €
2.99 €
85%
Alien Shooter

Hasta

7.99 €
3.19 €
60%
Alien Shooter&Portal of Evil: Stolen Runes

Hasta

7.99 €
3.19 €
60%
Alien: Isolation - La Colecciσn

Hasta

54.99 €
10.99 €
80%
Alphaset by POWGI

Hasta

7.99 €
3.99 €
50%
American Fugitive

Hasta

19.99 €
4.99 €
75%
Among the Sleep - Enhanced Edition

Hasta

14.99 €
7.49 €
50%
Ancestors Legacy

Hasta

34.99 €
17.49 €
50%
Ancestors: The Humankind Odyssey

Hasta

39.99 €
15.99 €
60%
Angels with Scaly Wings PS4 & PS5

Hasta

9.99 €
7.99 €
20%
Angry Birds VR: Isle of Pigs

Hasta

14.99 €
11.99 €
20%
Anima: Gate of memories

Hasta

19.99 €
6.79 €
66%
Anima: Gate of Memories - Arcane Edition

Hasta

29.99 €
10.19 €
66%
Anima: Gate of Memories - The Nameless Chronicles

Hasta

19.99 €
6.79 €
66%
Anodyne 2: Return to Dust PS4 & PS5

Hasta

19.99 €
13.99 €
30%
Another World - 20th Anniversary Edition

Hasta

7.99 €
2.79 €
65%
Anoxemia

Hasta

7.99 €
2.71 €
66%
Anthem : ediciσn Legiσn del Alba

Hasta

79.99 €
11.99 €
85%
Anyone's diary

Hasta

9.99 €
3.99 €
60%
Apex Construct

Hasta

19.99 €
4.99 €
75%
Apocalipsis: The Tree of the Knowledge of Good and Evil

Hasta

5.99 €
2.39 €
60%
Apocalypse Rider

Hasta

5.99 €
4.19 €
30%
AQUA KITTY - Milk Mine Defender DX

Hasta

6.59 €
1.97 €
70%
AQUA KITTY DX - PAWSOME BUNDLE

Hasta

9.99 €
2.99 €
70%
Aqua Moto Racing Utopia

Hasta

12.99 €
3.24 €
75%
Ara Fell: Enhanced Edition

Hasta

17.99 €
7.19 €
60%
Aragami

Hasta

19.99 €
2.99 €
85%
Aragami: Shadow Edition

Hasta

24.99 €
3.74 €
85%
Arc of Alchemist

Hasta

34.99 €
17.49 €
50%
Archaica: The Path Of Light

Hasta

17.99 €
7.19 €
60%
Arizona Sunshine

Hasta

39.99 €
11.99 €
70%
Arizona Sunshine - Deluxe Edition

Hasta

44.99 €
15.29 €
66%
ARK Park

Hasta

49.99 €
9.99 €
80%
ARK: Survival Evolved

Hasta

54.99 €
16.49 €
70%
Armikrog

Hasta

9.99 €
1.99 €
80%
Artists of the World Bundle

Hasta

79.99 €
19.99 €
75%
ArtPulse

Hasta

12.99 €
1.29 €
90%
Ash of Gods: Redemption

Hasta

29.99 €
5.99 €
80%
Ashen

Hasta

39.99 €
15.99 €
60%
Assassin's Creed Valhalla Gold PS4 & PS5

Hasta

99.99 €
69.99 €
30%
Assassin's Creed Valhalla PS4 & PS5

Hasta

69.99 €
41.99 €
40%
ASSAULT GUNNERS HD EDITION

Hasta

9.99 €
4.99 €
50%
ASSAULT GUNNERS HD EDITION COMPLETE SET

Hasta

12.49 €
6.24 €
50%
Assault On Metaltron

Hasta

6.99 €
3.49 €
50%
Assault Suit Leynos

Hasta

19.99 €
3.99 €
80%
Assetto Corsa Competizione

Hasta

39.99 €
23.99 €
40%
Astebreed

Hasta

14.49 €
2.89 €
80%
Asterix & Obelix XXL3: The Crystal Menhir

Hasta

39.99 €
11.99 €
70%
ASTRO BOT Rescue Mission

Hasta

39.99 €
11.99 €
70%
Astroneer

Hasta

29.99 €
19.49 €
35%
At Sundown: Shots in the Dark

Hasta

19.99 €
1.99 €
90%
Atomicrops

Hasta

12.99 €
6.49 €
50%
Attack of the Earthlings

Hasta

19.99 €
13.99 €
30%
Attack of the Toy Tanks

Hasta

4.99 €
1.74 €
65%
Attractio

Hasta

19.99 €
3.19 €
84%
AUDICA

Hasta

29.99 €
17.99 €
40%
AUDICA and 2019 Season Pass

Hasta

44.99 €
26.99 €
40%
AUDICA and DLC Pack 01 Bundle

Hasta

35.99 €
21.59 €
40%
Autumn's Journey

Hasta

4.99 €
2.99 €
40%
AWAY: Journey to the Unexpected

Hasta

16.99 €
4.24 €
75%
Awesome Pea 2

Hasta

4.99 €
1.99 €
60%
Axiom Verge

Hasta

17.99 €
7.19 €
60%
Azur Lane: Crosswave

Hasta

49.99 €
19.99 €
60%
Azure Reflections

Hasta

24.99 €
12.49 €
50%
Azure Striker Gunvolt: Striker Pack

Hasta

34.99 €
17.49 €
50%
Bad North

Hasta

14.99 €
5.99 €
60%
Balancelot

Hasta

7.99 €
5.59 €
30%
Balthazar's Dream (Release Bundle)

Hasta

9.99 €
4.49 €
55%
Banner Saga 1

Hasta

24.99 €
3.74 €
85%
Banner Saga 2

Hasta

24.99 €
4.99 €
80%
Banner Saga 3

Hasta

24.99 €
6.24 €
75%
Bartender VR Simulator

Hasta

17.99 €
12.59 €
30%
Batman - The Telltale Series - Season Pass

Hasta

14.99 €
5.99 €
60%
Batman: El Enemigo Dentro - Season Pass

Hasta

14.99 €
5.99 €
60%
Batman:ArkhamCollection

Hasta

59.99 €
19.79 €
67%
Battle of the Bulge

Hasta

9.99 €
4.89 €
51%
Battle Planet - Judgement Day

Hasta

14.99 €
7.49 €
50%
Battlefield 1

Hasta

19.99 €
5.99 €
70%
Battlefield 4 Ediciσn Premium

Hasta

39.99 €
7.99 €
80%
Battlefield V Definitive Edition

Hasta

59.99 €
19.79 €
67%
Battlestar Galactica Deadlock

Hasta

29.99 €
9.89 €
67%
Battlewake

Hasta

29.99 €
8.99 €
70%
Bayonetta & Vanquish 10th Anniversary Bundle

Hasta

39.99 €
17.99 €
55%
Beach Buggy Racing 2: Island Adventure

Hasta

19.99 €
15.99 €
20%
Bear With Me: The Complete Collection

Hasta

14.99 €
4.49 €
70%
Beast Quest

Hasta

29.99 €
4.49 €
85%
Beholder 2

Hasta

14.99 €
3.74 €
75%
Beholder Complete Edition

Hasta

14.99 €
3.74 €
75%
BELOW

Hasta

24.99 €
9.99 €
60%
Ben 10

Hasta

19.99 €
7.99 €
60%
Bestiary Bundle

Hasta

35.99 €
8.99 €
75%
Beyond Blue

Hasta

19.99 €
13.99 €
30%
Beyond Enemy Lines - Remastered Edition

Hasta

19.99 €
14.99 €
25%
Beyond Enemy Lines 2

Hasta

29.99 €
19.49 €
35%
Beyond: Dos almas

Hasta

29.99 €
14.99 €
50%
Bibi & Tina - Aventuras a caballo

Hasta

19.99 €
5.99 €
70%
Bibi & Tina en la granja de caballos

Hasta

19.99 €
5.99 €
70%
Bibi Blocksberg - La gran carrera de escobas 3

Hasta

19.99 €
5.99 €
70%
Big Buck Hunter Arcade

Hasta

19.99 €
4.99 €
75%
Big Dipper

Hasta

3.99 €
1.99 €
50%
Big Pharma

Hasta

35.99 €
10.79 €
70%
BioShock: The Collection

Hasta

49.99 €
9.99 €
80%
Biped

Hasta

14.99 €
8.84 €
41%
Bird Game +

Hasta

4.99 €
1.49 €
70%
Birthday of Midnight

Hasta

4.99 €
2.99 €
40%
Bishoujo Battle Cyber Panic!

Hasta

5.99 €
4.19 €
30%
Bit Dungeon Plus [Cross-Buy]

Hasta

6.99 €
2.09 €
70%
BIT TRIP Presents... Runner2: Future Legend of Rhythm Alien

Hasta

9.99 €
4.99 €
50%
Black Desert: Traveler Edition

Hasta

29.99 €
14.99 €
50%
Bladed Fury

Hasta

19.99 €
14.99 €
25%
Blair Witch

Hasta

29.99 €
14.99 €
50%
Blasphemous

Hasta

24.99 €
9.99 €
60%
Blaster Master Zero 2

Hasta

9.99 €
4.99 €
50%
Blastful

Hasta

3.99 €
2.99 €
25%
Blasting Agent: Ultimate Edition

Hasta

2.99 €
0.89 €
70%
BLAZBLUE CENTRALFICTION

Hasta

54.99 €
10.99 €
80%
BLAZBLUE CROSS TAG BATTLE

Hasta

19.99 €
4.99 €
75%
BlazeRush

Hasta

9.99 €
2.49 €
75%
Blind Men

Hasta

4.99 €
2.49 €
50%
Block-a-Pix Deluxe

Hasta

7.99 €
3.99 €
50%
Blood Waves

Hasta

9.99 €
4.99 €
50%
Bloodstained: Curse of the Moon

Hasta

9.99 €
4.99 €
50%
Bloodstained: Curse of the Moon 2

Hasta

14.99 €
9.74 €
35%
Bloodstained: Ritual of the Night

Hasta

39.99 €
19.99 €
50%
Bloody Zombies

Hasta

13.49 €
2.69 €
80%
Bob Esponja

Hasta

29.99 €
19.49 €
35%
Bomber Crew

Hasta

14.99 €
2.99 €
80%
Bomber Crew Deluxe Edition

Hasta

23.99 €
4.79 €
80%
Bomber Crew: American Edition

Hasta

19.99 €
3.99 €
80%
Bonkies

Hasta

14.99 €
8.99 €
40%
Bonkies - Bananas Bundle

Hasta

17.99 €
9.89 €
45%
Book of Demons

Hasta

24.99 €
9.99 €
60%
Boom Blaster

Hasta

6.99 €
4.54 €
35%
Borderlands 3 PS4 & PS5

Hasta

69.99 €
19.59 €
72%
Bounty Battle

Hasta

24.99 €
8.74 €
65%
Bowling

Hasta

11.99 €
2.99 €
75%
Brawlout

Hasta

19.99 €
7.99 €
60%
Brawlout Ediciσn Deluxe

Hasta

29.99 €
11.99 €
60%
Breathedge

Hasta

24.99 €
18.74 €
25%
Breeder Homegrown: Director's Cut

Hasta

4.99 €
1.99 €
60%
Bridge Constructor

Hasta

9.99 €
2.49 €
75%
Bridge Constructor Portal

Hasta

14.99 €
3.74 €
75%
Bridge Constructor Stunts

Hasta

9.99 €
2.49 €
75%
Bridge Constructor: The Walking Dead - PS4 & PS5

Hasta

9.99 €
5.99 €
40%
Bridge Constructor: The Walking Dead - PS4 & PS5

Hasta

9.99 €
5.99 €
40%
Broforce

Hasta

14.99 €
3.74 €
75%
Broken Sword 5 - La maldiciσn de la serpiente

Hasta

29.99 €
5.99 €
80%
Brothers: a Tale of two Sons

Hasta

19.99 €
3.99 €
80%
Brunswick Pro Billiards

Hasta

19.99 €
9.99 €
50%
Bubsy: Paws on Fire!

Hasta

24.99 €
7.49 €
70%
Bubsy: The Woolies Strike Back

Hasta

19.99 €
5.99 €
70%
Bucket Knight

Hasta

4.99 €
1.99 €
60%
Bud Spencer & Terence Hill - Slaps And Beans

Hasta

19.99 €
6.99 €
65%
Budget Cuts

Hasta

24.99 €
12.49 €
50%
Bug Fables: The Everlasting Sapling

Hasta

29.99 €
19.49 €
35%
Bugsnax

Hasta

21.99 €
16.49 €
25%
Buildings Have Feelings Too!

Hasta

19.99 €
13.99 €
30%
Bullet Roulette

Hasta

8.99 €
6.29 €
30%
Bus Driver Simulator

Hasta

19.99 €
13.99 €
30%
Bus Simulator

Hasta

39.99 €
19.99 €
50%
BUTCHER

Hasta

9.99 €
2.99 €
70%
BUTCHER: lote de Ediciσn Especial

Hasta

12.99 €
3.24 €
75%
C14 Dating PS4 & PS5

Hasta

19.99 €
14.99 €
25%
Cafeteria Nipponica

Hasta

12.99 €
9.74 €
25%
Cake Bash

Hasta

19.99 €
13.99 €
30%
Caladrius Blaze

Hasta

19.99 €
2.99 €
85%
Call of Duty : Black Ops Cold War - Ediciσn Estαndar

Hasta

69.99 €
41.99 €
40%
Call of Duty : Black Ops Cold War - Lote Multigeneracional PS4 & PS5

Hasta

74.99 €
46.49 €
38%
Candle: The Power of the Flame

Hasta

19.99 €
3.99 €
80%
Cannon Brawl

Hasta

9.99 €
2.49 €
75%
Caos en Deponia

Hasta

12.99 €
1.29 €
90%
CAPCOM DLC Pack

Hasta

11.99 €
5.99 €
50%
Captain Tsubasa: Rise of New Champions

Hasta

59.99 €
29.99 €
50%
Captain's Choice Bundle

Hasta

35.99 €
14.39 €
60%
Car Mechanic Simulator

Hasta

29.99 €
16.49 €
45%
Cardpocalypse

Hasta

24.99 €
9.99 €
60%
Carly and the Reaperman - Escape from the Underworld

Hasta

18.99 €
9.49 €
50%
Carto

Hasta

19.99 €
13.99 €
30%
Cartoon Network: Battle Crashers

Hasta

19.99 €
4.99 €
75%
CarX Drift Racing Online

Hasta

23.99 €
15.59 €
35%
CASE: Animatronics

Hasta

9.99 €
5.99 €
40%
Cast of the Seven Godsends - Redux

Hasta

6.99 €
2.09 €
70%
Castle Pals

Hasta

4.99 €
2.49 €
50%
Cat Quest

Hasta

12.99 €
6.49 €
50%
Catherine: Full Body Deluxe Edition

Hasta

49.99 €
19.99 €
60%
CATTCH

Hasta

9.99 €
6.49 €
35%
Cave Bad

Hasta

4.99 €
3.49 €
30%
Cave Digger

Hasta

9.99 €
0.99 €
90%
Cave Digger

Hasta

14.99 €
1.49 €
90%
Caveman Warriors

Hasta

14.49 €
3.62 €
75%
Caves and Castles: Underworld

Hasta

6.99 €
4.54 €
35%
Checkers

Hasta

9.99 €
2.49 €
75%
Chess

Hasta

8.99 €
2.24 €
75%
Chess Knights: Viking Lands

Hasta

3.99 €
0.79 €
80%
Chess Ultra

Hasta

12.99 €
6.49 €
50%
Chicken Range

Hasta

9.99 €
2.99 €
70%
Children of Morta

Hasta

21.99 €
10.99 €
50%
Chimparty

Hasta

19.99 €
9.99 €
50%
Chroma Squad

Hasta

14.99 €
3.74 €
75%
Chronos: Before the Ashes

Hasta

29.99 €
19.49 €
35%
Chronus Arc

Hasta

14.99 €
7.49 €
50%
Cinders

Hasta

19.99 €
9.99 €
50%
Citadel: Forged with Fire

Hasta

39.99 €
15.99 €
60%
Cities: Skylines - Mayor's Edition

Hasta

99.99 €
29.99 €
70%
Cities: Skylines - Premium Edition 2

Hasta

69.99 €
20.99 €
70%
Close to the Sun

Hasta

24.99 €
14.99 €
40%
Cloudpunk

Hasta

24.99 €
14.99 €
40%
Coaster

Hasta

8.99 €
5.39 €
40%
Cobra Kai: The Karate Kid Saga Continues

Hasta

39.99 €
19.99 €
50%
CODE VEIN

Hasta

69.99 €
19.59 €
72%
Coffee Talk

Hasta

13.99 €
5.59 €
60%
Coffin Dodgers

Hasta

11.99 €
5.39 €
55%
Colecciσn de Los Sims 4 y Perros y Gatos

Hasta

49.99 €
12.99 €
74%
Colecciσn del tesoro Kingdom

Hasta

29.99 €
17.99 €
40%
Colecciσn Legendaria de Borderlands

Hasta

49.99 €
19.99 €
60%
Colt Canyon

Hasta

14.99 €
8.99 €
40%
Comrade Rabbit Bundle

Hasta

24.99 €
4.99 €
80%
Conan Exiles

Hasta

49.99 €
19.99 €
60%
Concept Destruction PS4 & PS5

Hasta

4.99 €
3.24 €
35%
Concept Destruction PS4 & PS5

Hasta

4.99 €
3.24 €
35%
Conga Master

Hasta

8.99 €
1.79 €
80%
Contagion VR: Outbreak

Hasta

14.99 €
11.24 €
25%
Contraptions

Hasta

8.99 €
2.69 €
70%
Control Ultimate Edition

Hasta

39.99 €
23.99 €
40%
Cook, Serve, Delicious! 2!!

Hasta

15.99 €
3.99 €
75%
Cook, Serve, Delicious! 2/3 Bundle!!

Hasta

24.99 €
14.99 €
40%
Cook, Serve, Delicious! 3?!

Hasta

19.99 €
11.99 €
40%
Crash Dummy

Hasta

9.99 €
2.99 €
70%
Crash Team Racing Nitro-Fueled

Hasta

39.99 €
15.99 €
60%
Creaks

Hasta

19.99 €
9.99 €
50%
Creed: Rise to Glory

Hasta

24.99 €
9.99 €
60%
Crimson Keep

Hasta

19.99 €
5.99 €
70%
Crisis VRigade

Hasta

8.99 €
4.49 €
50%
Crisis VRigade 2

Hasta

19.99 €
11.99 €
40%
Croc's World 2

Hasta

6.49 €
1.68 €
74%
Croc's World 3

Hasta

5.99 €
1.67 €
72%
Croc's World Run

Hasta

6.49 €
1.68 €
74%
Croixleur Sigma

Hasta

13.99 €
2.79 €
80%
CrossCode

Hasta

19.99 €
10.99 €
45%
Crossing Souls

Hasta

14.99 €
3.74 €
75%
CrossKrush PS4 & PS5

Hasta

4.99 €
2.49 €
50%
Crossovers by POWGI

Hasta

7.99 €
3.99 €
50%
Cruz Brothers - Combat School Edition

Hasta

3.99 €
1.19 €
70%
Crypt of the NecroDancer

Hasta

15.99 €
3.19 €
80%
Crypto by POWGI

Hasta

7.99 €
3.99 €
50%
Cube Raiders

Hasta

6.99 €
3.49 €
50%
Cubers: Arena

Hasta

14.99 €
7.49 €
50%
Cuphead

Hasta

19.99 €
14.99 €
25%
Curious Expedition

Hasta

14.99 €
7.49 €
50%
Curse of the Dead Gods

Hasta

19.99 €
13.99 €
30%
Daggerhood

Hasta

4.99 €
1.99 €
60%
Dakar 18

Hasta

24.99 €
6.24 €
75%
Dance Collider

Hasta

16.99 €
7.64 €
55%
Dandara: Trials of Fear Edition

Hasta

14.99 €
5.24 €
65%
Danger Zone

Hasta

14.99 €
2.99 €
80%
Danger Zone 2

Hasta

17.99 €
4.49 €
75%
Danger Zone Bundle: Danger Zone and Danger Zone 2

Hasta

18.99 €
5.69 €
70%
Dangerous Driving

Hasta

29.99 €
8.99 €
70%
DARIUSBURST Chronicle Saviours

Hasta

59.99 €
23.99 €
60%
Dark Nights with Poe and Munro

Hasta

12.99 €
10.39 €
20%
Darkest Dungeon

Hasta

21.99 €
4.39 €
80%
Darkest Dungeon : Ancestral Edition

Hasta

36.99 €
9.24 €
75%
Darkness Rollercoaster - Akimbo Edition

Hasta

10.99 €
5.49 €
50%
Darkness Rollercoaster - Anniversary Edition

Hasta

11.25 €
5.62 €
50%
Darkness Rollercoaster - Ultimate Shooter Edition

Hasta

8.99 €
4.49 €
50%
Darksiders Genesis

Hasta

39.99 €
15.99 €
60%
Darksiders III

Hasta

59.99 €
13.79 €
77%
Darksiders III Blades & Whip Edition

Hasta

99.99 €
19.99 €
80%
Darksiders III Digital Deluxe Edition

Hasta

79.99 €
15.99 €
80%
Darksiders: Fury's Collection - War and Death

Hasta

39.99 €
7.99 €
80%
Darkwood

Hasta

14.99 €
8.99 €
40%
Darkwood: lote de Ediciσn Especial

Hasta

17.99 €
9.89 €
45%
Darts

Hasta

9.99 €
2.49 €
75%
DASHBALL

Hasta

9.99 €
4.49 €
55%
DATE A LIVE: Rio Reincarnation

Hasta

29.99 €
14.99 €
50%
Dawn of Man

Hasta

24.99 €
17.49 €
30%
Day D Tower Rush

Hasta

6.99 €
2.79 €
60%
DayD: Through time

Hasta

7.99 €
3.19 €
60%
Daymare: 1998

Hasta

34.99 €
17.49 €
50%
Days Gone

Hasta

69.99 €
20.29 €
71%
DayZ

Hasta

49.99 €
29.99 €
40%
Dead Age

Hasta

14.99 €
2.99 €
80%
Dead Alliance

Hasta

29.99 €
4.49 €
85%
Dead Alliance : Multiplayer Edition

Hasta

19.99 €
2.99 €
85%
Dead Cells

Hasta

24.99 €
14.99 €
40%
Dead Dungeon

Hasta

4.99 €
2.49 €
50%
Dead Dust

Hasta

4.99 €
3.24 €
35%
Dead End Job

Hasta

14.99 €
3.74 €
75%
Dead Island Definitive Collection

Hasta

29.99 €
5.99 €
80%
Dead Rising 4: Frank's Big Package

Hasta

49.99 €
9.99 €
80%
Dead Secret

Hasta

14.99 €
7.49 €
50%
Dead Synchronicity: Tomorrow Comes Today

Hasta

19.99 €
4.99 €
75%
Death end reQuest

Hasta

29.99 €
14.99 €
50%
Death Road to Canada

Hasta

14.99 €
6.74 €
55%
Decay of Logos

Hasta

19.99 €
4.99 €
75%
Defunct

Hasta

14.99 €
1.49 €
90%
Defunct - Deluxe Edition

Hasta

19.99 €
1.99 €
90%
Deiland

Hasta

14.99 €
4.49 €
70%
Deiland special pack

Hasta

14.99 €
5.24 €
65%
Delicious! Pretty Girls Mahjong Solitaire

Hasta

5.99 €
4.19 €
30%
Deliver Us The Moon

Hasta

24.99 €
14.99 €
40%
Demon Hunter: Revelation

Hasta

14.99 €
5.99 €
60%
Demon's Souls

Hasta

79.99 €
69.59 €
13%
Deponia

Hasta

12.99 €
1.29 €
90%
Deponia Doomsday

Hasta

12.99 €
1.29 €
90%
Desperados III

Hasta

59.99 €
32.99 €
45%
Desperados III - Digital Deluxe

Hasta

69.99 €
38.49 €
45%
Detective Stories Bundle

Hasta

35.99 €
8.99 €
75%
Deus Ex: Mankind Divided

Hasta

29.99 €
4.49 €
85%
Devil May Cry 5

Hasta

24.99 €
19.99 €
20%
Devil Slayer Raksasi

Hasta

14.99 €
11.99 €
20%
Devious Dungeon 2

Hasta

7.99 €
2.79 €
65%
Dick Wilde

Hasta

14.99 €
4.49 €
70%
Dick Wilde 2

Hasta

19.99 €
5.99 €
70%
Die With Glory

Hasta

6.99 €
4.54 €
35%
Die Young

Hasta

16.99 €
11.04 €
35%
Digital Slime Collector's Edition de DRAGON QUEST HEROES

Hasta

44.99 €
17.99 €
60%
DIRT 5 PS4 & PS5

Hasta

69.99 €
27.99 €
60%
DIRT 5 Year One Edition PS4 & PS5

Hasta

89.99 €
35.99 €
60%
Disc Jam

Hasta

14.99 €
5.99 €
60%
Disco Elysium - The Final Cut

Hasta

39.99 €
27.99 €
30%
Dishonored : Death of the Outsider

Hasta

29.99 €
14.99 €
50%
Dishonored Definitive Edition

Hasta

39.99 €
19.99 €
50%
Disintegration

Hasta

29.99 €
14.99 €
50%
Dissection

Hasta

4.99 €
2.49 €
50%
DISTRAINT 2

Hasta

7.99 €
3.99 €
50%
Distrust

Hasta

14.99 €
4.49 €
70%
Divinity: Original Sin 2 - Definitive Edition

Hasta

59.99 €
23.99 €
60%
Do Not Feed the Monkeys

Hasta

12.99 €
9.09 €
30%
Doctor Who: The Edge of Time

Hasta

24.99 €
11.24 €
55%
Dogfight

Hasta

9.99 €
2.49 €
75%
Dogurai

Hasta

4.99 €
0.99 €
80%
Dollhouse

Hasta

29.99 €
5.99 €
80%
Dollhouse - Deluxe Edition

Hasta

34.99 €
6.99 €
80%
Don't Starve Mega Pack 2020

Hasta

32.99 €
16.49 €
50%
Don't Starve Together: Console Edition

Hasta

14.99 €
5.99 €
60%
Donut County

Hasta

12.99 €
3.89 €
70%
Doodle Devil & Alien Shooter

Hasta

9.99 €
3.99 €
60%
Doodle Devil: 3volution

Hasta

8.99 €
6.29 €
30%
Doodle Games Bundle: Heaven & Hell

Hasta

17.99 €
13.49 €
25%
Doodle God

Hasta

5.99 €
2.39 €
60%
Doodle God Ultimate Collection

Hasta

14.99 €
5.99 €
60%
Doodle God: Evolution

Hasta

9.99 €
6.49 €
35%
Doodle Kingdom

Hasta

5.99 €
2.39 €
60%
DOOM

Hasta

19.99 €
5.99 €
70%
DOOM 3: VR Edition

Hasta

19.99 €
13.99 €
30%
DOOM Eternal Ediciσn Estαndar

Hasta

69.99 €
27.99 €
60%
Double Pug Switch

Hasta

7.99 €
4.39 €
45%
Down the Rabbit Hole

Hasta

19.99 €
13.99 €
30%
Downwell

Hasta

4.99 €
1.69 €
66%
Dracula's Legacy

Hasta

19.99 €
9.99 €
50%
DRAGON BALL FIGHTERZ

Hasta

69.99 €
9.79 €
86%
DRAGON BALL FIGHTERZ - FighterZ Edition

Hasta

99.99 €
14.99 €
85%
Dragon Ball Xenoverse 1 and 2 Bundle

Hasta

89.99 €
17.99 €
80%
DRAGON BALL Z: KAKAROT

Hasta

69.99 €
27.99 €
60%
DRAGON QUEST BUILDERS

Hasta

59.99 €
29.99 €
50%
DRAGON QUEST BUILDERS 2 Digital Deluxe Edition

Hasta

49.99 €
32.49 €
35%
DRAGON QUEST BUILDERS 2 Standard Edition

Hasta

39.99 €
25.99 €
35%
DRAGON QUEST HEROES

Hasta

39.99 €
15.99 €
60%
DRAGON QUEST HEROES II - Digital Explorer's Edition

Hasta

59.99 €
23.99 €
60%
DRAGON QUEST XI S: Ecos de un pasado perdido - Ediciσn definitiva

Hasta

39.99 €
25.99 €
35%
Dragon Star Varnir

Hasta

29.99 €
14.99 €
50%
Dragon's Dogma: Dark Arisen

Hasta

24.99 €
9.99 €
60%
Dragon's Lair Trilogνa

Hasta

19.99 €
9.99 €
50%
Dragones: El amanecer de los nuevos jinetes

Hasta

39.99 €
15.99 €
60%
Drawngeon: Dungeons of Ink and Paper

Hasta

4.99 €
2.49 €
50%
DreamBall

Hasta

5.99 €
2.99 €
50%
Dreaming Canvas

Hasta

1.99 €
0.99 €
50%
Dreaming Canvas Valentine Special Bundle

Hasta

3.99 €
1.99 €
50%
Dreams

Hasta

39.99 €
19.99 €
50%
Drive Drive Drive

Hasta

9.99 €
2.99 €
70%
Drive on Moscow

Hasta

9.99 €
4.89 €
51%
Drone Striker

Hasta

9.99 €
4.99 €
50%
Drowning

Hasta

2.99 €
1.49 €
50%
Drowning

Hasta

2.99 €
1.49 €
50%
Drunken Fist

Hasta

7.99 €
4.79 €
40%
Dull Grey

Hasta

4.99 €
3.49 €
30%
Dungeon Rushers

Hasta

14.99 €
2.99 €
80%
Dungeon Village

Hasta

12.99 €
8.7 €
33%
Dungeons 3 - Complete Collection

Hasta

39.99 €
19.99 €
50%
Dustoff Z

Hasta

11.99 €
2.99 €
75%
Dying Light

Hasta

39.99 €
11.99 €
70%
Earth Atlantis

Hasta

14.99 €
2.99 €
80%
Earth Defense Force 4.1: The Shadow of New Despair

Hasta

19.99 €
3.99 €
80%
EARTH DEFENSE FORCE 5 Deluxe Edition

Hasta

74.99 €
44.99 €
40%
EARTH DEFENSE FORCE: IRON RAIN Ultimate Edition

Hasta

89.99 €
44.99 €
50%
EARTH'S DAWN

Hasta

19.99 €
3.99 €
80%
EarthNight

Hasta

17.99 €
6.29 €
65%
Eastasiasoft Indie Shmup Bundle

Hasta

8.99 €
3.59 €
60%
Ediciσn definitiva Seρores de la guerra de Nueva York

Hasta

79.99 €
23.99 €
70%
Ediciσn Juego del Aρo de Marvel's Spider-Man

Hasta

49.99 €
29.99 €
40%
Ediciσn maestra de Monster Hunter World: Iceborne

Hasta

39.99 €
29.99 €
25%
Edna & Harvey: Harvey's New Eyes

Hasta

19.99 €
1.99 €
90%
eFootball PES 2021 SEASON UPDATE STANDARD EDITION

Hasta

29.99 €
7.49 €
75%
El Extraρo

Hasta

4.99 €
0.99 €
80%
El Mundo de Nubla

Hasta

9.99 €
4.99 €
50%
Elea

Hasta

12.99 €
1.29 €
90%
Elea - Deluxe Edition

Hasta

14.99 €
1.49 €
90%
Electronauts

Hasta

20.99 €
7.34 €
65%
ELEX

Hasta

59.99 €
14.99 €
75%
Ellen

Hasta

8.99 €
4.49 €
50%
Elliot

Hasta

5.49 €
2.74 €
50%
Emily Wants to Play

Hasta

5.99 €
3.59 €
40%
Emily Wants to Play Too (Emily tambiιn quiere jugar)

Hasta

7.99 €
4.79 €
40%
EMMA: Lost in Memories

Hasta

7.99 €
3.99 €
50%
Endless Fables: Dark Moor

Hasta

14.99 €
3.74 €
75%
Epic Dumpster Bear

Hasta

4.99 €
1.99 €
60%
Epic Dumpster Bear 2

Hasta

4.99 €
3.74 €
25%
Epic Word Search Collection

Hasta

7.99 €
2.39 €
70%
Epic Word Search Collection 2

Hasta

7.99 €
3.99 €
50%
Espire 1: VR Operative

Hasta

29.99 €
11.99 €
60%
Esports Life Tycoon

Hasta

19.99 €
11.99 €
40%
Euro Fishing

Hasta

17.99 €
4.49 €
75%
EVE: Valkyrie - Warzone

Hasta

29.99 €
14.99 €
50%
Even the Ocean

Hasta

14.99 €
8.24 €
45%
EVERSPACE

Hasta

29.99 €
7.49 €
75%
EVERSPACE - Stellar Edition

Hasta

39.99 €
9.99 €
75%
Everyday Heroes Bundle

Hasta

34.99 €
10.49 €
70%
Everything

Hasta

14.99 €
2.99 €
80%
Evil Inside

Hasta

12.99 €
9.09 €
30%
Evil Inside

Hasta

12.99 €
9.09 €
30%
Exit the Gungeon

Hasta

9.99 €
6.99 €
30%
Expand

Hasta

5.99 €
2.39 €
60%
Expand + Soundtrack Bundle

Hasta

9.99 €
3.99 €
60%
Explosive Jake

Hasta

4.99 €
1.99 €
60%
Extinction

Hasta

29.99 €
4.49 €
85%
F1 2020

Hasta

69.99 €
17.49 €
75%
Fade to Silence

Hasta

29.99 €
9.89 €
67%
Faeria

Hasta

19.99 €
13.39 €
33%
Faeria: Game + All DLC Bundle

Hasta

89.99 €
60.29 €
33%
Falcon Age

Hasta

19.99 €
13.99 €
30%
Fall Guys: Ultimate Knockout

Hasta

19.99 €
11.99 €
40%
Fallen Legion Revenants

Hasta

39.99 €
29.99 €
25%
Family Mysteries 2: Echoes of Tomorrow

Hasta

14.99 €
3.74 €
75%
Fantasy General II: Invasion

Hasta

32.99 €
16.16 €
51%
Far Cry 3 Classic Edition

Hasta

29.99 €
2.99 €
90%
Far Cry 4

Hasta

29.99 €
5.99 €
80%
Far Cry 5

Hasta

69.99 €
9.79 €
86%
Far Cry New Dawn

Hasta

44.99 €
13.49 €
70%
FAR: LONE SAILS

Hasta

14.99 €
5.24 €
65%
Farm Together

Hasta

19.99 €
14.99 €
25%
Farmer & Forestry Bundle

Hasta

29.99 €
8.99 €
70%
Feist

Hasta

11.99 €
5.99 €
50%
Felix The Reaper

Hasta

14.99 €
1.49 €
90%
Fenix Furia

Hasta

14.99 €
3.74 €
75%
FIFA 21 NXT LVL EDITION PARA PS5

Hasta

79.99 €
49.59 €
38%
FIFA 21 Ultimate Edition PS4 y PS5

Hasta

99.99 €
29.99 €
70%
Fifty Words by POWGI

Hasta

7.99 €
3.99 €
50%
Fight

Hasta

9.99 €
2.49 €
75%
Fight'N Rage

Hasta

19.99 €
10.99 €
45%
Figment

Hasta

19.99 €
5.99 €
70%
Fill-a-Pix: Phil's Epic Adventure

Hasta

7.99 €
3.99 €
50%
Fimbul

Hasta

14.99 €
4.49 €
70%
FINAL FANTASY XIV Online - Complete Edition

Hasta

54.99 €
21.99 €
60%
Firechief Bundle

Hasta

49.99 €
14.99 €
70%
Firefighters - The Simulation

Hasta

29.99 €
8.99 €
70%
Firefighters - The Simulation Platinum Bundle

Hasta

34.99 €
10.49 €
70%
Firefighters: Airport Fire Department

Hasta

24.99 €
7.49 €
70%
Firefighters: Airport Heroes

Hasta

29.99 €
8.99 €
70%
Firefighters: Plant Fire Department

Hasta

24.99 €
7.49 €
70%
Firewall Zero Hour

Hasta

29.99 €
9.89 €
67%
Flat Heroes

Hasta

9.99 €
3.39 €
66%
Flatland Vol.1

Hasta

4.99 €
0.99 €
80%
Flatland: Prologue

Hasta

1.99 €
0.39 €
80%
Flipping Death

Hasta

19.99 €
3.99 €
80%
Flockers

Hasta

24.99 €
3.74 €
85%
Floor Plan

Hasta

5.99 €
3.59 €
40%
Fluxteria

Hasta

6.99 €
1.74 €
75%
Fluxteria Space Bundle

Hasta

4.99 €
2.49 €
50%
Flying Soldiers (Game + Avatar Pack)

Hasta

14.99 €
5.99 €
60%
Football Game

Hasta

4.99 €
1.99 €
60%
For The King

Hasta

24.99 €
8.74 €
65%
Foregone

Hasta

19.99 €
9.99 €
50%
Forestry 2017 - The Simulation

Hasta

19.99 €
5.99 €
70%
FORM

Hasta

14.99 €
5.99 €
60%
FOX n FORESTS

Hasta

9.99 €
4.99 €
50%
Frane: Dragons' Odyssey

Hasta

14.99 €
8.99 €
40%
Frantics

Hasta

19.99 €
9.99 €
50%
Freakout: Calamity TV Show

Hasta

10.99 €
2.74 €
75%
Freaky Awesome

Hasta

12.99 €
4.41 €
66%
Freddy Spaghetti PS4 & PS5

Hasta

4.99 €
3.24 €
35%
Friday the 13th: The Game

Hasta

14.49 €
3.62 €
75%
Frostpunk: Console Edition

Hasta

29.99 €
10.49 €
65%
Fruit Ninja VR

Hasta

16.99 €
11.04 €
35%
Furi

Hasta

19.99 €
4.99 €
75%
Furi - Ediciσn definitiva

Hasta

21.99 €
5.49 €
75%
Furwind

Hasta

9.99 €
2.49 €
75%
Fury Unleashed

Hasta

19.99 €
8.99 €
55%
G.I. Joe: Operation Blackout

Hasta

39.99 €
13.99 €
65%
G.I. Joe: Operation Blackout

Hasta

49.99 €
17.49 €
65%
Game Dev Story

Hasta

12.99 €
8.7 €
33%
Ganbare! Super Strikers

Hasta

9.99 €
4.99 €
50%
Gang Beasts

Hasta

19.99 €
7.99 €
60%
Garfield Kart - Furious Racing

Hasta

29.99 €
8.99 €
70%
Gem Smashers

Hasta

5.49 €
1.64 €
70%
Generation Zero

Hasta

29.99 €
14.99 €
50%
Genesis Alpha One

Hasta

29.99 €
11.99 €
60%
Genetic Disaster

Hasta

17.99 €
7.19 €
60%
GENSOU Skydrift

Hasta

21.99 €
17.59 €
20%
Get Even

Hasta

29.99 €
4.79 €
84%
Ghost Files: Memory of a Crime

Hasta

14.99 €
3.74 €
75%
Ghost Giant

Hasta

24.99 €
9.99 €
60%
Ghost of a Tale

Hasta

24.99 €
9.99 €
60%
Ghost of Tsushima

Hasta

69.99 €
39.89 €
43%
Ghost Parade

Hasta

39.99 €
15.99 €
60%
Ghost Recon Breakpoint

Hasta

69.99 €
17.49 €
75%
Ghoulboy

Hasta

7.99 €
3.59 €
55%
GIGA WRECKER ALT.

Hasta

24.99 €
8.74 €
65%
Glittering Sword

Hasta

4.99 €
3.24 €
35%
Gnomes Garden

Hasta

4.49 €
1.79 €
60%
Gnomes Garden 3: The thief of castles & Doodle God

Hasta

7.99 €
3.19 €
60%
Gnomes Garden: Lost King

Hasta

7.99 €
3.19 €
60%
God Eater 3

Hasta

69.99 €
9.79 €
86%
Gods Will Fall

Hasta

24.99 €
13.74 €
45%
Goetia

Hasta

9.99 €
4.99 €
50%
Going Under

Hasta

19.99 €
9.99 €
50%
Golazo! Football League

Hasta

17.99 €
3.59 €
80%
Golem Gates

Hasta

24.99 €
9.99 €
60%
Golf With Your Friends

Hasta

19.99 €
9.99 €
50%
GoNNER

Hasta

9.99 €
1.99 €
80%
GONNER2

Hasta

12.99 €
7.79 €
40%
GONNER2 Lose Your Head Deluxe Bundle

Hasta

19.99 €
11.99 €
40%
Goosebumps: The Game

Hasta

14.99 €
3.74 €
75%
Grand Prix Rock 'N Racing

Hasta

7.99 €
3.19 €
60%
Grand Prix Story

Hasta

12.99 €
9.74 €
25%
Grand Theft Auto V: Premium Edition

Hasta

34.99 €
14.69 €
58%
Grass Cutter - Mutated Lawns

Hasta

6.99 €
2.09 €
70%
Grave Danger

Hasta

14.99 €
7.49 €
50%
GreedFall

Hasta

49.99 €
12.49 €
75%
GRIS

Hasta

16.99 €
6.79 €
60%
Grizzland

Hasta

4.99 €
1.99 €
60%
Grood

Hasta

4.99 €
2.49 €
50%
Guacamelee! 2

Hasta

19.99 €
5.99 €
70%
Guacamelee! 2 al completo

Hasta

23.99 €
7.19 €
70%
Guacamelee! Super Turbo Championship Edition

Hasta

13.99 €
3.49 €
75%
Guard Duty

Hasta

9.99 €
3.99 €
60%
GUNGRAVE VR

Hasta

29.99 €
8.99 €
70%
GUNGRAVE VR U.N

Hasta

14.99 €
4.49 €
70%
GUNGRAVE VR: Loaded Coffin Edition

Hasta

39.99 €
11.99 €
70%
Gunjack

Hasta

4.99 €
2.49 €
50%
HAJWALA

Hasta

14.99 €
8.99 €
40%
Hammerwatch: Heroic Bundle

Hasta

24.99 €
16.24 €
35%
Hand of Fate 2

Hasta

24.99 €
7.49 €
70%
Hand of Fate Deluxe Edition

Hasta

19.99 €
3.99 €
80%
Harvest Moon: Light of Hope Special Edition

Hasta

39.99 €
19.99 €
50%
Harvest Moon: Light of Hope Special Edition Deluxe

Hasta

44.99 €
22.49 €
50%
Harvest Moon: Mad Dash

Hasta

19.99 €
9.99 €
50%
Haven

Hasta

24.99 €
17.49 €
30%
Hayfever

Hasta

14.99 €
3.74 €
75%
Headmaster

Hasta

19.99 €
9.99 €
50%
Headspun

Hasta

12.99 €
7.79 €
40%
Heal: Console Edition PS4 & PS5

Hasta

5.99 €
4.19 €
30%
Heavy Burger

Hasta

5.99 €
2.99 €
50%
Heavy Rain

Hasta

29.99 €
14.99 €
50%
Hellblade: Senua's Sacrifice

Hasta

29.99 €
8.99 €
70%
Hellbreachers PS4 & PS5

Hasta

4.99 €
3.49 €
30%
Help Will Come Tomorrow

Hasta

23.99 €
7.19 €
70%
Hero Defense

Hasta

29.99 €
7.49 €
75%
Heroes Trials

Hasta

5.99 €
1.79 €
70%
Heroine Anthem Zero Episode 1

Hasta

12.99 €
6.49 €
50%
Heroland

Hasta

29.99 €
8.99 €
70%
HexaMaze

Hasta

9.99 €
2.99 €
70%
Hidden Through Time

Hasta

7.99 €
3.99 €
50%
HITMAN 2: Ediciσn Gold

Hasta

99.99 €
17.99 €
82%
Hitman HD Enhanced Collection

Hasta

59.99 €
17.99 €
70%
HIVE: Altenum Wars

Hasta

9.99 €
4.99 €
50%
Hoggy2

Hasta

4.99 €
1.74 €
65%
Holfraine

Hasta

4.99 €
2.49 €
50%
Holy Potatoes! A Bundle?!

Hasta

24.99 €
12.49 €
50%
Holy Potatoes! A Weapon Shop?!

Hasta

14.99 €
3.74 €
75%
Holy Potatoes! We're In Space?!

Hasta

14.99 €
3.74 €
75%
Holy Potatoes: What the Hell?!

Hasta

14.99 €
7.49 €
50%
HoPiKo

Hasta

6.99 €
2.09 €
70%
Horizon Chase Turbo

Hasta

19.99 €
4.99 €
75%
Horizon Shift '81

Hasta

6.99 €
2.09 €
70%
Horror Adventure VR

Hasta

9.99 €
1.99 €
80%
Horror Stories

Hasta

1.99 €
0.99 €
50%
Hot Springs Story

Hasta

12.99 €
8.7 €
33%
Hotel R'n'R

Hasta

18.99 €
11.39 €
40%
Hotshot Racing

Hasta

19.99 €
6.99 €
65%
House Flipper

Hasta

24.99 €
16.24 €
35%
How to Survive 2

Hasta

14.99 €
2.99 €
80%
Hue

Hasta

14.99 €
1.49 €
90%
Human: Fall Flat

Hasta

19.99 €
9.99 €
50%
Hunt: Showdown

Hasta

39.99 €
17.99 €
55%
Huntdown

Hasta

19.99 €
11.99 €
40%
Hyper Light Drifter

Hasta

18.99 €
5.69 €
70%
I am Bread

Hasta

12.99 €
2.33 €
82%
I and Me

Hasta

9.99 €
3.99 €
60%
I Expect You To Die

Hasta

24.99 €
12.49 €
50%
I Want To Be Human

Hasta

2.49 €
0.49 €
80%
I'm Hungry

Hasta

16.99 €
8.49 €
50%
I, AI

Hasta

9.99 €
5.99 €
40%
I, Zombie

Hasta

4.49 €
1.12 €
75%
Ice Cream Surfer [Cross-Buy]

Hasta

7.99 €
2.39 €
70%
Iconoclasts

Hasta

19.99 €
4.99 €
75%
Ikenfell

Hasta

19.99 €
14.99 €
25%
Immortals Fenyx Rising PS4 & PS5

Hasta

69.99 €
34.99 €
50%
In Between

Hasta

11.99 €
2.39 €
80%
In Death

Hasta

29.99 €
16.49 €
45%
In rays of the Light

Hasta

7.99 €
5.59 €
30%
In rays of the Light

Hasta

7.99 €
5.59 €
30%
INDIE BUNDLE: Shiness and Seasons after Fall

Hasta

14.99 €
2.99 €
80%
Indiecalypse

Hasta

12.99 €
6.49 €
50%
Indivisible

Hasta

39.99 €
19.99 €
50%
Industry Giant 2

Hasta

24.99 €
7.49 €
70%
Industry Giant 2 - Gold Edition

Hasta

19.99 €
5.99 €
70%
Inertial Drift

Hasta

19.99 €
12.99 €
35%
Infestor PS4 & PS5

Hasta

4.99 €
3.49 €
30%
Infinite - Beyond the Mind

Hasta

8.99 €
1.79 €
80%
Infinity Runner

Hasta

6.99 €
2.44 €
65%
Infliction: Extended Cut

Hasta

17.99 €
8.99 €
50%
Infliction: Extended Cut

Hasta

17.99 €
8.99 €
50%
Injustice 2 - Legendary Edition

Hasta

54.99 €
19.79 €
64%
Inside My Radio

Hasta

14.99 €
2.99 €
80%
Intenciones Ocultas

Hasta

19.99 €
9.99 €
50%
Into A Dream

Hasta

13.99 €
9.79 €
30%
Invisible, Inc. Console Edition

Hasta

19.99 €
4.99 €
75%
Iris.Fall

Hasta

19.99 €
14.99 €
25%
IRON CRYPTICLE

Hasta

8.99 €
2.69 €
70%
Iron Sea Defenders

Hasta

6.99 €
2.79 €
60%
Island Flight Simulator

Hasta

19.99 €
9.99 €
50%
It Takes Two para PS4 y PS5

Hasta

39.99 €
29.99 €
25%
Jagged Alliance: Rage!

Hasta

29.99 €
8.99 €
70%
Jewel Fever 2

Hasta

5.99 €
1.67 €
72%
JigSaw Abundance

Hasta

4.99 €
1.24 €
75%
JigSaw Abundance CyberPunk Bundle

Hasta

4.99 €
2.49 €
50%
JigSaw Solace

Hasta

3.99 €
0.99 €
75%
Jisei: The First Case HD

Hasta

4.99 €
2.74 €
45%
Job Simulator

Hasta

19.99 €
12.99 €
35%
Joe's Diner

Hasta

14.99 €
4.49 €
70%
John Wick Hex

Hasta

19.99 €
10.99 €
45%
Jotun: Valhalla Edition

Hasta

14.99 €
5.99 €
60%
Journey to the Savage Planet

Hasta

29.99 €
14.99 €
50%
Judgment

Hasta

59.99 €
29.99 €
50%
Judgment

Hasta

39.99 €
29.99 €
25%
JUMP FORCE

Hasta

69.99 €
13.99 €
80%
JUMP FORCE - Ultimate Edition

Hasta

109.99 €
21.99 €
80%
Jump King

Hasta

12.99 €
6.49 €
50%
Jump, Step, Step

Hasta

4.99 €
2.24 €
55%
Jupiter & Mars

Hasta

14.99 €
5.24 €
65%
Just a Phrase by POWGI

Hasta

7.99 €
3.99 €
50%
Just Cause 4 - Complete Edition

Hasta

69.99 €
13.99 €
80%
Just Cause 4 - Gold Edition

Hasta

59.99 €
11.99 €
80%
Just Dance 2020

Hasta

49.99 €
19.99 €
60%
Just Dance 2021

Hasta

59.99 €
19.79 €
67%
Just Shapes & Beats

Hasta

16.99 €
12.74 €
25%
Just Shapes & Beats Mega Bundle

Hasta

21.99 €
16.49 €
25%
JYDGE PS4 & PS5

Hasta

14.99 €
4.49 €
70%
Kandagawa Jet Girls

Hasta

39.99 €
19.99 €
50%
Katana Kata

Hasta

14.99 €
8.99 €
40%
KAUIL'S TREASURE

Hasta

5.49 €
2.74 €
50%
Kawaii Deathu Desu

Hasta

3.49 €
1.74 €
50%
Kaze and the Wild Masks

Hasta

29.99 €
23.99 €
20%
Kentucky Route Zero: TV Edition

Hasta

21.99 €
13.19 €
40%
Kerbal Space Program Enhanced Edition

Hasta

39.99 €
9.99 €
75%
Kero Blaster

Hasta

11.99 €
3.59 €
70%
Kholat

Hasta

19.99 €
5.99 €
70%
Killing Floor: Incursion

Hasta

19.99 €
7.99 €
60%
Kingdom Come: Deliverance Royal Edition

Hasta

39.99 €
9.99 €
75%
Kingdom Two Crowns

Hasta

18.99 €
11.39 €
40%
Kingdom: New Lands

Hasta

14.99 €
2.99 €
80%
Kingdoms of Amalur: Re-Reckoning - Fate Edition

Hasta

54.99 €
32.99 €
40%
Knee Deep

Hasta

14.99 €
4.49 €
70%
Knight's Retreat

Hasta

3.99 €
0.79 €
80%
Knights and Bikes

Hasta

20.99 €
13.64 €
35%
Kona

Hasta

14.99 €
2.99 €
80%
Kona VR Bundle

Hasta

19.99 €
3.99 €
80%
Krinkle Krusher

Hasta

4.99 €
1.49 €
70%
Kyurinaga's Revenge

Hasta

5.99 €
4.19 €
30%
L. A. Noire

Hasta

39.99 €
19.99 €
50%
L.A. Noire: The VR Case Files

Hasta

29.99 €
14.99 €
50%
La colecciσn de Nioh

Hasta

79.99 €
69.59 €
13%
La LEGO NINJAGO Pelνcula El Video Juego

Hasta

59.99 €
14.99 €
75%
La Tierra Media : Sombras de Guerra - Ediciσn Definitiva

Hasta

49.99 €
17.99 €
64%
La Tierra Media:Sombras de Mordor-Ediciσn Juego del Aρo

Hasta

59.99 €
12.59 €
79%
Ladders by POWGI PS4 & PS5

Hasta

7.99 €
3.99 €
50%
Ladders by POWGI PS4 & PS5

Hasta

7.99 €
3.99 €
50%
Lair of the Clockwork God

Hasta

17.99 €
7.19 €
60%
Laserlife

Hasta

8.99 €
2.69 €
70%
Last Day of June

Hasta

19.99 €
4.99 €
75%
Layers of Fear

Hasta

19.99 €
4.99 €
75%
Layers of Fear: Masterpiece Edition

Hasta

21.99 €
6.59 €
70%
League of Evil

Hasta

4.99 €
2.49 €
50%
Legends of Ethernal

Hasta

19.99 €
9.99 €
50%
LEGO DC Super-Villains: Deluxe Edition

Hasta

74.99 €
17.99 €
76%
LEGO Harry Potter Collection

Hasta

39.99 €
19.99 €
50%
LEGO Jurassic World

Hasta

39.99 €
11.99 €
70%
LEGO Marvel Collection

Hasta

59.99 €
23.99 €
60%
LEGO Marvel Super Heroes

Hasta

39.99 €
9.99 €
75%
Leisure Suit Larry - Wet Dreams Don't Dry Happy Ending Edition

Hasta

39.99 €
13.99 €
65%
Let Them Come

Hasta

7.99 €
2.63 €
67%
Let's Sing 12 - Platinum Edition

Hasta

69.99 €
48.99 €
30%
Let'sSing13 - PlatinumEdition

Hasta

74.99 €
52.49 €
30%
Lethal League

Hasta

14.99 €
7.49 €
50%
Lethal League Blaze

Hasta

19.99 €
13.99 €
30%
Lichdom: Battlemage

Hasta

9.99 €
1.49 €
85%
Lichtspeer: Double Speer Edition

Hasta

9.99 €
2.99 €
70%
Lichtspeer: Double Speer Edition - OST Combo

Hasta

12.99 €
3.24 €
75%
Life of Fly

Hasta

13.99 €
10.49 €
25%
LIMBO

Hasta

8.99 €
2.24 €
75%
LIMBO & INSIDE Bundle

Hasta

26.99 €
6.74 €
75%
Ling: A Road Alone

Hasta

9.99 €
4.99 €
50%
Link-a-Pix Deluxe

Hasta

7.99 €
3.99 €
50%
Little Dragons Cafι

Hasta

44.99 €
13.49 €
70%
Little Misfortune

Hasta

19.99 €
9.99 €
50%
Little Nightmares Complete Edition

Hasta

29.99 €
7.49 €
75%
Livelock

Hasta

11.99 €
3.59 €
70%
Loading Human - Chapter 1

Hasta

29.99 €
4.49 €
85%
Lode Runner Legacy

Hasta

11.99 €
5.99 €
50%
Lornsword Winter Chronicle

Hasta

19.99 €
7.99 €
60%
Los Sims 4 Ediciσn Fiesta Deluxe

Hasta

49.99 €
12.49 €
75%
Lost Artifacts

Hasta

7.99 €
3.19 €
60%
Lost Artifacts: Soulstone

Hasta

7.99 €
3.19 €
60%
Lost Artifacts: Time Machine

Hasta

7.99 €
3.19 €
60%
Lost Ember

Hasta

29.99 €
11.99 €
60%
Lost Sea

Hasta

14.99 €
1.49 €
90%
Lost Words: Beyond the Page

Hasta

14.99 €
11.99 €
20%
Lote Triple juego Crash + Spyro

Hasta

99.99 €
49.99 €
50%
LovecraftΒ΄s Untold Stories

Hasta

14.99 €
7.49 €
50%
Lovers in a Dangerous Spacetime

Hasta

14.99 €
7.49 €
50%
M.A.C.E. Space Shooter

Hasta

4.99 €
1.99 €
60%
MachiKnights -Blood bagos-

Hasta

10.99 €
5.49 €
50%
Machinarium

Hasta

14.99 €
4.49 €
70%
Macrotis: A Mother's Journey

Hasta

11.99 €
4.79 €
60%
Madden NFL 21 EDICIΣN NXT LVL para PS5

Hasta

79.99 €
49.59 €
38%
Mafia: Ediciσn Definitiva

Hasta

39.99 €
23.99 €
40%
Magicka 2: Ediciσn Especial

Hasta

19.99 €
4.99 €
75%
Mahjong Carnival

Hasta

6.99 €
2.79 €
60%
Mahjong Collection

Hasta

12.99 €
5.19 €
60%
Mahjong Gold

Hasta

6.99 €
2.79 €
60%
MAHJONG WORLD CONTEST&MAHJONG ROYAL TOWERS

Hasta

8.99 €
3.59 €
60%
Mahluk: Dark Demon

Hasta

7.99 €
5.59 €
30%
Mail Mole

Hasta

14.99 €
10.49 €
30%
Maitetsu: Pure Station

Hasta

34.99 €
17.49 €
50%
Maneater PS4 & PS5

Hasta

39.99 €
23.99 €
40%
Maneater PS4 & PS5

Hasta

39.99 €
23.99 €
40%
Manifold Garden

Hasta

17.99 €
12.59 €
30%
Manual Samuel

Hasta

9.99 €
1.99 €
80%
Many Faces

Hasta

4.99 €
1.99 €
60%
Maquette

Hasta

17.99 €
14.39 €
20%
Maquette

Hasta

17.99 €
14.39 €
20%
Marble Duel

Hasta

11.99 €
3.59 €
70%
Mars Alive

Hasta

16.99 €
8.49 €
50%
Mars Horizon

Hasta

17.99 €
12.59 €
30%
Mars Odyssey

Hasta

9.99 €
2.99 €
70%
Marvel vs. Capcom: Infinite - Standard Edition

Hasta

39.99 €
9.99 €
75%
Marvel's Avengers

Hasta

49.99 €
29.99 €
40%
Marvel's Iron Man VR

Hasta

39.99 €
19.99 €
50%
Marvel's Spider-Man

Hasta

39.99 €
19.99 €
50%
Marvel's Spider-Man: Miles Morales PS4 & PS5

Hasta

59.99 €
49.79 €
17%
Mask of Mists

Hasta

14.99 €
7.49 €
50%
Maskmaker

Hasta

19.99 €
14.99 €
25%
Masters of Anima

Hasta

9.99 €
1.99 €
80%
Max and the Book of Chaos

Hasta

7.99 €
1.99 €
75%
Medieval Defenders

Hasta

6.99 €
2.79 €
60%
Medusa and Her Lover

Hasta

23.99 €
4.79 €
80%
Mega Man 11

Hasta

29.99 €
14.99 €
50%
Megadimension Neptunia VII

Hasta

19.99 €
11.99 €
40%
Melbits World

Hasta

14.99 €
3.74 €
75%
Melbits World Party Edition

Hasta

19.99 €
6.99 €
65%
Memories of Mars

Hasta

19.99 €
7.99 €
60%
Memory Lane

Hasta

3.99 €
1.99 €
50%
Memory Lane Space Bundle

Hasta

3.99 €
2.59 €
35%
Mervils: A VR Adventure

Hasta

15.99 €
4.79 €
70%
Metamorphosis

Hasta

24.99 €
9.99 €
60%
Metro 2033 Redux

Hasta

19.99 €
3.99 €
80%
Metropolis: Lux Obscura

Hasta

9.99 €
2.49 €
75%
Mi Granja de Caballos

Hasta

19.99 €
5.99 €
70%
Mi Granja de Caballos 2: Una nueva aventura

Hasta

24.99 €
12.49 €
50%
Mighty Switch Force! Collection

Hasta

21.99 €
10.99 €
50%
Minoria

Hasta

20.99 €
12.59 €
40%
Mitsurugi Kamui Hikae

Hasta

11.99 €
2.39 €
80%
Mittelborg: City of Mages

Hasta

7.99 €
4.79 €
40%
Mixups by POWGI

Hasta

7.99 €
3.99 €
50%
Momodora: Reverie Under the Moonlight

Hasta

11.99 €
3.59 €
70%
Monopoly Family Fun Pack

Hasta

29.99 €
14.99 €
50%
MONOPOLY PLUS

Hasta

14.99 €
7.49 €
50%
Monster Blast

Hasta

6.99 €
2.79 €
60%
Monster Boy y el Reino Maldito

Hasta

39.99 €
17.99 €
55%
Monster Dynamite

Hasta

19.99 €
5.99 €
70%
Monster Energy Supercross - The Official Videogame 4

Hasta

69.99 €
48.99 €
30%
Monster Energy Supercross - The Official Videogame 4

Hasta

69.99 €
48.99 €
30%
MONSTER HUNTER: WORLD

Hasta

19.99 €
14.99 €
25%
Monster Jam Steel Titans

Hasta

39.99 €
15.99 €
60%
Monster Truck Championship

Hasta

39.99 €
19.99 €
50%
Monster Truck Championship

Hasta

39.99 €
27.99 €
30%
Monstrum

Hasta

29.99 €
17.99 €
40%
Moon Raider

Hasta

9.99 €
4.99 €
50%
Moonfall Ultimate

Hasta

12.99 €
5.19 €
60%
Moonlighter

Hasta

19.99 €
6.99 €
65%
Moonlighter: Complete Edition

Hasta

23.99 €
11.99 €
50%
Moons of Madness

Hasta

29.99 €
11.99 €
60%
Morbid: The Seven Acolytes

Hasta

24.99 €
14.99 €
40%
Mordheim: City of the Damned

Hasta

19.99 €
5.99 €
70%
Mortal Kombat XL

Hasta

49.99 €
14.99 €
70%
Mosaic

Hasta

19.99 €
11.99 €
40%
Mosaic 1% Edition

Hasta

24.99 €
14.99 €
40%
Moss

Hasta

29.99 €
14.99 €
50%
MotoGP 21

Hasta

69.99 €
48.99 €
30%
MotoGP 21

Hasta

69.99 €
48.99 €
30%
Mount & Blade: Warband

Hasta

19.99 €
4.99 €
75%
Mountain Rescue Simulator

Hasta

29.99 €
8.99 €
70%
Move or Die

Hasta

14.49 €
4.34 €
70%
Moving Out

Hasta

24.99 €
12.49 €
50%
Mugsters

Hasta

14.99 €
2.99 €
80%
Mundaun

Hasta

19.99 €
14.99 €
25%
Music Racer

Hasta

6.99 €
4.89 €
30%
MX vs. ATV Supercross Encore

Hasta

29.99 €
7.49 €
75%
MXGP 2020 - The Official Motocross Videogame

Hasta

59.99 €
29.99 €
50%
MXGP 2020 - The Official Motocross Videogame

Hasta

69.99 €
34.99 €
50%
My Aunt is a Witch

Hasta

9.99 €
5.99 €
40%
My Big Sister

Hasta

5.99 €
2.39 €
60%
My Friend Pedro

Hasta

19.99 €
9.99 €
50%
MY HERO ONE'S JUSTICE 2

Hasta

69.99 €
27.99 €
60%
MY HERO ONE'S JUSTICE 2 Deluxe Edition

Hasta

84.99 €
33.99 €
60%
My Memory of Us

Hasta

19.99 €
5.99 €
70%
My Time at Portia

Hasta

29.99 €
10.49 €
65%
Mystic Fate

Hasta

4.99 €
2.49 €
50%
N Plus Plus (N++)

Hasta

14.99 €
7.49 €
50%
Narcos: Rise of the Cartels

Hasta

29.99 €
5.99 €
80%
Narita Boy

Hasta

24.99 €
18.74 €
25%
NARUTO SHIPPUDEN: Ultimate Ninja STORM 4

Hasta

19.99 €
9.99 €
50%
NARUTO SHIPPUDEN: Ultimate Ninja STORM 4 Road to Boruto

Hasta

49.99 €
14.99 €
70%
NARUTO TO BORUTO: SHINOBI STRIKER

Hasta

69.99 €
9.79 €
86%
Natsuki Chronicles

Hasta

19.99 €
15.99 €
20%
Naught (Game + Avatar Pack)

Hasta

19.99 €
7.99 €
60%
NBA 2K21

Hasta

69.99 €
9.79 €
86%
NBA 2K21 de Nueva Generaciσn

Hasta

74.99 €
29.99 €
60%
Necromunda: Underhive Wars

Hasta

39.99 €
15.99 €
60%
Need for Speed Ediciσn Deluxe

Hasta

24.99 €
6.24 €
75%
Need for Speed Heat

Hasta

69.99 €
17.49 €
75%
Need for Speed Payback - Deluxe Edition

Hasta

39.99 €
15.99 €
60%
NEKOPARA Vol.2

Hasta

13.49 €
5.39 €
60%
NEKOPARA Vol.3

Hasta

13.49 €
5.39 €
60%
NEKOPARA Vol.4

Hasta

10.99 €
8.79 €
20%
Neon Abyss

Hasta

19.99 €
11.99 €
40%
Neon Junctions

Hasta

4.99 €
1.74 €
65%
Neonwall

Hasta

9.99 €
2.49 €
75%
Nerved

Hasta

8.99 €
2.24 €
75%
Nerved Horror Bundle

Hasta

6.99 €
3.49 €
50%
Never Alone (Kisima Ingitchuna)

Hasta

14.99 €
2.99 €
80%
Never Alone Arctic Collection

Hasta

19.99 €
3.99 €
80%
Neverout

Hasta

7.99 €
0.79 €
90%
New Star Manager

Hasta

16.99 €
8.49 €
50%
New Super Lucky's Tale

Hasta

29.99 €
22.49 €
25%
Nex Machina

Hasta

19.99 €
4.99 €
75%
Nexomon: Extinction

Hasta

19.99 €
12.99 €
35%
NHL 21

Hasta

69.99 €
19.59 €
72%
Nickelodeon Kart Racers

Hasta

29.99 €
7.49 €
75%
Nickelodeon Kart Racers 2: Grand Prix

Hasta

39.99 €
19.99 €
50%
Nicole

Hasta

18.99 €
10.44 €
45%
Night in the Woods

Hasta

23.99 €
14.39 €
40%
Nightmare Boy

Hasta

12.99 €
6.49 €
50%
Nine Witches: Family Disruption

Hasta

17.99 €
10.79 €
40%
Ninja Village

Hasta

12.99 €
9.74 €
25%
Nioh remasterizado: La ediciσn completa

Hasta

59.99 €
49.79 €
17%
Nioh2 remasterizado: La ediciσn completa PS4 & PS5

Hasta

59.99 €
49.79 €
17%
No Heroes Allowed! VR

Hasta

29.99 €
9.89 €
67%
No Man's Sky PS4 & PS5

Hasta

49.99 €
29.99 €
40%
NO THING

Hasta

1.99 €
0.99 €
50%
NOBLE ARMADA: LOST WORLDS

Hasta

19.99 €
5.99 €
70%
Norman's Great Illusion

Hasta

4.99 €
1.99 €
60%
Not A Hero

Hasta

12.99 €
2.59 €
80%
Nova-111

Hasta

9.99 €
1.49 €
85%
NUBLA

Hasta

4.99 €
2.49 €
50%
NUBLA 2

Hasta

12.99 €
7.79 €
40%
Obey Me

Hasta

17.99 €
8.99 €
50%
Observation

Hasta

24.99 €
12.49 €
50%
Observer: System Redux

Hasta

29.99 €
22.49 €
25%
Oddworld: Soulstorm

Hasta

49.99 €
39.99 €
20%
Oh! Edo Towns

Hasta

12.99 €
9.74 €
25%
Olija

Hasta

14.99 €
10.04 €
33%
Omega Strike

Hasta

11.99 €
4.79 €
60%
One More Dungeon

Hasta

7.99 €
1.59 €
80%
One Night Stand

Hasta

4.99 €
2.99 €
40%
ONE PIECE BURNING BLOOD - Gold Edition

Hasta

94.99 €
14.24 €
85%
ONE PIECE: PIRATE WARRIORS 4

Hasta

69.99 €
27.99 €
60%
One Step From Eden

Hasta

19.99 €
13.99 €
30%
One Word by POWGI

Hasta

7.99 €
3.99 €
50%
Oniken: Unstoppable Edition & Odallus: The Dark Call Bundle

Hasta

21.99 €
7.69 €
65%
Oniria Crimes

Hasta

19.99 €
14.99 €
25%
Orangeblood

Hasta

16.99 €
10.19 €
40%
Othercide

Hasta

39.99 €
15.99 €
60%
Outbreak

Hasta

9.99 €
4.99 €
50%
Outbreak

Hasta

14.99 €
7.49 €
50%
Outbreak: Lost Hope

Hasta

12.99 €
6.49 €
50%
Outbreak: The Nightmare Chronicles

Hasta

12.99 €
6.49 €
50%
Outbreak: The Nightmare Chronicles

Hasta

14.99 €
7.49 €
50%
Outbuddies DX

Hasta

17.99 €
10.79 €
40%
Outer Wilds

Hasta

23.99 €
14.39 €
40%
Outlast

Hasta

18.99 €
3.79 €
80%
Outlast 2

Hasta

29.99 €
5.99 €
80%
Outward

Hasta

39.99 €
13.99 €
65%
Overcooked! 2

Hasta

24.99 €
12.49 €
50%
Overcooked! All You Can Eat PS4 & PS5

Hasta

39.99 €
31.99 €
20%
Overcooked: Gourmet Edition

Hasta

19.99 €
5.99 €
70%
Overland

Hasta

24.99 €
14.99 €
40%
Overpass

Hasta

59.99 €
14.99 €
75%
Override: Mech City Brawl

Hasta

19.99 €
9.99 €
50%
Overwatch: Legendary Edition

Hasta

59.99 €
19.79 €
67%
OVIVO

Hasta

6.99 €
2.79 €
60%
OVIVO

Hasta

6.99 €
2.79 €
60%
Owlboy

Hasta

21.99 €
10.99 €
50%
Pachi Pachi On A Roll

Hasta

6.99 €
5.59 €
20%
Pacific Wings

Hasta

5.99 €
1.67 €
72%
Pack MK11 Ultimate + Injustice 2 - Legendary Edition

Hasta

99.99 €
39.99 €
60%
Panda Hero

Hasta

14.99 €
4.49 €
70%
Panda Hero Remastered

Hasta

19.99 €
9.99 €
50%
Pantsu Hunter: Back to the 90s

Hasta

12.99 €
7.79 €
40%
Panzer Dragoon: Remake

Hasta

24.99 €
12.49 €
50%
Papa's Quiz

Hasta

9.99 €
4.99 €
50%
Paper Beast

Hasta

29.99 €
14.99 €
50%
Paper Dolls

Hasta

16.99 €
8.49 €
50%
Paper Dolls Original

Hasta

16.99 €
8.49 €
50%
Paquete familiar de EA

Hasta

39.99 €
5.99 €
85%
Paradise Lost

Hasta

14.99 €
9.89 €
34%
Paranormal Bundle

Hasta

35.99 €
14.39 €
60%
Party Panic

Hasta

16.99 €
8.49 €
50%
Party Pumper

Hasta

19.99 €
11.99 €
40%
Path to Mnemosyne

Hasta

9.99 €
2.99 €
70%
Pathfinder: Kingmaker - Definitive Edition

Hasta

39.99 €
21.99 €
45%
Pathologic 2

Hasta

34.99 €
17.49 €
50%
Pato Box

Hasta

9.99 €
2.99 €
70%
Paw Paw Paw

Hasta

9.99 €
5.49 €
45%
PAYDAY 2: CRIMEWAVE EDITION.

Hasta

19.99 €
3.99 €
80%
PBA Pro Bowling

Hasta

14.99 €
7.49 €
50%
PC Building Simulator

Hasta

17.99 €
7.19 €
60%
Peasant Knight

Hasta

2.99 €
1.19 €
60%
Persian Nights 2: Moonlight Veil

Hasta

14.99 €
5.99 €
60%
Persona 5 Royal Deluxe Edition

Hasta

69.99 €
31.49 €
55%
PGA TOUR 2K21

Hasta

59.99 €
19.79 €
67%
Phantom Doctrine

Hasta

39.99 €
7.99 €
80%
Pharaonic

Hasta

15.99 €
7.99 €
50%
PHOGS!

Hasta

24.99 €
17.49 €
30%
Pic-a-Pix Classic

Hasta

7.99 €
3.99 €
50%
Pic-a-Pix Classic 2

Hasta

7.99 €
3.99 €
50%
Pic-a-Pix Color

Hasta

7.99 €
3.99 €
50%
Pic-a-Pix Color 2

Hasta

7.99 €
3.99 €
50%
Pic-a-Pix Pieces

Hasta

7.99 €
3.99 €
50%
Pic-a-Pix Pieces 2

Hasta

7.99 €
3.99 €
50%
Pillars of Eternity II: Deadfire - Ultimate Edition

Hasta

59.99 €
35.99 €
40%
Pineview Drive - House of Horror

Hasta

19.99 €
5.99 €
70%
Pineview Drive - Joe's Diner Horror Bundle

Hasta

24.99 €
7.49 €
70%
PING REDUX

Hasta

4.49 €
3.14 €
30%
PING REDUX

Hasta

4.49 €
3.14 €
30%
Pinstripe

Hasta

14.49 €
2.89 €
80%
Pistol Whip

Hasta

28.49 €
18.51 €
35%
Pity Pit

Hasta

4.99 €
2.49 €
50%
Pixel Gladiator

Hasta

4.99 €
2.49 €
50%
Pixel Heroes: Byte & Magic

Hasta

14.99 €
2.99 €
80%
PixelJunk Shooter Ultimate

Hasta

11.99 €
2.39 €
80%
Planet Coaster: Ediciσn para consolas PS4 & PS5

Hasta

44.99 €
31.49 €
30%
Planet RIX-13

Hasta

4.99 €
1.99 €
60%
Planetbase

Hasta

14.99 €
8.99 €
40%
Plants vs. Zombies : La Batalla de Neighborville

Hasta

39.99 €
9.99 €
75%
PLAYERUNKNOWN'S BATTLEGROUNDS

Hasta

29.99 €
9.89 €
67%
PlayStation VR Worlds

Hasta

29.99 €
8.99 €
70%
Pocket League Story

Hasta

12.99 €
9.74 €
25%
Pocket Stables

Hasta

12.99 €
9.74 €
25%
POCOYO PARTY

Hasta

29.99 €
23.99 €
20%
Police Stories

Hasta

14.99 €
10.49 €
30%
Ponpu

Hasta

14.99 €
3.74 €
75%
Pool

Hasta

9.99 €
2.49 €
75%
Predator: Hunting Grounds

Hasta

39.99 €
19.99 €
50%
Predator: Hunting Grounds Ediciσn Digital Deluxe

Hasta

59.99 €
35.99 €
40%
Prey: Digital Deluxe Edition

Hasta

39.99 €
19.99 €
50%
Prismatic Solid

Hasta

10.99 €
2.19 €
80%
Prison Boss VR

Hasta

19.99 €
11.99 €
40%
Professional Construction - The Simulation

Hasta

24.99 €
7.49 €
70%
Professional Farmer 2017

Hasta

19.99 €
5.99 €
70%
Professional Farmer 2017 - Gold Edition

Hasta

19.99 €
5.99 €
70%
Professional Farmer: American Dream

Hasta

24.99 €
7.49 €
70%
Progear

Hasta

4.99 €
2.49 €
50%
Project CARS 3

Hasta

69.99 €
27.99 €
60%
Project Warlock

Hasta

14.99 €
8.99 €
40%
Projection: First Light

Hasta

17.99 €
7.19 €
60%
Protocol

Hasta

18.99 €
11.39 €
40%
Pumped BMX +

Hasta

9.99 €
1.99 €
80%
Pumpkin Jack

Hasta

29.99 €
20.99 €
30%
Punch Club

Hasta

9.99 €
1.99 €
80%
Pure Pool

Hasta

9.99 €
3.49 €
65%
PUSS!

Hasta

11.99 €
7.19 €
40%
Putty Squad

Hasta

24.99 €
9.99 €
60%
Puzzle Showdown 4K - Exclusive Content Bundle

Hasta

4.99 €
2.49 €
50%
Quar: Infernal Machines

Hasta

24.99 €
7.49 €
70%
QuiVr

Hasta

23.99 €
11.99 €
50%
R-Type Dimensions EX

Hasta

14.99 €
7.49 €
50%
Racket Fury: Table Tennis

Hasta

23.99 €
11.99 €
50%
Radio Commander

Hasta

14.99 €
11.24 €
25%
Radon Blast

Hasta

4.99 €
1.99 €
60%
Rain World

Hasta

19.99 €
4.99 €
75%
Rainbow Moon

Hasta

14.99 €
2.99 €
80%
Rainbow Skies + Rainbow Moon Mega RPG Bundle

Hasta

39.99 €
9.99 €
75%
Rainbow Skies [Cross-Buy]

Hasta

26.99 €
6.74 €
75%
Raji: An Ancient Epic

Hasta

24.99 €
12.49 €
50%
Rapala Fishing: Pro Series

Hasta

19.99 €
4.99 €
75%
Ravensword: Shadowlands

Hasta

6.99 €
5.24 €
25%
Raw Data

Hasta

36.99 €
9.24 €
75%
Rayman Legends

Hasta

19.99 €
9.99 €
50%
Real Farm - Deluxe Edition

Hasta

49.99 €
14.99 €
70%
Real Heroes: Firefighter

Hasta

14.99 €
7.49 €
50%
Realms of Arkania: Star Trail

Hasta

29.99 €
8.99 €
70%
Realpolitiks New Power

Hasta

24.99 €
12.49 €
50%
Reborn: A Samurai Awakens

Hasta

14.99 €
7.49 €
50%
Red Bow

Hasta

4.99 €
2.49 €
50%
Red Dead Online

Hasta

19.99 €
14.99 €
25%
Red Dead Redemption 2

Hasta

59.99 €
24.59 €
59%
Red Matter

Hasta

29.99 €
10.49 €
65%
Redeemer: Enhanced Edition

Hasta

29.99 €
8.99 €
70%
Reed 2

Hasta

4.99 €
2.49 €
50%
Reflection Of Mine

Hasta

7.99 €
4.39 €
45%
Regalia: Of Men and Monarchs - Royal Edition

Hasta

24.99 €
16.24 €
35%
Regalia: Of Men and Monarchs - Royal Edition OST Combo

Hasta

28.49 €
17.09 €
40%
Regions of Ruin

Hasta

9.99 €
2.49 €
75%
Reknum

Hasta

5.99 €
2.99 €
50%
Relicta

Hasta

19.99 €
8.99 €
55%
Remnant: From the Ashes

Hasta

39.99 €
19.99 €
50%
Remothered: Tormented Fathers

Hasta

29.99 €
8.99 €
70%
Renzo Racer

Hasta

24.99 €
18.74 €
25%
Resident Evil

Hasta

19.99 €
4.99 €
75%
Resident Evil 0

Hasta

19.99 €
4.99 €
75%
RESIDENT EVIL 2

Hasta

39.99 €
15.99 €
60%
RESIDENT EVIL 3

Hasta

59.99 €
19.79 €
67%
resident evil 4

Hasta

19.99 €
7.99 €
60%
RESIDENT EVIL 5

Hasta

19.99 €
7.99 €
60%
Resident Evil 6

Hasta

19.99 €
7.99 €
60%
RESIDENT EVIL 7 biohazard

Hasta

19.99 €
9.99 €
50%
RESIDENT EVIL REVELATIONS

Hasta

19.99 €
7.99 €
60%
Resident Evil Revelations 2 Deluxe Edition

Hasta

29.99 €
8.99 €
70%
Retrace: Memories of Death

Hasta

7.99 €
4.79 €
40%
Return of the Obra Dinn

Hasta

23.99 €
17.99 €
25%
Reus

Hasta

14.99 €
2.24 €
85%
Revenant Saga

Hasta

14.99 €
8.99 €
40%
RICO

Hasta

19.99 €
7.99 €
60%
Ride 2

Hasta

39.99 €
3.99 €
90%
Ride 2 Special Edition

Hasta

59.99 €
5.99 €
90%
RIDE 4

Hasta

69.99 €
34.99 €
50%
RIDE 4

Hasta

69.99 €
34.99 €
50%
Rigid Force Redux

Hasta

15.99 €
9.59 €
40%
Rigid Force Redux - Digital Deluxe Edition

Hasta

19.99 €
11.99 €
40%
RIGS Mechanized Combat League

Hasta

19.99 €
4.99 €
75%
RiME

Hasta

34.99 €
12.24 €
65%
RIOT - Civil Unrest

Hasta

19.99 €
5.99 €
70%
Riptide GP: Renegade

Hasta

9.99 €
5.99 €
40%
Rise & Shine

Hasta

14.99 €
3.74 €
75%
Rise of the Tomb Raider: 20ΒΊ aniversario

Hasta

29.99 €
5.99 €
80%
Risk of Rain

Hasta

8.99 €
2.24 €
75%
Risk of Rain 2

Hasta

24.99 €
9.99 €
60%
Ritual: Crown of Horns

Hasta

19.99 €
5.99 €
70%
Rival Megagun

Hasta

14.99 €
7.49 €
50%
RIVE

Hasta

14.99 €
2.24 €
85%
River City Girls

Hasta

29.99 €
20.99 €
30%
River City Melee: Battle Royal Special

Hasta

24.99 €
3.74 €
85%
Road Fury

Hasta

7.99 €
2.39 €
70%
Road Rage

Hasta

19.99 €
2.99 €
85%
Road Redemption

Hasta

19.99 €
7.99 €
60%
Roarr! Jurassic Edition

Hasta

6.59 €
2.63 €
60%
Robinson: The Journey

Hasta

29.99 €
7.49 €
75%
Robox

Hasta

14.99 €
3.74 €
75%
Robozarro

Hasta

6.99 €
2.79 €
60%
ROCK BOSHERS DX - ULTRA BUNDLE

Hasta

7.99 €
2.39 €
70%
ROCK BOSHERS DX: DIRECTOR'S CUT

Hasta

5.49 €
1.64 €
70%
Rock'N Racing Off Road DX

Hasta

7.99 €
3.19 €
60%
Rodent Warriors

Hasta

5.99 €
2.99 €
50%
Rogue Stormers & Giana Sisters Bundle

Hasta

24.99 €
7.49 €
70%
Roommates

Hasta

19.99 €
10.99 €
45%
Roundout by POWGI

Hasta

7.99 €
3.99 €
50%
ROYAL BUNDLE

Hasta

8.99 €
3.59 €
60%
ROYAL COLLECTION

Hasta

11.99 €
4.79 €
60%
Ruiner

Hasta

19.99 €
4.99 €
75%
Runbow

Hasta

14.99 €
2.99 €
80%
Runner3

Hasta

15.99 €
7.99 €
50%
Rush Rover

Hasta

4.99 €
1.99 €
60%
Sιbastien Loeb Rally EVO

Hasta

19.99 €
3.99 €
80%
Sιbastien Loeb Rally EVO - Special Edition

Hasta

29.99 €
5.99 €
80%
Saber es Poder

Hasta

19.99 €
9.99 €
50%
Saber es Poder: Generaciones

Hasta

19.99 €
9.99 €
50%
Sackboy Una aventura a lo grande PS4 & PS5

Hasta

69.99 €
60.19 €
14%
Sagebrush

Hasta

5.99 €
2.09 €
65%
Sakura Succubus PS4 & PS5

Hasta

9.99 €
6.99 €
30%
Samurai Jack: Battle Through Time

Hasta

39.99 €
23.99 €
40%
Santa's Xmas Adventure

Hasta

7.99 €
2.39 €
70%
Savage Halloween

Hasta

4.99 €
0.99 €
80%
Sayonara Wild Hearts

Hasta

11.99 €
7.19 €
40%
SΓΆldner-X 2: Final Prototype Definitive Edition

Hasta

9.99 €
5.99 €
40%
Scheming Through The Zombie Apocalypse: The Beginning

Hasta

4.99 €
1.49 €
70%
ScourgeBringer

Hasta

16.99 €
11.89 €
30%
Sea of Solitude

Hasta

19.99 €
7.99 €
60%
Season Match

Hasta

9.99 €
4.99 €
50%
Seasons after Fall

Hasta

9.99 €
1.99 €
80%
Secret Neighbor

Hasta

19.99 €
15.99 €
20%
Seeds of Resilience

Hasta

13.99 €
6.99 €
50%
Sekiro : Shadows die twice - Ediciσn Juego del Aρo

Hasta

69.99 €
34.99 €
50%
SENRAN KAGURA Burst Re:Newal Shinobi Rivals Edition

Hasta

49.99 €
19.99 €
60%
SENSE - A CYBERPUNK GHOST STORY

Hasta

19.99 €
14.99 €
25%
Serial Cleaner

Hasta

14.99 €
2.99 €
80%
SEUM: Speedrunners from Hell

Hasta

14.99 €
2.99 €
80%
SEVEN: ENHANCED EDITION

Hasta

39.99 €
7.99 €
80%
Shadow of Loot Box

Hasta

7.99 €
2.39 €
70%
Shadow Tactics: Blades of the Shogun

Hasta

49.99 €
4.99 €
90%
Shady Part of Me

Hasta

14.99 €
10.04 €
33%
Shantae : Half- Genie Hero Ultimate Edition

Hasta

39.99 €
19.99 €
50%
Shantae and the Pirate's Curse

Hasta

19.99 €
9.99 €
50%
Shantae and the Seven Sirens

Hasta

29.99 €
20.99 €
30%
Shape of the World

Hasta

14.99 €
3.74 €
75%
Sheltered

Hasta

12.99 €
3.24 €
75%
Shenmue III - Digital Deluxe Edition

Hasta

74.99 €
14.99 €
80%
Sherlock Holmes: Crimes and Punishments

Hasta

39.99 €
9.99 €
75%
Shiness: The Lightning Kingdom

Hasta

9.99 €
2.49 €
75%
SHINY - A Robotic Adventure

Hasta

14.99 €
0.74 €
95%
Shiny - Deluxe Edition

Hasta

19.99 €
1.99 €
90%
Shooty Fruity

Hasta

19.99 €
6.99 €
65%
Shotgun Farmers

Hasta

9.99 €
7.99 €
20%
Shutshimi

Hasta

3.99 €
1.59 €
60%
Shuttle Commander

Hasta

24.99 €
14.99 €
40%
Side Arms

Hasta

4.99 €
2.49 €
50%
Sigi - A Fart for Melusina

Hasta

5.99 €
2.39 €
60%
Signs of the Sojourner

Hasta

19.99 €
15.99 €
20%
Silver Chains

Hasta

24.99 €
14.99 €
40%
SIMULACRA

Hasta

12.99 €
9.74 €
25%
Sine Mora EX

Hasta

19.99 €
5.99 €
70%
Sir Lovelot

Hasta

9.99 €
6.99 €
30%
Sir Lovelot

Hasta

9.99 €
6.99 €
30%
Skyland: Heart of the Mountain

Hasta

14.99 €
5.99 €
60%
Skyworld

Hasta

29.99 €
14.99 €
50%
SlabWell - The Quest for kaktun's alpaca

Hasta

7.99 €
1.99 €
75%
Slide Stars

Hasta

39.99 €
19.99 €
50%
Slime-san: Superslime Edition

Hasta

14.99 €
5.99 €
60%
Slyde

Hasta

1.19 €
0.59 €
50%
Smoke And Sacrifice

Hasta

19.99 €
3.99 €
80%
Smoots Summer Games

Hasta

9.99 €
6.99 €
30%
Smoots World Cup Tennis

Hasta

9.99 €
6.99 €
30%
Snakes & Ladders

Hasta

8.99 €
2.24 €
75%
Snakeybus

Hasta

11.99 €
8.39 €
30%
Sniper Elite 4

Hasta

69.99 €
6.99 €
90%
Sniper Elite 4 Digital Deluxe Edition

Hasta

99.99 €
9.99 €
90%
Snooker 19

Hasta

34.99 €
17.49 €
50%
Snow Moto Racing Freedom

Hasta

12.99 €
3.24 €
75%
Solo: Islands of the Heart

Hasta

19.99 €
4.99 €
75%
SOMA

Hasta

28.49 €
2.84 €
90%
SONIC FORCES

Hasta

39.99 €
9.99 €
75%
Sonic Mania

Hasta

19.99 €
9.99 €
50%
Space Blaze

Hasta

19.99 €
5.99 €
70%
Space Crew

Hasta

19.99 €
9.99 €
50%
Sparc

Hasta

19.99 €
9.99 €
50%
Sparkle 4 Tales

Hasta

9.99 €
4.99 €
50%
Sparklite

Hasta

24.99 €
8.74 €
65%
Spartan Fist

Hasta

14.99 €
7.49 €
50%
Speed 3: Grand Prix

Hasta

29.99 €
14.99 €
50%
Speed Limit

Hasta

9.99 €
6.99 €
30%
Spelunky

Hasta

14.99 €
3.74 €
75%
Spelunky 2

Hasta

19.99 €
11.99 €
40%
Spencer

Hasta

6.99 €
2.79 €
60%
Spice and Wolf VR

Hasta

26.99 €
16.19 €
40%
Spice and Wolf VR 2

Hasta

20.99 €
14.69 €
30%
Spirit Arena

Hasta

5.49 €
2.74 €
50%
Spirit of the North

Hasta

16.99 €
5.94 €
65%
Spirit of the North: Enhanced Edition

Hasta

24.99 €
12.49 €
50%
Spiritfarer

Hasta

24.99 €
18.74 €
25%
Spooky Chase

Hasta

4.99 €
0.99 €
80%
Sprint Vector

Hasta

24.99 €
7.49 €
70%
Spy Chameleon

Hasta

4.99 €
1.99 €
60%
Squad Killer

Hasta

4.99 €
3.49 €
30%
Squishies

Hasta

9.99 €
2.49 €
75%
Star Hammer: the Vanguard Prophecy

Hasta

19.99 €
4.79 €
76%
Star Renegades

Hasta

24.99 €
17.49 €
30%
STAR WARS Battlefront II Celebration Edition

Hasta

39.99 €
11.99 €
70%
STAR WARS Episode I Racer

Hasta

14.99 €
7.49 €
50%
Stealth Inc: Ultimate Edition

Hasta

12.99 €
1.29 €
90%
Steampunk Tower 2

Hasta

9.99 €
4.99 €
50%
Steamroll: Rustless Edition

Hasta

9.99 €
6.99 €
30%
SteamWorld Dig

Hasta

8.99 €
1.79 €
80%
SteamWorld Dig 2

Hasta

19.99 €
5.99 €
70%
SteamWorld Heist

Hasta

14.99 €
2.99 €
80%
Stories Untold

Hasta

9.99 €
2.49 €
75%
Stranded Sails - Explorers of the Cursed Islands

Hasta

24.99 €
9.99 €
60%
Stranger Things 3: El juego

Hasta

17.99 €
8.99 €
50%
Strawberry Vinegar

Hasta

9.99 €
5.49 €
45%
Street Fighter 30th Anniversary Collection

Hasta

29.99 €
14.99 €
50%
Street Outlaws: The List

Hasta

39.99 €
9.99 €
75%
Street Racer Underground

Hasta

5.99 €
4.19 €
30%
Stretch Arcade

Hasta

1.99 €
0.99 €
50%
SturmFront - The Mutant War: Übel Edition

Hasta

9.99 €
7.99 €
20%
Styx: Shards of Darkness

Hasta

19.99 €
3.99 €
80%
Subject 13

Hasta

6.99 €
1.04 €
85%
Sublevel Zero Redux

Hasta

19.99 €
5.99 €
70%
Summer Funland

Hasta

19.99 €
15.99 €
20%
Summer in Mara

Hasta

21.99 €
10.99 €
50%
Summer of Adventure Bundle

Hasta

59.99 €
14.99 €
75%
Summer Sports Games

Hasta

24.99 €
12.49 €
50%
Sundered : Ediciσn sobrenatural

Hasta

19.99 €
7.99 €
60%
Super Blackjack Battle II - Turbo Edition - The Card Warriors

Hasta

7.99 €
1.59 €
80%
Super Destronaut: Land Wars

Hasta

4.99 €
2.49 €
50%
Super Dodgeball Beats

Hasta

14.99 €
4.49 €
70%
Super Hyperactive Ninja

Hasta

7.99 €
1.99 €
75%
Super Korotama

Hasta

4.99 €
1.99 €
60%
Super Korotama - Koro Edition

Hasta

7.99 €
3.19 €
60%
Super Meat Boy

Hasta

15.99 €
4.79 €
70%
Super Meat Boy Forever

Hasta

19.99 €
14.99 €
25%
Super Neptunia RPG

Hasta

29.99 €
14.99 €
50%
Super Skelemania

Hasta

4.99 €
1.49 €
70%
Super Soccer Blast

Hasta

7.99 €
3.99 €
50%
Super Sports Blast

Hasta

24.99 €
12.49 €
50%
Super Star Blast

Hasta

4.99 €
1.99 €
60%
Super Stardust Ultra VR

Hasta

19.99 €
4.99 €
75%
Super Street: The Game

Hasta

24.99 €
12.49 €
50%
Super Tennis Blast

Hasta

14.99 €
5.99 €
60%
Super Time Force Ultra

Hasta

16.99 €
3.39 €
80%
Super Volley Blast

Hasta

9.99 €
3.99 €
60%
SUPERBEAT: XONiC EX

Hasta

24.99 €
4.99 €
80%
SuperEpic: The Entertainment War

Hasta

14.99 €
5.99 €
60%
SUPERHOT

Hasta

24.99 €
9.99 €
60%
SUPERHOT MIND IS SOFTWARE BUNDLE

Hasta

39.99 €
15.99 €
60%
SUPERHOT ONE OF US BUNDLE

Hasta

39.99 €
19.99 €
50%
SUPERHOT VR

Hasta

24.99 €
9.99 €
60%
SUPERHOT: MIND CONTROL DELETE

Hasta

24.99 €
13.74 €
45%
SuperMash

Hasta

18.99 €
9.49 €
50%
Surgeon Simulator A&E + I Am Bread

Hasta

19.99 €
3.59 €
82%
Surgeon Simulator: Anniversary Edition

Hasta

10.99 €
1.97 €
82%
Surgeon Simulator: Experience Reality

Hasta

19.99 €
5.99 €
70%
Survival

Hasta

9.99 €
2.49 €
75%
Sweet Witches

Hasta

9.99 €
4.99 €
50%
SWORD ART ONLINE Alicization Lycoris

Hasta

69.99 €
34.99 €
50%
SWORD ART ONLINE: FATAL BULLET Complete Edition

Hasta

69.99 €
13.99 €
80%
Sword of the Necromancer

Hasta

14.99 €
10.49 €
30%
Swordbreaker The Game

Hasta

4.99 €
2.99 €
40%
SWORDS of GARGANTUA

Hasta

24.99 €
12.49 €
50%
SYMMETRY

Hasta

14.99 €
4.49 €
70%
Synergia

Hasta

14.99 €
11.24 €
25%
Syrup and The Ultimate Sweet

Hasta

4.99 €
2.74 €
45%
Table Tennis

Hasta

9.99 €
2.49 €
75%
Table Top Racing: World Tour

Hasta

4.99 €
2.49 €
50%
Tacoma

Hasta

19.99 €
7.99 €
60%
Takotan

Hasta

6.99 €
2.79 €
60%
Tamarin

Hasta

29.99 €
17.99 €
40%
Tamarin : Deluxe Edition

Hasta

39.99 €
23.99 €
40%
Tango Fiesta

Hasta

9.99 €
2.99 €
70%
Taxi Chaos

Hasta

29.99 €
23.99 €
20%
Team Sonic Racing

Hasta

39.99 €
19.99 €
50%
TEKKEN 7

Hasta

49.99 €
9.99 €
80%
Telling Lies

Hasta

19.99 €
7.99 €
60%
Tennis World Tour 2

Hasta

49.99 €
19.99 €
60%
Tennis World Tour 2 - Complete Edition

Hasta

59.99 €
35.99 €
40%
Teratopia

Hasta

14.99 €
5.99 €
60%
Terraria - PlayStation 4 Edition

Hasta

18.99 €
9.49 €
50%
TerraTech

Hasta

24.99 €
17.49 €
30%
Tesla Force PS4 & PS5

Hasta

14.99 €
7.49 €
50%
Tesla vs Lovecraft

Hasta

14.99 €
2.24 €
85%
TETRA's Escape

Hasta

4.99 €
1.49 €
70%
Tetris Effect

Hasta

39.99 €
19.99 €
50%
Tharsis

Hasta

15.99 €
9.59 €
40%
The Adventure Pals

Hasta

14.99 €
3.74 €
75%
The Assembly

Hasta

24.99 €
4.99 €
80%
The Bard's Tale IV: Director's Cut

Hasta

39.99 €
9.99 €
75%
The BIT.TRIP

Hasta

9.99 €
5.99 €
40%
The Blackout Club

Hasta

24.99 €
12.49 €
50%
The Book of Unwritten Tales 2

Hasta

29.99 €
7.49 €
75%
The Bradwell Conspiracy

Hasta

19.99 €
7.99 €
60%
The Catch: Carp & Coarse - Collector's Edition

Hasta

32.99 €
18.14 €
45%
The Childs Sight

Hasta

4.99 €
2.49 €
50%
THE COMPLETE SUPERHOT BUNDLE

Hasta

49.99 €
24.99 €
50%
The Complex

Hasta

12.99 €
9.09 €
30%
The Council - Complete Season

Hasta

24.99 €
6.24 €
75%
The Count Lucanor

Hasta

14.99 €
4.49 €
70%
The Crew 2 - Deluxe Edition

Hasta

59.99 €
11.99 €
80%
The Curious Tale of the Stolen Pets

Hasta

14.99 €
5.99 €
60%
The Dark Pictures Anthology: Little Hope & Man of Medan Bundle

Hasta

49.99 €
29.99 €
40%
The Division 2: Ediciσn Seρores de la guerra de Nueva York

Hasta

59.99 €
17.99 €
70%
The Elder Scrolls Online

Hasta

19.99 €
7.99 €
60%
The Elder Scrolls V: Skyrim Special Edition

Hasta

59.99 €
23.99 €
60%
The Escapists + The Escapists 2

Hasta

34.99 €
10.49 €
70%
The Escapists 2

Hasta

21.99 €
5.49 €
75%
The Fisherman - Fishing Planet

Hasta

59.99 €
20.99 €
65%
The Five Covens

Hasta

12.99 €
7.79 €
40%
The Flame in the Flood: Complete Edition

Hasta

14.99 €
2.99 €
80%
The Gardens Between

Hasta

19.99 €
4.99 €
75%
The Giants Bundle

Hasta

29.99 €
8.99 €
70%
The Great Perhaps

Hasta

9.99 €
4.99 €
50%
The Incredible Adventures of Van Helsing II

Hasta

14.99 €
3.74 €
75%
The Incredible Adventures of Van Helsing III

Hasta

14.99 €
5.99 €
60%
The Incredible Adventures of Van Helsing III Deluxe Edition

Hasta

16.99 €
6.79 €
60%
The Incredible Adventures of Van Helsing: Extended Edition

Hasta

19.99 €
4.99 €
75%
The Inner World

Hasta

14.99 €
2.99 €
80%
The Inner World - The Last Wind Monk

Hasta

19.99 €
5.99 €
70%
The Inpatient

Hasta

19.99 €
7.99 €
60%
The Jackbox Party Pack 3

Hasta

26.99 €
14.84 €
45%
The Jackbox Party Pack 7

Hasta

29.99 €
19.49 €
35%
The Journey Down Trilogy Bundle

Hasta

39.99 €
15.99 €
60%
The Language Of Love

Hasta

9.99 €
5.99 €
40%
The Last Campfire

Hasta

14.99 €
7.49 €
50%
The Last Dead End

Hasta

5.49 €
3.84 €
30%
The Last Door - Complete Edition

Hasta

14.49 €
5.79 €
60%
The Last of Us Parte II

Hasta

69.99 €
30.09 €
57%
The Legend of Heroes: Trails of Cold Steel

Hasta

39.99 €
19.99 €
50%
The Legend of Heroes: Trails of Cold Steel II

Hasta

39.99 €
19.99 €
50%
The Little Acre

Hasta

12.99 €
2.59 €
80%
The Long Reach

Hasta

14.99 €
2.99 €
80%
The Lost Cube

Hasta

4.99 €
3.49 €
30%
The Magic Circle: Gold Edition

Hasta

19.99 €
5.99 €
70%
The Mean Greens - Plastic Warfare

Hasta

9.99 €
1.99 €
80%
The Messenger

Hasta

19.99 €
9.99 €
50%
The Mooseman

Hasta

7.99 €
3.19 €
60%
The Occupation

Hasta

29.99 €
17.99 €
40%
The Outer Worlds

Hasta

59.99 €
23.99 €
60%
The Padre

Hasta

19.99 €
5.99 €
70%
The Pathless PS4 & PS5

Hasta

34.99 €
24.49 €
30%
The Pedestrian

Hasta

15.99 €
10.39 €
35%
The Persistence

Hasta

29.99 €
14.99 €
50%
The Pillar: Puzzle Escape

Hasta

9.99 €
5.99 €
40%
The Rabbit Hole

Hasta

5.99 €
4.19 €
30%
The Room VR: A Dark Matter

Hasta

29.99 €
13.49 €
55%
The Savior's Gang

Hasta

4.99 €
2.49 €
50%
The Secret Order: Return to the Buried Kingdom

Hasta

14.99 €
3.74 €
75%
The Seventia Collection

Hasta

35.99 €
28.79 €
20%
The Sexy Brutale

Hasta

19.99 €
3.99 €
80%
The Shadow Warrior Collection

Hasta

59.99 €
14.99 €
75%
The Spectrum Retreat

Hasta

12.99 €
4.54 €
65%
The Stealth Inc 1 & 2 Ultimate-est Edition

Hasta

16.99 €
1.69 €
90%
The Surge - Augmented Edition

Hasta

29.99 €
5.99 €
80%
The Sushi Spinnery

Hasta

12.99 €
9.74 €
25%
The Swords of Ditto: Mormo's Curse

Hasta

14.99 €
7.49 €
50%
The Talos Principle

Hasta

39.99 €
7.99 €
80%
The Tower of Beatrice

Hasta

5.99 €
2.39 €
60%
The True

Hasta

9.99 €
7.49 €
25%
The Vanishing of Ethan Carter

Hasta

18.99 €
2.84 €
85%
The Walker

Hasta

19.99 €
9.99 €
50%
The Walking Dead Onslaught

Hasta

29.99 €
17.99 €
40%
The Walking Dead Onslaught: Digital Deluxe

Hasta

39.99 €
19.99 €
50%
The Walking Dead: Saints & Sinners - Standard Edition

Hasta

39.99 €
25.99 €
35%
The Walking Dead: Saints & Sinners - Tourist Edition

Hasta

49.99 €
29.99 €
40%
The Walking Dead: Saints & Sinners - Tourist Edition Upgrade

Hasta

9.99 €
5.99 €
40%
The Walking Vegetables: Radical Edition

Hasta

12.99 €
3.89 €
70%
The Wild Eight

Hasta

19.99 €
11.99 €
40%
The Wolf Among Us

Hasta

14.99 €
5.99 €
60%
theHunter : Call of the Wild - 2019 Edition

Hasta

44.99 €
22.49 €
50%
theHunter: Call of the Wild - 2021 Edition

Hasta

64.99 €
42.24 €
35%
TheNightfall

Hasta

29.99 €
8.99 €
70%
They Are Billions

Hasta

29.99 €
11.99 €
60%
Thief Simulator

Hasta

19.99 €
14.99 €
25%
Thimbleweed Park

Hasta

19.99 €
5.99 €
70%
This is the Zodiac Speaking

Hasta

12.99 €
9.09 €
30%
This War of Mine: The Little Ones

Hasta

19.99 €
3.99 €
80%
Thomas Was Alone

Hasta

7.99 €
0.79 €
90%
Through the Darkest of Times

Hasta

14.99 €
8.99 €
40%
Thumper

Hasta

19.99 €
5.99 €
70%
Thunder Paw

Hasta

4.99 €
1.99 €
60%
Tic-Tac-Letters by POWGI

Hasta

7.99 €
3.99 €
50%
Timber Tennis: Versus

Hasta

1.99 €
0.39 €
80%
Timberman VS

Hasta

1.99 €
0.99 €
50%
Time Recoil

Hasta

13.99 €
4.89 €
65%
Timothy vs the Aliens (Game + Avatar Pack)

Hasta

9.99 €
5.99 €
40%
Tin & Kuna

Hasta

24.99 €
9.99 €
60%
Tinker Racers

Hasta

4.99 €
0.99 €
80%
Tiny Hands Adventure

Hasta

7.99 €
3.99 €
50%
Titan Souls

Hasta

14.99 €
3.74 €
75%
Titanfall 2 Standard Edition

Hasta

19.99 €
3.99 €
80%
Titanfall 2: Ultimate Edition

Hasta

29.99 €
5.99 €
80%
Titanic VR

Hasta

19.99 €
11.99 €
40%
Toby: The Secret Mine

Hasta

14.99 €
2.99 €
80%
TOHU

Hasta

12.99 €
9.09 €
30%
Tom Clancy's Ghost Recon Wildlands - Standard Edition

Hasta

49.99 €
14.99 €
70%
Tomb Raider: Definitive Survivor Trilogy

Hasta

49.99 €
19.99 €
60%
Tony Hawk's Pro Skater 1 + 2

Hasta

44.99 €
33.74 €
25%
Tony Stewart's All-American Racing

Hasta

29.99 €
20.99 €
30%
Tools Up!

Hasta

19.99 €
8.99 €
55%
Tools Up! - The Renovation Spree Bundle

Hasta

26.99 €
21.59 €
20%
Torchlight II

Hasta

19.99 €
5.99 €
70%
Torchlight III

Hasta

39.99 €
19.99 €
50%
Toren

Hasta

9.99 €
1.99 €
80%
TorqueL

Hasta

4.99 €
1.49 €
70%
Totally Reliable Delivery Service

Hasta

14.99 €
5.99 €
60%
Totally Reliable Delivery Service Deluxe Edition

Hasta

23.99 €
9.59 €
60%
Touhou Double Focus

Hasta

19.99 €
0.99 €
95%
Touhou Genso Rondo: Bullet Ballet

Hasta

29.99 €
5.99 €
80%
Touhou Genso Wanderer Reloaded

Hasta

49.99 €
14.99 €
70%
Touhou Kobuto V: Burst Battle

Hasta

29.99 €
8.99 €
70%
Towaga: Among Shadows

Hasta

14.99 €
7.49 €
50%
Tower Defense Collection 7 in 1

Hasta

39.99 €
11.99 €
70%
TowerFall Ascension

Hasta

13.99 €
2.79 €
80%
Townsmen - A Kingdom Rebuilt

Hasta

29.99 €
17.99 €
40%
Trailblazers

Hasta

29.99 €
5.99 €
80%
Trailmakers

Hasta

29.99 €
20.09 €
33%
Train Sim World 2: Collector's Edition

Hasta

54.99 €
28.59 €
48%
TrainerVR

Hasta

9.99 €
3.99 €
60%
Transcripted

Hasta

7.99 €
1.99 €
75%
Transport Giant

Hasta

19.99 €
5.99 €
70%
TrΓΌberbrook

Hasta

29.99 €
8.99 €
70%
Tribal Pass

Hasta

5.99 €
3.59 €
40%
Tricky Towers

Hasta

14.99 €
5.99 €
60%
Trilogνa Mafia

Hasta

59.99 €
32.99 €
45%
Trine 4: The Nightmare Prince

Hasta

29.99 €
7.49 €
75%
Troll and I

Hasta

29.99 €
7.49 €
75%
Truck Driver

Hasta

39.99 €
27.99 €
30%
Truck Driver - Deluxe Edition

Hasta

44.99 €
31.49 €
30%
True Fear: Forsaken Souls - Part 1

Hasta

9.99 €
3.99 €
60%
True Fear: Forsaken Souls - Part 2

Hasta

9.99 €
4.99 €
50%
Trulon: The Shadow Engine

Hasta

19.99 €
3.99 €
80%
Twilight Path

Hasta

14.99 €
8.99 €
40%
Twin Breaker: A Sacred Symbols Adventure

Hasta

10.99 €
4.94 €
55%
Twin Mirror

Hasta

29.99 €
19.49 €
35%
Twin Robots

Hasta

4.99 €
0.99 €
80%
Two Parsecs from Earth

Hasta

7.99 €
4.79 €
40%
Two Tribes Pack: RIVE & Toki Tori 2+

Hasta

26.99 €
2.69 €
90%
TY the Tasmanian Tiger HD

Hasta

26.99 €
17.54 €
35%
Typoman

Hasta

9.99 €
2.49 €
75%
Typoman Ediciσn Deluxe

Hasta

12.99 €
3.24 €
75%
UFC 4

Hasta

69.99 €
34.99 €
50%
Ultimate Chicken Horse

Hasta

17.99 €
8.99 €
50%
Ultimate Fishing Simulator

Hasta

29.99 €
20.99 €
30%
Ultimate Runner

Hasta

14.99 €
4.49 €
70%
Ultra Hat Dimension

Hasta

4.99 €
2.74 €
45%
UltraGoodness 2 PS4 & PS5

Hasta

4.99 €
3.74 €
25%
Una silla en una habitaciσn: Greenwater

Hasta

21.99 €
13.19 €
40%
UNBOX: NEWBIE'S ADVENTURE

Hasta

24.99 €
4.99 €
80%
Uncanny Valley

Hasta

14.49 €
5.07 €
65%
Uncharted Tides: Port Royal

Hasta

14.99 €
3.74 €
75%
Undead Horde PS4 & PS5

Hasta

16.99 €
5.94 €
65%
Under The Jolly Roger

Hasta

17.99 €
12.59 €
30%
UnderMine

Hasta

16.99 €
11.04 €
35%
Undertale

Hasta

14.99 €
10.04 €
33%
Unravel Two

Hasta

19.99 €
4.99 €
75%
Until Dawn: Rush of Blood

Hasta

19.99 €
9.99 €
50%
Until You Fall

Hasta

24.99 €
17.49 €
30%
Untitled Goose Game

Hasta

19.99 €
11.99 €
40%
Unto The End

Hasta

24.99 €
19.99 €
20%
UNTURNED

Hasta

24.99 €
12.49 €
50%
Vacation Simulator

Hasta

32.99 €
21.44 €
35%
Vambrace: Cold Soul

Hasta

24.99 €
7.49 €
70%
Vaporum

Hasta

29.99 €
8.99 €
70%
VARTH

Hasta

4.99 €
2.49 €
50%
VASARA Collection

Hasta

9.99 €
1.99 €
80%
Vasilis

Hasta

4.99 €
1.99 €
60%
Vegas Party

Hasta

14.99 €
4.49 €
70%
Vera Blanc: Full Moon

Hasta

4.99 €
2.99 €
40%
Vera Blanc: Ghost In The Castle

Hasta

4.99 €
3.49 €
30%
Verlet Swing

Hasta

14.99 €
5.99 €
60%
Victor Vran

Hasta

19.99 €
3.99 €
80%
Victor Vran Overkill Edition

Hasta

39.99 €
7.99 €
80%
Viking Days

Hasta

6.19 €
4.33 €
30%
Virginia - El juego

Hasta

9.99 €
2.49 €
75%
Virginia: lote de Ediciσn Especial

Hasta

11.25 €
2.81 €
75%
Visage

Hasta

34.99 €
24.49 €
30%
Void Bastards: DeLUXe Bundle

Hasta

32.99 €
16.49 €
50%
VR Karts

Hasta

24.99 €
17.49 €
30%
VR Ping Pong

Hasta

14.99 €
4.49 €
70%
VR Ping Pong Pro

Hasta

24.99 €
9.99 €
60%
VRobot

Hasta

14.99 €
7.49 €
50%
Waltz of the Wizard: Extended Edition

Hasta

11.99 €
8.39 €
30%
Wandersong

Hasta

19.99 €
4.99 €
75%
WarDogs: Red's Return

Hasta

3.99 €
0.79 €
80%
Warface: Breakout

Hasta

19.99 €
3.99 €
80%
Warface: Breakout - Ediciσn Ultimate

Hasta

44.99 €
8.99 €
80%
Warhammer 40,000: Space Wolf

Hasta

29.99 €
14.99 €
50%
Warhammer 40,000: Space Wolf Bundle

Hasta

39.99 €
19.99 €
50%
Warhammer Vermintide - The Ultimate Edition

Hasta

59.99 €
11.99 €
80%
Warhammer: Chaosbane Slayer Edition

Hasta

59.99 €
26.99 €
55%
Warhammer: End Times - Vermintide

Hasta

29.99 €
4.49 €
85%
Warparty

Hasta

19.99 €
6.99 €
65%
WARSAW

Hasta

19.99 €
11.99 €
40%
Wasteland 3

Hasta

59.99 €
29.99 €
50%
Watch Dogs : Legion PS4 & PS5

Hasta

69.99 €
34.99 €
50%
Water Balloon Mania

Hasta

5.99 €
1.67 €
72%
Wattam

Hasta

19.99 €
7.99 €
60%
Waves Out!

Hasta

9.99 €
5.99 €
40%
We Sing

Hasta

29.99 €
8.99 €
70%
We Sing Pop

Hasta

29.99 €
8.99 €
70%
We Were Here

Hasta

4.99 €
3.24 €
35%
We Were Here Series Bundle

Hasta

21.99 €
15.39 €
30%
We Were Here Together

Hasta

12.99 €
9.09 €
30%
We Were Here Too

Hasta

9.99 €
6.99 €
30%
We. The Revolution

Hasta

23.99 €
7.19 €
70%
Werewolf: The Apocalypse - Earthblood

Hasta

49.99 €
24.99 €
50%
Werewolf: The Apocalypse - Earthblood

Hasta

49.99 €
34.99 €
30%
West of Dead

Hasta

19.99 €
12.99 €
35%
West of Dead Ediciσn La senda del Cuervo

Hasta

20.99 €
13.64 €
35%
while True: learn()

Hasta

14.99 €
9.74 €
35%
Whipseey and the Lost Atlas

Hasta

5.99 €
1.19 €
80%
White Noise 2

Hasta

7.49 €
4.49 €
40%
Wildfire

Hasta

14.99 €
11.24 €
25%
WILL: A Wonderful World

Hasta

39.99 €
29.99 €
25%
Willy Jetman: AstromonkeyΒ΄s Revenge

Hasta

14.99 €
7.49 €
50%
Wilmot's Warehouse

Hasta

13.99 €
9.79 €
30%
Windbound

Hasta

29.99 €
13.49 €
55%
Windfolk: Sky is just the beginning

Hasta

14.99 €
8.99 €
40%
Winter Sports Games

Hasta

24.99 €
12.49 €
50%
Wintermoor Tactics Club

Hasta

19.99 €
11.99 €
40%
Without Escape [Cross-Buy]

Hasta

4.49 €
2.24 €
50%
Woah Dave!

Hasta

3.99 €
1.99 €
50%
Wonder Boy: The Dragon's Trap

Hasta

19.99 €
7.99 €
60%
WonderBoyReturnsRemix

Hasta

9.99 €
4.99 €
50%
Word Maze by POWGI

Hasta

7.99 €
3.99 €
50%
Word Search by POWGI

Hasta

7.99 €
3.99 €
50%
Word Sudoku by POWGI

Hasta

7.99 €
3.99 €
50%
Word Wheel by POWGI

Hasta

7.99 €
3.99 €
50%
Wordsweeper by POWGI

Hasta

7.99 €
3.99 €
50%
World of Simulators Bundle

Hasta

49.99 €
14.99 €
70%
Worms Battlegrounds

Hasta

24.99 €
6.24 €
75%
Worms Battlegrounds + Worms W.M.D

Hasta

34.99 €
6.99 €
80%
Worms W.M.D

Hasta

29.99 €
7.49 €
75%
Wunderling

Hasta

9.99 €
3.99 €
60%
Wuppo

Hasta

19.99 €
1.99 €
90%
Wuppo - Deluxe Edition

Hasta

24.99 €
2.49 €
90%
WWE 2K Battlegrounds

Hasta

39.99 €
19.99 €
50%
Xenon Racer

Hasta

29.99 €
2.99 €
90%
Yaga

Hasta

24.99 €
9.99 €
60%
Yakuza 6: The Song of Life

Hasta

19.99 €
9.99 €
50%
Yakuza Zero

Hasta

19.99 €
4.99 €
75%
Yakuza: Like a Dragon Hero Edition PS4 & PS5

Hasta

69.99 €
45.49 €
35%
Yakuza: Like a Dragon PS4 & PS5

Hasta

59.99 €
41.99 €
30%
Year 2 Gold Edition de Tom Clancy's Ghost Recon Wildlands

Hasta

69.99 €
17.49 €
75%
YesterMorrow

Hasta

17.99 €
8.99 €
50%
Yet Another Zombie Defense HD

Hasta

4.99 €
3.49 €
30%
Yoko & Yuki: Dr. Rat's Revenge

Hasta

4.99 €
3.24 €
35%
Yoku's Island Express

Hasta

19.99 €
4.99 €
75%
Yooka-Laylee

Hasta

39.99 €
7.99 €
80%
Yooka-Laylee and the Impossible Lair

Hasta

29.99 €
8.99 €
70%
Ys VIII: Lacrimosa of DANA

Hasta

59.99 €
19.79 €
67%
Ys: Memories of Celceta

Hasta

29.99 €
17.99 €
40%
Yumeutsutsu Re:After

Hasta

49.99 €
24.99 €
50%
Yumeutsutsu Re:Master

Hasta

64.99 €
32.49 €
50%
Zenith

Hasta

19.99 €
4.99 €
75%
Zero Strain

Hasta

9.99 €
3.99 €
60%
Zombie Army 4: Dead War Deluxe Edition

Hasta

59.99 €
17.99 €
70%
Zombie Vikings

Hasta

11.99 €
2.39 €
80%
Zombieland: Double Tap - Road Trip

Hasta

39.99 €
9.99 €
75%