Microsoft calienta motores para el E3 2018, y además de haber prometido por pasiva y activa una conferencia que no nos dejará indiferente, la compañía también ha puesto en marcha grandes rebajas para celebrar esta semana tan emblemática de la industria.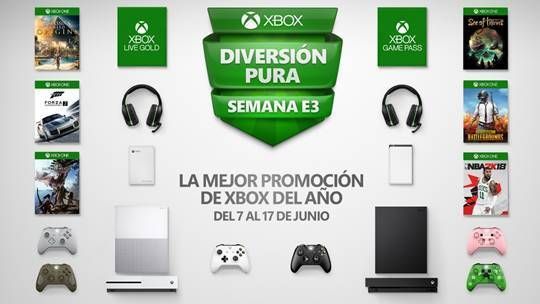 Xbox One X desde 449 euros
Desde hoy 7 de junio hasta el próximo día 17 del mismo mes, los jugadores podrán acceder a grandes ofertas: tanto en juegos, como en consolas y accesorios. A su vez, también habrá ofertas en Xbox Game Pass, así como en Xbox Live Gold.
Entre las ofertas, los usuarios podrán encontrar packs de Xbox One S acompañada por títulos como Rocket League, Playerunknown's Battlegrounds o Sea of Thieves desde 199 euros en su modelo de 500GB. La versión de 1 TB de capacidad de la consola estará disponible también a partir de 249 euros.
Xbox One X, presentada como la consola más potente del mundo, baja su precio por primera vez: estará disponible por 449 euros.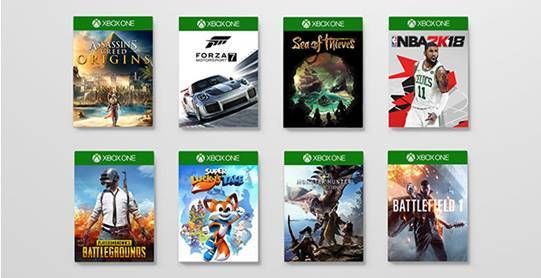 Por otro lado, también estarán disponibles ofertas de hasta el 75% de descuento, en títulos como Monster Hunter: World (45,49 €), Sea of Thieves (59,99 €) Playerunknown's Battlegrounds (20,09 €) o Forza Motorsport 7 (29,99 €).
Por otro lado, estos días también se podrá conseguir un mes de Xbox Live Gold o Xbox Game Pass por sólo 1 €.
Podéis consultar todas las rebajas en el siguiente enlace a Microsoft Store. Por otro lado, os recordamos que la conferencia de la compañía en el E3 tendrá lugar el domingo 10 de junio a las 22:00 horas (horario peninsular).
Xbox One
A continuación os dejamos con la lista de títulos rebajados en Xbox One con motivo del E3 2018:
ABZÛ
Agents of Mayhem
Agents of Mayhem – Total Mayhem Bundle
APB Reloaded 1,680 G1C
APB Reloaded 20,800 G1C
APB Reloaded 3,052 G1C
APB Reloaded 4,600 G1C
APB Reloaded 400 G1C
APB Reloaded 816 G1C
APB Reloaded 9,600 G1C
ARK: Aberration
ARK: Scorched Earth
Ark: Survival Evolved
ARK: Survival Evolved Explorer's Edition
ARK: Survival Evolved Season Pass
Assassin's Creed Origins
Assassin's Creed Origins – DELUXE EDITION
Assassin's Creed Origins – GOLD EDITION
Assassin's Creed Origins – The Curse Of the Pharaohs
Assassin's Creed Origins – The Hidden Ones
Assassin's Creed Rogue Remastered
Assassin's Creed Syndicate – Season Pass
Assassin's Creed The Ezio Collection
Assassin's Creed Triple Pack: Black Flag, Unity, Syndicate
Assetto Corsa Ultimate Edition
Batman: Arkham Knight
Batman: Return to Arkham
Battlefield 1 Premium Pass
Battlefield 1 Revolution
Battlefield 4 Premium Edition
Battlefield Anniversary Bundle
Battlefield Hardline Ultimate Edition
Beyond Eyes
Brothers: a Tale of Two Sons
Bundle: South Park : The Stick of Truth + The Fractured but Whole
Burnout Paradise Remastered
Call of Duty: WWII – Digital Deluxe
Call of Duty: WWII – Gold Edition
Call of Duty: WWII – Season Pass
Candleman
Conan Exiles
Constructor
Cuphead
Dark Souls III
Dark Souls III – Deluxe Edition
DC Universe Online – Episode Pack I
DC Universe Online – Episode Pack II
DC Universe Online – Episode Pack III
DC Universe Online – Episode Pack IV
DC Universe Online – Power Bundle (2017)
DC Universe Online – Starter Pack by LexCorp
DC Universe Online – Ultimate Edition (2017)
Dead Island Definitive Edition
Dead Island Retro Revenge
Dead Island: Riptide Definitive Edition
Defense Grid 2
Destiny 2 – Expansion Pass
Destiny 2 – Game + Expansion Pass Bundle
Deus Ex: Mankind Divided
Deus Ex: Mankind Divided – Digital Deluxe Edition
Devil May Cry 4 Special Edition
Devil May Cry 4 Special Edition Demon Hunter Bundle
Devil May Cry HD Collection
Devil May Cry HD Collection & 4SE Bundle
Disneyland Adventures
DmC Devil May Cry: Definitive Edition
Dragon Ball FighterZ
Dragon Ball FighterZ: FighterZ Edition
Dragon Ball FighterZ: Ultimate Edition
Dreamfall Chapters
Dying : Reborn
Dying Light
Dying Light: The Following – Enhanced Edition
EA SPORTS NHL 18
EA SPORTS NHL 18 Young Stars Deluxe Edition
EA SPORTS NHL 18 Young Stars Edition
EA SPORTS UFC 3
EA SPORTS UFC 3 Deluxe Edition
Elite Dangerous Horizons Season Pass
Elite Dangerous Standard Edition
Elite Dangerous – Frontier Points – 1000
Elite Dangerous – Frontier Points – 2500
Elite Dangerous – Frontier Points – 300
Elite Dangerous – Frontier Points – 500
Elite Dangerous: Commander Deluxe Edition
Evolve
Evolve Digital Deluxe X
Evolve Ultimate Edition
Extinction
Extinction: Deluxe Edition
Far Cry 5
Far Cry 5 Deluxe Edition
Far Cry 5 Gold Edition
Far Cry Primal – Apex Edition
Farming Simulator 17
Farming Simulator 17 – Big Bud Pack
Farming Simulator 17 – Kuhn Equipment Pack
Farming Simulator 17 – Platinum Edition
Farming Simulator 17 – Platinum Expansion
Farming Simulator 17 – Premium Edition
Farming Simulator 17 – ROPA Pack
Farming Simulator 17 – Season Pass
FIFA 18
FIFA 18 ICON Edition
FIFA 18 Ronaldo Edition
Final Fantasy XV Royal Edition
Final Fantasy XV Royal Pack
For Honor Deluxe Edition
For Honor Gold Edition
For Honor Season Pass
For Honor Standard Edition
Forza Horizon 3 Deluxe Edition
Forza Horizon 3 Standard Edition
Forza Horizon 3 Ultimate Edition
Forza Motorsport 6 Deluxe Edition
Forza Motorsport 6 Standard Edition
Forza Motorsport 6 Ultimate Edition
Forza Motorsport 7 Deluxe Edition
Forza Motorsport 7 Standard Edition
Forza Motorsport 7 Ultimate Edition
Future War: Reborn
Gear of War 4
Gear of War 4 Ultimate Edition
Ghost Recon Wildlands – Fallen Ghosts
Goliath
Grand Theft Auto V
Grand Theft Auto V & Great White Shark Cash Card
Grand Theft Auto V: Premium Online Edition
Grand Theft Auto V: Premium Online Edition & Great White Shark Card Bundle
Grand Theft Auto V: Premium Online Edition & Megalodon Shark Card Bundle
Grand Theft Auto V: Premium Online Edition & Whale Shark Card Bundle
Gravel
GTA Online: Criminal Enterprise Starter Pack
GTA Online: Megalodon Shark Cash Card
Hello Neighbor
Homefront: The Revolution
Homefront: The Revolution 'Freedom Fighter' Bundle
How to Survive 2
How to Survive: Storm Warning Edition
Injustice 2
Injustice 2 – Legendary Edition
INSIDE
Just Cause 3
Just Cause 3 XL Edition
Just Cause 3: Air. Land & Sea Expansion Pass
Just Cause 3: Bavarium Sea Heist
Just Cause 3: Mech Land Assault
Just Cause 3: Sky Fortress
Just Dance 2018
Killer Instinct: Definitive Edition
Kingdom Come: Deliverance
Kona
Lara Croft and the Temple of Osiris
Lara Croft and the Temple of Osiris Season Pass
LEGO Batman 3 Season Pass
LEGO Batman 3: Beyond Gotham
LEGO Batman 3: Beyond Gotham Deluxe Edition
LEGO Marvel Super Heroes 2
LEGO Marvel Super Heroes Bundle
LEGO Marvel Super Heroes Deluxe Bundle
LEGO Worlds
Life is Strange Complete Season (Episodes 1-5)
Life is Strange: Before the Storm Complete Season
Life is Strange: Before the Storm: Deluxe Edition
Lilith-M
LIMBO
Madden NFL 18
Mafia III
Mafia III Digital Deluxe
Mafia III Season Pass
Marvel: Ultimate Alliance
Marvel: Ultimate Alliance 2
Marvel: Ultimate Alliance Bundle
Metal Gear Solid V: Definitive Experience
Metal Gear Solid V: Ground Zeroes
Metal Gear Survive
Metro 2033 Redux
Metro Redux Bundle
Metro: Last Light Redux
Middle Earth: Shadow of Mordor Season Pass
Middle-earth: Shadow of Mordor – Game of the Year Edition
Middle-earth: Shadow of War
Middle-earth: Shadow of War Gold Edition
Middle-earth: Shadow of War Silver Edition
Mighty No. 9
Monkey King Saga
Monster Hunter World Deluxe Kit
Monster Hunter World Digital Deluxe Edition
Monster Hunter World – Additional Gesture Bundle 2
Monster Hunter World – Additional Gesture Bundle 4
Monster Hunter: World
Mortal Kombat X – Kombat Pack 2
Mortal Kombat XL
Mr. Pumpkin Adventure
MX vs ATV All Out
NBA 2K18
NBA 2K18 Legend Edition
NBA 2K18 Legend Edition Gold
NBA 2K18 – 200,000 VC
NBA 2K18 – 450,000 VC
NBA 2K18 – 75,000 VC
NBA LIVE 18: The One Edition
Need for Speed Payback
Need for Speed Payback – Deluxe Edition
Ori and the Blind Forest: Definitive Edition
PAYDAY 2 – CRIMEWAVE EDITION – THE BIG SCORE DLC Bundle!
PAYDAY 2 – CRIMEWAVE EDITION – THE BIG SCORE Game Bundle
PAYDAY 2: CRIMEWAVE EDITION
Pixel Piracy
PLAYERUNKNOWN'S BATTLEGROUNDS
Portal Knights
Portal Knights – Bibot Box
Portal Knights – Emoji Box
Portal Knights – Lobot Box
Pro Evolution Soccer 2018
PRO EVOLUTION SOCCER 2018 – FC Barcelona Edition Bundle
Project CARS 2
Project CARS 2 Deluxe Edition
Quantum Break
ReCore Definitive Edition
RESIDENT EVIL 7 biohazard
RESIDENT EVIL 7 biohazard Gold Edition
RESIDENT EVIL 7 biohazard Season Pass
RESIDENT EVIL 7 biohazard – Banned Footage Vol. 1
RESIDENT EVIL 7 biohazard – Banned Footage Vol. 2
RESIDENT EVIL 7 biohazard – End of Zoe
Rise of the Tomb Raider Season Pass
Rise of the Tomb Raider: 20 Year Celebration
Rise of the Tomb Raider: 20 Year Celebration Pack
Rock Band 4 Rivals Bundle
Rock Band Rivals Expansion
Runestone Keeper
Rush: A Disney Pixar Adventure
Saints Row IV: Re-Elected
Saints Row: Gat out of Hell
Sea of Thieves
Sniper Elite 3 Ultimate Edition
South Park: The Fractured but Whole
South Park: The Fractured but Whole – Gold Edition
South Park: The Stick of Truth
STAR WARS Battlefront II
STEEP
Steep Road to the Olympics
Steep – Winter Games Edition
Steep – Winter Games Gold Edition
Super Lucky's Tale
SUPERHOT
Tacoma
Tekken 7
Tekken 7 – Deluxe Edition
Terraria
The Crew Ultimate Edition
The Elder Scrolls Online
The Elder Scrolls V: Skyrim Special Edition
The Evil Within 2
The Sims 4
The Sims 4 Bundle – City Living, Vampires, Vintage Glamour Stuff
The Sims 4 Bundle – Get to Work, Dine Out, Cool Kitchen Stuff
The Sims 4 City Living
The Sims 4 Cool Kitchen Stuff
The Sims 4 Deluxe Party Edition
The Sims 4 Dine Out
The Sims 4 Get to Work
The Sims 4 Luxury Party Stuff
The Sims 4 Perfect Patio Stuff
The Sims 4 Romantic Garden Stuff
The Sims 4 Vampires
The Sims 4 Vintage Glamour Stuff
The Turing Test
The Witcher 3: Wild Hunt
The Witcher 3: Wild Hunt Expansion Pass
The Witcher 3: Wild Hunt – Blood and Wine
The Witcher 3: Wild Hunt – Complete Edition
The Witcher 3: Wild Hunt – Hearts of Stone
This War of Mine: The Little Ones
Titanfall 2: Ultimate Edition
Tom Clancy's Ghost Recon Wildlands – Deluxe Edition
Tom Clancy's Ghost Recon Wildlands – Ghost War Pass
Tom Clancy's Ghost Recon Wildlands – Season Pass
Tom Clancy's Ghost Recon Wildlands – Standard Edition
Tom Clancy's Ghost Recon Wildlands: Narco Road
Tom Clancy's Ghost ReconWildlands – Gold Edition
Tom Clancy's Rainbow Six Siege
Tom Clancy's Rainbow Six Siege Advanced Edition
Tom Clancy's Rainbow Six Siege Complete Edition
Tom Clancy's Rainbow Six Siege Gold Edition
Tom Clancy's The Division
Tom Clancy's The Division Gold Edition
Tomb Raider: Definitive Edition
Trials Fusion
Trials of the Blood Dragon
Trials of the Blood Dragon + Trials Fusion Awesome Max Edition
Valkyria Revolution
Virginia
Watch Dogs2
Watch Dogs2 – Deluxe Edition
Watch Dogs2 – Gold Edition
WATCH_DOGS
WATCH_DOGS Complete Edition
Watch_Dogs2 – Season Pass
Wolfenstein II: The New Colossus
Wolfenstein II: The New Colossus Digital Deluxe Edition
World II: Hunting Boss
WWE 2K18
WWE 2K18 Digital Deluxe Edition
XCOM 2
XCOM 2 Collection
XCOM 2 Digital Deluxe Edition
XCOM 2: War of the Chosen
Xuan Yuan Sword: The Gate of Firmament
Your Toy
Zoo Tycoon: Ultimate Animal Collection
Xbox 360
La plataforma Xbox 360 también cuenta con numerosas rebajas en sus juegos. Os dejamos la lista de los títulos rebajados:
Alan Wake's American Nightmare
Alice: Madness Returns
Army of Two
Assassin's Creed
Battlefield 3
Battlefield: Bad Company 2
Beyond Good & Evil HD
Blue Dragon
Bound by Flame
Brothers: a Tale of Two Sons
Burnout Revenge
Castlevania: Lords Of Shadow 2 Games On Demand
Castlevania: Lords of Shadow – Mirror of Fate HD
Crackdown
Dead Island
Dead Island Riptide
Deus Ex: Human Revolution
Devil May Cry 4
DmC Devil May Cry
DmC Devil May Cry – Vergil's Downfall
Dragon Age 2
Dragon Age: Origins
Escape Dead Island
Fabe III
Fable Anniversary
Fable II
Fable Trilogy
Faery: Legends of Avalon
FIFA 18
Fight Night Champion
Homefront
Just Cause 2
LIMBO
Lost Odyssey
Mars: War Logs
Marvel: Ultimate Alliance
Marvel: Ultimate Alliance 2
Mass Effect
Mass Effect 2
Mass Effect 3
Medal of Honor Airborne
Metal Gear Rising
Metal Gear Solid 2 and 3 HD
Metal Gear Solid Peace Walker HD Edition
Metal Gear Solid V: Ground Zeroes
Metal Gear Solid V: The Phantom Pain
Metro 2033
Metro: Last Light
Mighty No. 9
Mirror's Edge
NBA JAM: On Fire Edition
Oblivion
Oblivion – Knights of the Nine
Oblivion – Shivering Isles
Pro Evolution Soccer 2018
RAGE
Red Dead Redemption
Rise of the Tomb Raider Endurance Mode
Rise of the Tomb Raider Season Pass
Risen
Risen 2: Dark Waters
Risen 3 Titan Lords
ROTTR: Baba Yaga: The Temple of the Witch
Sacred 3
Sacred Citadel
Saints Row
Saints Row 2
Saints Row IV
Saints Row: Gat Out of Hell
Saints Row: The Third
ScreamRide
Shadows of the Damned
Skate 3
SSX
The Elder Scrolls III: Morrowind
TRIALS FUSION
WATCH DOGS