Sony ha anunciado, a través de su blog oficial, el inicio de una nueva campaña de descuentos y ofertas titulada Solo en PlayStation. Ofrecerá hasta un 60% de descuento en videojuegos digitales muy destacados y exclusivos en las consolas de la compañía, desde PlayStation 4 a PS Vita pasando por PlayStation 3.
Algunas ofertas interesantes
Podemos encontrar las versiones digitales de Horizon Zero Dawn y The Last of Us: Remasterizado por 28,99 (en oferta para suscriptores PS Plus) y 15,99 euros respectivamente, Uncharted 4: El desenlace del ladrón por 19,99 euros y juegos como WipeOut Omega Collection por 16,49 euros (oferta para suscriptores PS Plus). Os dejamos con el listado a continuación, en el que también destacan juegos como Nioh, Bloodborne o Little Big Planet.
Listado de juegos de oferta (hasta el 18 de octubre 2017)
Horizon Zero Dawn™
Horizon Zero Dawn™ Digital Deluxe Edition
The Last of Us™ Remastered
UNCHARTED™ 4: A Thief's End Digital Edition
Uncharted™: The Nathan Drake Collection
Ratchet & Clank™
Bloodborne™
Bloodborne™ The Old Hunters
Bloodborne™: Game of the Year Edition
God of War® III Remastered
The Heavy Rain™ & BEYOND: Two Souls™ Collection
WipEout™ Omega Collection
The Last Guardian™
LittleBigPlanet™ 3
The Order: 1886™
Nioh
Nioh Digital Deluxe Edition
Nioh Season Pass
Nioh – Defiant Honour
Nioh – Dragon of the North
Until Dawn™
MLB® The Show™ 17
MLB® The Show™ 17 Digital Deluxe Edition
MLB® The Show™ 17 MVP Edition
KILLZONE™ SHADOW FALL
KILLZONE™ SHADOW FALL and Season Pass Bundle
KILLZONE™ SHADOW FALL Intercept Online Co-op Mode (Standalone)
PlayStation®VR Worlds
BEYOND: Two Souls™
Heavy Rain™
Journey™
Journey™ Collector's Edition
inFAMOUS™ First Light
DRIVECLUB™
DRIVECLUB™ BIKES
DRIVECLUB™ BIKES Expansion
DRIVECLUB™ Season Pass
DRIVECLUB™ VR
DRIVECLUB™ Full Game for PlayStation®Plus
Everybody's Gone to the Rapture™
KNACK™
PaRappa The Rapper 2
PaRappa the Rapper Remastered
ALIENATION™
RESOGUN™
RESOGUN™ – Heroes Expansion
RESOGUN™ Season Pass
RESOGUN™ WipEout® Ship Bundle
RESOGUN™: Defenders Expansion Pack
Gravity Rush™ 2
Gravity Rush™ 2 – Original Soundtrack
Gravity Rush™ Remastered
Dead Nation™: Apocalypse Edition
HELLDIVERS™: Super-Earth Ultimate Edition
Rogue Galaxy™
Guilty Gear Xrd -Sign-
Flower™
Dark Chronicle™
Dark Cloud™
Tearaway™ Unfolded
Shadow of the Beast™
HELLDIVERS™
Here They Lie
Uncharted™ 1: Drake's Fortune Remastered
Uncharted™ 2: Among Thieves Remastered
Uncharted™ 3: Drake's Deception Remastered
CounterSpy™
DRIVECLUB™ Apex Expansion Pack
DRIVECLUB™ BIKES MV Agusta Expansion Pack
DRIVECLUB™ BIKES Suzuki Expansion Pack
DRIVECLUB™ Downforce Expansion Pack
DRIVECLUB™ Finish Line Expansion Pack
DRIVECLUB™ Horsepower Expansion Pack
DRIVECLUB™ Lamborghini Expansion Pack
DRIVECLUB™ Lamborghini Icons Expansion Pack
DRIVECLUB™ No Limits Expansion Pack
DRIVECLUB™ Redline Expansion Pack
DRIVECLUB™ RPM Expansion Pack
DRIVECLUB™ Turbocharged Expansion Pack
Ape Escape 2
Bound™
HELLDIVERS ™ Reinforcements Mega Bundle
Super Stardust™ Ultra
Super Stardust™ Ultra VR
Tumble VR
The Unfinished Swan™
ALIENATION™ Conqueror's Pack
ALIENATION™ DLC Season Pass
ALIENATION™ Survivor's Pack
ALIENATION™ Veteran Heroes Pack
ALIENATION™ Weapons Supply Pack
flOw™
flOw™ Expansion Pack
War of the Monsters
Fat Princess™ Adventures
Fat Princess™ Adventures Mega Loot Bundle
Twisted Metal: Black™
Entwined™
LocoRoco™ Remastered
Everybody's Tennis
Hohokum™
Escape Plan™
Escape Plan™ Collection
Patapon™ Remastered
Hustle Kings™ VR
Wild Arms 3
HELLDIVERS™ Reinforcement Pack
Insurgent Pack
Sound Shapes™ Ultimate Bundle
Primal
Arc the Lad: Twilight of the Spirits
Intercept Online Co-op Expansion Pack
Forbidden Siren
HELLDIVERS™ Reinforcement Pack 2
The Mark of Kri
StarBlood Arena™
Hardware: Rivals
Doki-Doki Universe™
Malicious™ Fallen
Malicious™ Fallen Digital Deluxe Edition
OKAGE: Shadow King
Rise of the Kasai
FantaVision
Kinetica
Drawn to Death™
Escape Plan™ – The Asylum
Escape Plan™ The Director's Cut
Escape Plan™ – The Underground
Dark Cloud™ Series Soundtrack
PaRappa The Rapper™ – Original Soundtrack
Malicious™ Fallen Original Soundtrack
Ofertas de la semana (hasta el 11 de octubre 2017)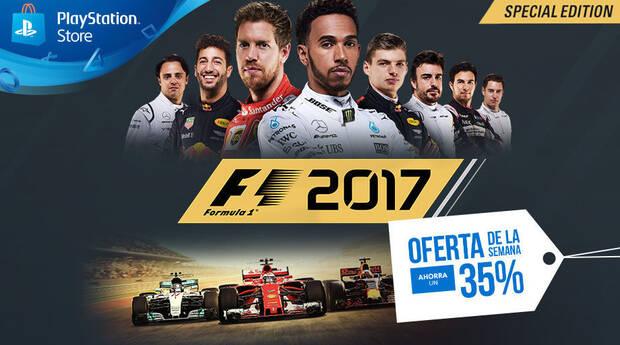 La oferta de la semana es para F1 2017.
NBA Playgrounds
Terraria – PlayStation®4 Edition
Time Machine VR
Oxenfree
The Jackbox Party Bundle (Pack 1,2)
The Jackbox Party Trilogy (Pack 1,2,3)
Troll and I™
Warhammer Quest
Weeping Doll
Giana Sisters: Twisted Dreams – Director's Cut
Super Mega Baseball
LUMO
Quiplash
Anima: Gate of Memories
Pixel Gear
Pixel Piracy
The Jackbox Party Pack
The Jackbox Party Pack 2
The Jackbox Party Pack 3
Pinball FX2 VR Season 1
Pinball FX2 VR The Walking Dead
Shantae: Risky's Revenge – Director's Cut
Mervils: A VR Adventure
Drawful 2
Assault Suit Leynos
Oxenfree – Game + Theme
Dead Synchronicity
Crystal Rift
Shift Happens
Zenith
Beserker Quickplay Pack
Slayer Quickplay Pack
Monk Quickplay Pack
Kinetic Quickplay Pack
Knight Quickplay Pack
Ace Banana
Ginger: Beyond the Crystal
Oxenfree – Game + Theme + Avatars
Aces of the Luftwaffe
Waddle Home
Heart And Slash
Dynamite Fishing – World Games
Smashbox Arena
Darknet
Rogue Stormers
ArmaGallant: Decks of Destiny
Clouds & Sheep 2
CastleStorm VR
KOI: GAME AND EXCLUSIVE THEME BUNDLE
Vostok Inc
8Days
Death Squared
Infinite Minigolf
Pinball FX2 VR
Statik
SwapQuest
Chime Sharp
One Upon Light
Rogue Stormers & Giana Sisters Bundle
Super Cloud Built
Lichtspeer
Lichtspeer – Special Edition Bundle
The Metronomicon
The Metronomicon: Slay the Dance Floor – Delux
Bleed
Drawfighters
Anoxemia