La PS Store espaρola de PS4 y PS5 se ha actualizado con nuevas ofertas en juegos esenciales, un nuevo perνodo promocional que ha comenzado hoy y que estarα activo hasta el 27 de marzo a las 23:59 (hora local). En ιl podemos encontrar descuentos de hasta el 60% en mαs de 190 tνtulos y complementos destacados dentro del catαlogo de videojuegos disponibles en las consolas de Sony.
Entre todos estos juegos rebajados vemos cσmo algunos recientes lanzamientos de PS4 y PS5 estαn disponibles a precio reducido, como Call of Duty: Black Ops Cold War cuya ediciσn estαndar se puede conseguir por 49,69 € y su Lote Intergeneracional, el que incluye la versiσn next-gen para PS5, por 54,74 €. Tambiιn encontramos rebajado NBA 2K21 a 19,59 € para su ediciσn estαndar y 66,99 € para la Mamba Forever Edition.
Ofertas destacadas en la PS Store de PS4 y PS5
Ademαs de estos tres tνtulos, hay muchas mαs ofertas destacadas en la PS Store. Podιis ver una selecciσn a continuaciσn:
Trials of Mana 29,99 €
Death Stranding 25,19 €
Final Fantasy XII The Zodiac Age 24,99 €

NBA 2K21

19,59 €
Astro Bot Rescue Mission 14,79 €
Blasphemous 12,49 €
Final Fantasy IX 10,49 €
A Way Out 9,89 €
Far Cry 4 9,89 €
Dragon Ball FighterZ 9,79 €
Final Fantasy VII 7,99 €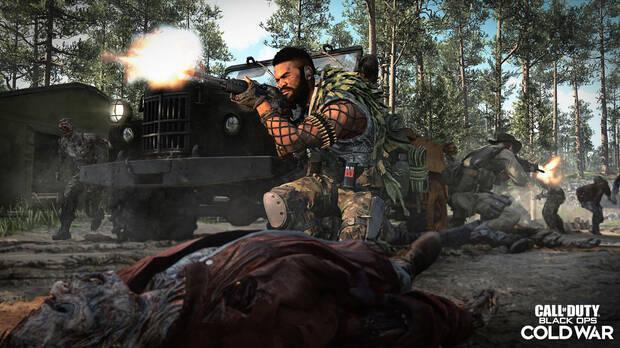 Y como de costumbre, no sσlo hay videojuegos rebajados, sino que tambiιn podemos encontrar complementos y DLCs a precio reducido. Por ejemplo, los packs de expansiσn de Los Sims 4 se pueden encontrar con un descuento del 25% durante este perνodo promocional, asν como el DLC de Bloodborne, que estα rebajado a la mitad de su precio habitual, o los packs de contenido de Cities: Skylines, que tambiιn estαn disponibles con un 50% de descuento.
Os dejamos con todas las ofertas actualmente activas en PS Store:
Todas las ofertas para Usuarios Plus
Todas las ofertas para usuarios estαndar
Juego σ pack
Precio
Oferta
Dto.
#Funtime

Hasta

14.99 €
7.49 €
50%
'Mamα me ha escondido el juego!

Hasta

4.99 €
3.49 €
30%
'Patrulla Canina todos a una!

Hasta

39.99 €
17.99 €
55%
ΏQuiιn quiere ser millonario?

Hasta

39.99 €
33.99 €
15%
11-11 Memories Retold

Hasta

24.99 €
3.99 €
84%
16-Bit Soccer

Hasta

5.99 €
1.49 €
75%
1979 Revolution: Black Friday

Hasta

11.99 €
3.59 €
70%
2064: Read Only Memories

Hasta

21.99 €
4.39 €
80%
3D Billiard

Hasta

19.99 €
9.99 €
50%
3D MiniGolf

Hasta

19.99 €
9.99 €
50%
7th Sector

Hasta

19.99 €
9.99 €
50%
7th Sector Collector's Edition

Hasta

24.99 €
12.49 €
50%
8-Bit Armies

Hasta

29.99 €
5.99 €
80%
8-Bit Armies - Deluxe Edition

Hasta

34.99 €
6.99 €
80%
8-Bit Hordes

Hasta

29.99 €
5.99 €
80%
8-Bit Hordes - Deluxe Edition

Hasta

34.99 €
6.99 €
80%
8-Bit Invaders!

Hasta

29.99 €
5.99 €
80%
8-Bit Invaders! - Deluxe Edition

Hasta

34.99 €
6.99 €
80%
8-Bit RTS Series - Complete Collection

Hasta

59.99 €
14.99 €
75%
9 Monkeys of Shaolin

Hasta

29.99 €
17.99 €
40%
911 Operator

Hasta

17.99 €
8.09 €
55%
A Fisherman's Tale

Hasta

14.99 €
7.49 €
50%
A Fisherman's Tale -Deluxe Edition

Hasta

19.99 €
9.99 €
50%
A Fold Apart

Hasta

17.99 €
8.99 €
50%
A Hole New World

Hasta

9.99 €
2.99 €
70%
A Knight's Quest

Hasta

24.99 €
4.99 €
80%
A Plague Tale: Innocence

Hasta

49.99 €
12.49 €
75%
A Tale of Paper

Hasta

14.99 €
8.99 €
40%
A Way Out

Hasta

29.99 €
9.89 €
67%
A Winter's Daydream

Hasta

5.99 €
3.59 €
40%
Abo Khashem

Hasta

23.99 €
8.39 €
65%
Absolver: Downfall

Hasta

29.99 €
7.49 €
75%
ACA NEOGEO PUZZLE BOBBLE

Hasta

6.99 €
3.49 €
50%
Accel World VS. Sword Art Online

Hasta

59.99 €
9.59 €
84%
Accidents will Happen - Dangerous Driving Crash Mode Bundle

Hasta

34.99 €
15.74 €
55%
Aces of the Luftwaffe

Hasta

4.99 €
0.99 €
80%
Aces of the Luftwaffe - Squadron

Hasta

14.99 €
7.49 €
50%
Aces of the Luftwaffe - Squadron Extended Edition

Hasta

24.99 €
9.99 €
60%
Aces of the Multiverse

Hasta

14.99 €
7.49 €
50%
ACT IT OUT XL! Un juego de adivinanzas

Hasta

9.99 €
2.99 €
70%
Action Henk

Hasta

14.99 €
2.24 €
85%
Active Neurons

Hasta

4.99 €
1.99 €
60%
Active Neurons 2

Hasta

4.99 €
2.99 €
40%
Actividad Paranormal: El Alma Perdida

Hasta

24.99 €
9.99 €
60%
Adam's Venture: Origins

Hasta

14.99 €
2.99 €
80%
Adam's Venture: Origins - Deluxe Edition

Hasta

19.99 €
3.99 €
80%
Aegis Defenders

Hasta

19.99 €
4.99 €
75%
AereA

Hasta

19.99 €
1.99 €
90%
AereA - Deluxe Edition

Hasta

24.99 €
2.49 €
90%
AeternoBlade II

Hasta

29.99 €
13.49 €
55%
AFL Evolution

Hasta

54.99 €
27.49 €
50%
AFL EVOLUTION PLUS SEASON PACK 2018

Hasta

59.99 €
29.99 €
50%
Agatha Christie - The ABC Murders

Hasta

19.99 €
2.99 €
85%
Age of Wonders: Planetfall

Hasta

49.99 €
12.49 €
75%
Age of Wonders: Planetfall Deluxe Edition

Hasta

59.99 €
14.99 €
75%
Age of Wonders: Planetfall Premium Edition

Hasta

89.99 €
29.69 €
67%
Aggelos

Hasta

14.99 €
7.49 €
50%
Agony

Hasta

19.99 €
3.99 €
80%
Air Conflicts: Pacific Carriers - PlayStation 4 Edition

Hasta

19.99 €
4.99 €
75%
Air Hockey

Hasta

9.99 €
2.49 €
75%
Aircraft Evolution

Hasta

9.99 €
5.99 €
40%
Airport Simulator 2019

Hasta

29.99 €
10.49 €
65%
Albedo: Eyes From Outer Space

Hasta

14.99 €
4.49 €
70%
Alekhine's Gun

Hasta

19.99 €
2.99 €
85%
All in! Bundle

Hasta

49.99 €
34.99 €
30%
All-Star Fruit Racing

Hasta

19.99 €
3.99 €
80%
Alphaset by POWGI

Hasta

7.99 €
3.99 €
50%
Alteric

Hasta

5.99 €
1.79 €
70%
Alternate Jake Hunter: DAEDALUS The Awakening of Golden Jazz

Hasta

35.99 €
17.99 €
50%
American Fugitive

Hasta

19.99 €
4.99 €
75%
Amnesia: Collection

Hasta

28.49 €
2.84 €
90%
Amnesia: Rebirth

Hasta

28.49 €
19.94 €
30%
Amoeba Battle - Microscopic RTS Action

Hasta

17.99 €
10.79 €
40%
Amplitude

Hasta

19.99 €
13.99 €
30%
Ancestors Legacy

Hasta

34.99 €
17.49 €
50%
Ancestors: The Humankind Odyssey

Hasta

39.99 €
15.99 €
60%
Anima: Gate of memories

Hasta

19.99 €
5.99 €
70%
Anima: Gate of Memories - Arcane Edition

Hasta

29.99 €
14.99 €
50%
Another Sight

Hasta

29.99 €
14.99 €
50%
Another World - 20th Anniversary Edition

Hasta

7.99 €
3.19 €
60%
Anoxemia

Hasta

7.99 €
2.63 €
67%
Anthem : ediciσn Legiσn del Alba

Hasta

79.99 €
45.59 €
43%
AO International Tennis

Hasta

19.99 €
9.99 €
50%
AO Tennis 2

Hasta

54.99 €
19.24 €
65%
Apex Construct

Hasta

19.99 €
4.99 €
75%
Apocalipsis: The Tree of the Knowledge of Good and Evil

Hasta

5.99 €
2.39 €
60%
Aqua Moto Racing Utopia

Hasta

12.99 €
3.89 €
70%
Ara Fell: Enhanced Edition

Hasta

17.99 €
7.19 €
60%
Arca's Path VR

Hasta

16.99 €
4.24 €
75%
Arcade Archives ELEVATOR ACTION

Hasta

6.99 €
3.49 €
50%
Arcade Archives FRONT LINE

Hasta

6.99 €
3.49 €
50%
Arcade Archives TIME TUNNEL

Hasta

6.99 €
3.49 €
50%
ArcaniA - The Complete Tale

Hasta

19.99 €
4.99 €
75%
Arise: A simple story

Hasta

19.99 €
11.99 €
40%
Arizona Sunshine

Hasta

39.99 €
9.99 €
75%
Arizona Sunshine - Deluxe Edition

Hasta

44.99 €
11.24 €
75%
ARK Park

Hasta

49.99 €
17.49 €
65%
ARK: Survival Evolved

Hasta

54.99 €
32.99 €
40%
ARK: Survival Evolved Explorer's Edition

Hasta

79.99 €
47.99 €
40%
Armikrog

Hasta

9.99 €
1.99 €
80%
ArtPulse

Hasta

12.99 €
1.29 €
90%
Ary and the Secret of Seasons

Hasta

39.99 €
19.99 €
50%
Ash of Gods: Redemption

Hasta

29.99 €
8.99 €
70%
Ashen

Hasta

39.99 €
17.99 €
55%
ASHES CRICKET

Hasta

29.99 €
14.99 €
50%
Assassin's Creed IV Black Flag - Standard Edition

Hasta

19.99 €
9.99 €
50%
Assassin's Creed Odyssey - GOLD EDITION

Hasta

99.99 €
67.99 €
32%
Assassin's Creed Origins - GOLD EDITION

Hasta

99.99 €
62.99 €
37%
Assassin's Creed Syndicate Gold Edition

Hasta

49.99 €
14.99 €
70%
Assassin's Creed Valhalla Gold PS4 & PS5

Hasta

99.99 €
74.99 €
25%
Assassin's Creed Valhalla PS4 & PS5

Hasta

69.99 €
46.89 €
33%
ASSAULT GUNNERS HD EDITION

Hasta

9.99 €
4.99 €
50%
ASSAULT GUNNERS HD EDITION COMPLETE SET

Hasta

12.49 €
6.24 €
50%
Astιrix & Obιlix XXL 2

Hasta

49.99 €
9.99 €
80%
Astιrix & Obιlix XXL: Romastered

Hasta

39.99 €
19.99 €
50%
Asterix & Obelix XXL3: The Crystal Menhir

Hasta

39.99 €
13.99 €
65%
ASTRO BOT Rescue Mission

Hasta

39.99 €
14.79 €
63%
Astroneer

Hasta

29.99 €
19.49 €
35%
At Sundown: Shots in the Dark

Hasta

19.99 €
4.99 €
75%
Attack of the Earthlings

Hasta

19.99 €
11.99 €
40%
ATV Drift & Tricks

Hasta

19.99 €
11.99 €
40%
AVICII Invector

Hasta

19.99 €
9.99 €
50%
AWAY: Journey to the Unexpected

Hasta

16.99 €
4.24 €
75%
Awesome Pea

Hasta

5.99 €
2.39 €
60%
Awesome Pea 2

Hasta

4.99 €
2.99 €
40%
Axes

Hasta

4.49 €
3.14 €
30%
Axiom Verge

Hasta

17.99 €
8.99 €
50%
Bad North

Hasta

14.99 €
7.49 €
50%
Baja: Edge of Control HD

Hasta

29.99 €
4.49 €
85%
Balancelot

Hasta

7.99 €
5.99 €
25%
Baldur's Gate and Baldur's Gate II: Enhanced Editions

Hasta

54.99 €
27.49 €
50%
Balthazar's Dream (Release Bundle)

Hasta

9.99 €
4.99 €
50%
Banner Saga 1

Hasta

24.99 €
4.99 €
80%
Banner Saga 2

Hasta

24.99 €
4.99 €
80%
Banner Saga 3

Hasta

24.99 €
8.74 €
65%
Bartender VR Simulator

Hasta

17.99 €
12.59 €
30%
Batman - The Telltale Series - Season Pass

Hasta

14.99 €
7.49 €
50%
Batman : Arkham VR

Hasta

19.99 €
8.99 €
55%
Batman: Arkham Knight Premium Edition

Hasta

49.99 €
17.49 €
65%
Batman: El Enemigo Dentro - Season Pass

Hasta

14.99 €
7.49 €
50%
Battle Chasers: Nightwar

Hasta

29.99 €
5.99 €
80%
Battle of the Bulge

Hasta

9.99 €
4.89 €
51%
Battle Planet - Judgement Day

Hasta

14.99 €
4.49 €
70%
Battlefield 1

Hasta

19.99 €
7.99 €
60%
Battlefield 4 Ediciσn Premium

Hasta

39.99 €
9.99 €
75%
Battlestar Galactica Deadlock

Hasta

29.99 €
14.69 €
51%
Batu Ta Batu

Hasta

4.99 €
2.99 €
40%
Beach Buggy Racing

Hasta

9.99 €
4.99 €
50%
Bear With Me: The Complete Collection

Hasta

14.99 €
4.49 €
70%
Bear With Me: The Lost Robots

Hasta

4.99 €
1.49 €
70%
Beast Quest

Hasta

29.99 €
4.49 €
85%
Beholder 2

Hasta

14.99 €
4.49 €
70%
Beholder Complete Edition

Hasta

14.99 €
3.74 €
75%
BELOW

Hasta

24.99 €
12.49 €
50%
Ben 10

Hasta

19.99 €
7.99 €
60%
Beyond Blue

Hasta

19.99 €
13.99 €
30%
BFF or Die

Hasta

7.99 €
5.99 €
25%
Bibi & Tina - Aventuras a caballo

Hasta

19.99 €
13.99 €
30%
Bibi & Tina en la granja de caballos

Hasta

19.99 €
13.99 €
30%
Bibi Blocksberg - La gran carrera de escobas 3

Hasta

19.99 €
13.99 €
30%
BIG BASH BOOM

Hasta

39.99 €
19.99 €
50%
BIG CROWN: SHOWDOWN

Hasta

12.99 €
2.59 €
80%
Big Pharma

Hasta

35.99 €
10.79 €
70%
BioShock: The Collection

Hasta

49.99 €
9.99 €
80%
Biped

Hasta

14.99 €
9.74 €
35%
Birdcakes

Hasta

5.99 €
1.79 €
70%
Birthdays the Beginning

Hasta

39.99 €
13.99 €
65%
Bit Dungeon Plus [Cross-Buy]

Hasta

6.99 €
3.49 €
50%
BL 3: Ediciσn Siguiente nivel PS4 & PS5

Hasta

74.98 €
50.23 €
33%
BLACK CLOVER: QUARTET KNIGHTS

Hasta

59.99 €
9.59 €
84%
Black Desert: Traveler Edition

Hasta

29.99 €
22.49 €
25%
Black the Fall

Hasta

14.99 €
4.49 €
70%
Blackguards 2

Hasta

19.99 €
4.99 €
75%
BLACKSAD: Under the Skin

Hasta

39.99 €
11.99 €
70%
Blackwood Crossing

Hasta

15.99 €
9.59 €
40%
Blasphemous

Hasta

24.99 €
12.49 €
50%
Blaster Master Zero

Hasta

9.99 €
4.99 €
50%
Blaster Master Zero 2

Hasta

9.99 €
4.99 €
50%
Blasters of the Universe

Hasta

14.99 €
7.49 €
50%
Block-a-Pix Deluxe

Hasta

7.99 €
3.99 €
50%
Blood & Truth

Hasta

39.99 €
14.79 €
63%
Blood Waves

Hasta

9.99 €
4.99 €
50%
Bloodborne

Hasta

19.99 €
12.99 €
35%
Bloodstained: Curse of the Moon

Hasta

9.99 €
4.99 €
50%
Bloodstained: Curse of the Moon 2

Hasta

14.99 €
8.99 €
40%
Bob Esponja

Hasta

29.99 €
19.49 €
35%
Bomber Crew

Hasta

14.99 €
2.99 €
80%
Bomber Crew Deluxe Edition

Hasta

23.99 €
4.79 €
80%
Bomber Crew: American Edition

Hasta

19.99 €
3.99 €
80%
Bonkies

Hasta

14.99 €
11.99 €
20%
Bonkies - Bananas Bundle

Hasta

17.99 €
14.39 €
20%
Borderlands 2 VR

Hasta

49.99 €
37.49 €
25%
Borderlands 3: Ediciσn Definitiva PS4 & PS5

Hasta

99.99 €
74.99 €
25%
Borderlands 3: Ediciσn Sϊper Deluxe PS4 & PS5

Hasta

79.99 €
57.59 €
28%
Borderlands: The Handsome Collection

Hasta

39.99 €
13.19 €
67%
Bound by Flame

Hasta

9.99 €
1.99 €
80%
Bounty Battle

Hasta

24.99 €
12.49 €
50%
BOXVR

Hasta

29.99 €
11.99 €
60%
Brain Beats

Hasta

14.99 €
11.99 €
20%
Brain Fitness del Profesor Rubik

Hasta

39.99 €
19.99 €
50%
Bravo Team

Hasta

29.99 €
9.89 €
67%
Breeder Homegrown: Director's Cut

Hasta

4.99 €
1.99 €
60%
Bridge Constructor

Hasta

9.99 €
2.99 €
70%
Bridge Constructor Portal

Hasta

14.99 €
4.49 €
70%
Bridge Constructor Stunts

Hasta

9.99 €
2.99 €
70%
Bridge Constructor: The Walking Dead - PS4 & PS5

Hasta

9.99 €
5.99 €
40%
Bridge Constructor: The Walking Dead - PS4 & PS5

Hasta

9.99 €
5.99 €
40%
British Horror Bundle

Hasta

34.99 €
26.24 €
25%
Broforce

Hasta

14.99 €
3.74 €
75%
Brotherhood United

Hasta

8.99 €
6.29 €
30%
Brothers: a Tale of two Sons

Hasta

19.99 €
4.99 €
75%
Brunswick Pro Billiards

Hasta

19.99 €
9.99 €
50%
Bubsy: Paws on Fire!

Hasta

24.99 €
7.49 €
70%
Bubsy: The Woolies Strike Back

Hasta

19.99 €
5.99 €
70%
Bucket Knight

Hasta

4.99 €
2.24 €
55%
Bud Spencer & Terence Hill - Slaps And Beans

Hasta

19.99 €
7.99 €
60%
Budget Cuts

Hasta

24.99 €
12.49 €
50%
Bug Fables: The Everlasting Sapling

Hasta

29.99 €
17.99 €
40%
Bulletstorm: Full Clip Edition

Hasta

39.99 €
9.99 €
75%
Bulletstorm: Full Clip Edition Duke Nukem Bundle

Hasta

44.99 €
11.24 €
75%
Bus Simulator

Hasta

39.99 €
19.99 €
50%
BUTCHER

Hasta

9.99 €
2.99 €
70%
BUTCHER: lote de Ediciσn Especial

Hasta

12.99 €
3.89 €
70%
Cake Bash

Hasta

19.99 €
14.99 €
25%
Caladrius Blaze

Hasta

19.99 €
2.99 €
85%
Call of Duty : Black Ops 4

Hasta

69.99 €
19.59 €
72%
Call of Duty : Black Ops Cold War - Ediciσn Estαndar

Hasta

69.99 €
49.69 €
29%
Call of Duty : Black Ops Cold War - Lote Multigeneracional PS4 & PS5

Hasta

74.99 €
54.74 €
27%
Call of Duty : WWII - Digital Deluxe

Hasta

99.99 €
69.99 €
30%
Candle: The Power of the Flame

Hasta

19.99 €
5.99 €
70%
Canis Canem Edit

Hasta

14.99 €
8.99 €
40%
Cannon Brawl

Hasta

9.99 €
2.99 €
70%
Car Mayhem

Hasta

9.99 €
2.49 €
75%
Car Mechanic Simulator

Hasta

29.99 €
16.49 €
45%
Cardpocalypse

Hasta

24.99 €
14.99 €
40%
Carly and the Reaperman - Escape from the Underworld

Hasta

18.99 €
10.44 €
45%
Carrera con Ryan

Hasta

39.99 €
17.99 €
55%
Carto

Hasta

19.99 €
15.99 €
20%
Cartoon Network: Battle Crashers

Hasta

19.99 €
4.99 €
75%
CarX Drift Racing Online

Hasta

23.99 €
16.79 €
30%
CASE: Animatronics

Hasta

9.99 €
6.99 €
30%
Casey Powell Lacrosse 16

Hasta

19.99 €
9.99 €
50%
Casey Powell Lacrosse 18

Hasta

49.99 €
24.99 €
50%
Cast of the Seven Godsends - Redux

Hasta

6.99 €
2.09 €
70%
Castle Crashers Remastered

Hasta

16.99 €
10.19 €
40%
CastleStorm Definitive Edition

Hasta

14.99 €
7.49 €
50%
Catch & Release

Hasta

19.99 €
14.99 €
25%
Cave Digger

Hasta

9.99 €
4.99 €
50%
Cave Digger

Hasta

14.99 €
7.49 €
50%
Caveman Warriors

Hasta

14.49 €
3.62 €
75%
Checkers

Hasta

9.99 €
2.49 €
75%
Chicken Police - Paint it RED!

Hasta

19.99 €
15.99 €
20%
Children of Morta

Hasta

21.99 €
10.99 €
50%
Children of Zodiarcs

Hasta

17.99 €
5.39 €
70%
Chocobo's Mystery Dungeon EVERY BUDDY!

Hasta

39.99 €
19.99 €
50%
Chronus Arc

Hasta

14.99 €
7.49 €
50%
Cinders

Hasta

19.99 €
13.99 €
30%
Citadel: Forged with Fire

Hasta

39.99 €
19.99 €
50%
Cities: Skylines - Mayor's Edition

Hasta

99.99 €
24.99 €
75%
Cities: Skylines - PlayStation 4 Edition

Hasta

39.99 €
9.99 €
75%
Cities: Skylines - Premium Edition 2

Hasta

69.99 €
23.09 €
67%
Cladun Returns: This Is Sengoku!

Hasta

19.99 €
4.99 €
75%
Close to the Sun Digital Deluxe

Hasta

29.99 €
10.49 €
65%
Cloudpunk

Hasta

24.99 €
16.24 €
35%
Clouds & Sheep 2

Hasta

9.99 €
1.99 €
80%
Coaster

Hasta

8.99 €
5.39 €
40%
CODE VEIN Deluxe Edition

Hasta

89.99 €
29.69 €
67%
Colecciσn del tesoro Kingdom

Hasta

29.99 €
19.49 €
35%
Colt Canyon

Hasta

14.99 €
8.99 €
40%
Commandos 2 & Praetorians: HD Remaster Double Pack

Hasta

39.99 €
19.99 €
50%
Contraptions

Hasta

8.99 €
2.69 €
70%
Cook, Serve, Delicious! 2!!

Hasta

15.99 €
5.59 €
65%
Cook, Serve, Delicious! 3?!

Hasta

19.99 €
12.99 €
35%
Crash Team Racing Nitro-Fueled - Ediciσn Nitros Oxide

Hasta

59.99 €
41.99 €
30%
Crashbots

Hasta

9.99 €
3.49 €
65%
Crayola Scoot

Hasta

29.99 €
5.99 €
80%
Creaks

Hasta

19.99 €
11.99 €
40%
Creature in the Well

Hasta

12.99 €
6.49 €
50%
Creed: Rise to Glory

Hasta

24.99 €
11.24 €
55%
CRICKET 19

Hasta

39.99 €
19.99 €
50%
Crimson Keep

Hasta

19.99 €
5.99 €
70%
Crimsonland

Hasta

9.99 €
2.99 €
70%
Croc's World 3

Hasta

5.99 €
1.49 €
75%
CrossCode

Hasta

19.99 €
13.99 €
30%
Crossing Souls

Hasta

14.99 €
3.74 €
75%
Crossovers by POWGI

Hasta

7.99 €
3.99 €
50%
Crypt of the NecroDancer

Hasta

15.99 €
3.19 €
80%
Crypto by POWGI

Hasta

7.99 €
3.99 €
50%
Crysis Remastered

Hasta

29.99 €
23.99 €
20%
Cube Raiders

Hasta

6.99 €
4.89 €
30%
Cuphead

Hasta

19.99 €
14.99 €
25%
Curious Expedition

Hasta

14.99 €
8.99 €
40%
Curses 'N Chaos

Hasta

9.99 €
5.99 €
40%
Cyberdimension Neptunia: 4 Goddesses Online

Hasta

39.99 €
13.99 €
65%
Dakar 18

Hasta

24.99 €
4.99 €
80%
Damascus Gear: Operation Osaka HD Edition

Hasta

23.99 €
11.99 €
50%
Damascus Gear: Operation Tokyo HD Edition

Hasta

9.99 €
4.99 €
50%
Dandara: Trials of Fear Edition

Hasta

14.99 €
5.99 €
60%
Danger Zone

Hasta

14.99 €
3.74 €
75%
Danger Zone 2

Hasta

17.99 €
5.39 €
70%
Danger Zone Bundle: Danger Zone and Danger Zone 2

Hasta

18.99 €
5.69 €
70%
Dangerous Driving

Hasta

29.99 €
10.49 €
65%
Dark Sauce

Hasta

4.49 €
3.14 €
30%
Darkness Rollercoaster - Akimbo Edition

Hasta

10.99 €
7.69 €
30%
Darkness Rollercoaster - Anniversary Edition

Hasta

11.25 €
7.87 €
30%
Darkness Rollercoaster - Ultimate Shooter Edition

Hasta

8.99 €
6.29 €
30%
Darknet

Hasta

10.99 €
8.24 €
25%
Darksiders II Deathinitive Edition

Hasta

29.99 €
7.49 €
75%
Darksiders III

Hasta

59.99 €
14.99 €
75%
Darksiders Warmastered Edition

Hasta

19.99 €
4.99 €
75%
Darksiders: Fury's Collection - War and Death

Hasta

39.99 €
7.99 €
80%
Darkwood

Hasta

14.99 €
5.99 €
60%
Darkwood: lote de Ediciσn Especial

Hasta

17.99 €
7.19 €
60%
DARQ Complete Edition

Hasta

19.99 €
14.99 €
25%
Dawn of Fear

Hasta

19.99 €
9.99 €
50%
Dawn of Man

Hasta

24.99 €
17.49 €
30%
Daymare: 1998

Hasta

34.99 €
17.49 €
50%
Days Gone

Hasta

69.99 €
45.49 €
35%
Dead Age

Hasta

14.99 €
2.99 €
80%
Dead Alliance

Hasta

29.99 €
4.49 €
85%
Dead Alliance : Multiplayer Edition

Hasta

19.99 €
2.99 €
85%
Dead Cells: The Fatal Seed Bundle

Hasta

29.99 €
20.99 €
30%
Dead End Job

Hasta

14.99 €
5.99 €
60%
Dead Island Definitive Collection

Hasta

29.99 €
5.99 €
80%
Dead Island Definitive Edition

Hasta

19.99 €
3.99 €
80%
Dead Island Retro Revenge

Hasta

4.99 €
1.49 €
70%
Dead Island: Riptide Definitive Edition

Hasta

19.99 €
3.99 €
80%
DEAD OR SCHOOL

Hasta

29.99 €
14.99 €
50%
DEAD RISING 2 Off The Record

Hasta

19.99 €
12.99 €
35%
Dead Rising 4: Frank's Big Package

Hasta

49.99 €
31.49 €
37%
Dead Synchronicity: Tomorrow Comes Today

Hasta

19.99 €
5.99 €
70%
Deadlight: Director's Cut

Hasta

14.99 €
6.74 €
55%
Dear Esther: Landmark Edition

Hasta

9.99 €
2.49 €
75%
DEATH STRANDING

Hasta

69.99 €
25.19 €
64%
Deep Ones

Hasta

5.99 €
2.09 €
65%
Defunct - Deluxe Edition

Hasta

19.99 €
0.99 €
95%
Degrees of Separation

Hasta

19.99 €
3.99 €
80%
Deiland

Hasta

14.99 €
5.99 €
60%
Deleveled

Hasta

8.99 €
4.94 €
45%
Deliver Us The Moon Digital Deluxe

Hasta

29.99 €
14.99 €
50%
Demon Gaze II

Hasta

49.99 €
12.49 €
75%
Demon's Crystals

Hasta

4.99 €
1.99 €
60%
DEMON'S TILT

Hasta

20.99 €
10.49 €
50%
Deployment

Hasta

11.99 €
3.59 €
70%
Descenders

Hasta

21.99 €
13.19 €
40%
Desperados III

Hasta

59.99 €
35.99 €
40%
Desperados III - Digital Deluxe

Hasta

69.99 €
41.99 €
40%
Destroy All Humans!

Hasta

39.99 €
25.99 €
35%
Detroit: Become Human

Hasta

29.99 €
14.99 €
50%
Deus Ex: Mankind Divided

Hasta

29.99 €
4.49 €
85%
Devil May Cry 5

Hasta

24.99 €
22.49 €
10%
Devil May Cry HD Collection & 4SE Bundle

Hasta

44.99 €
19.79 €
56%
Diablo III: Eternal Collection

Hasta

69.99 €
19.59 €
72%
Dick Wilde

Hasta

14.99 €
4.49 €
70%
Dick Wilde 2

Hasta

19.99 €
9.99 €
50%
Die Young

Hasta

16.99 €
14.44 €
15%
Digital Deluxe de PGA TOUR 2K21

Hasta

69.99 €
34.99 €
50%
Dino Dini's Kick Off Revival

Hasta

9.99 €
3.99 €
60%
DIRT 5 PS4 & PS5

Hasta

69.99 €
52.49 €
25%
DIRT 5 Year One Edition PS4 & PS5

Hasta

89.99 €
67.49 €
25%
DiRT Rally

Hasta

19.99 €
12.39 €
38%
DiRT Rally 2.0

Hasta

44.99 €
10.79 €
76%
DiRT Rally 2.0 - Game of the Year Edition

Hasta

54.99 €
13.19 €
76%
Dishonored Definitive Edition

Hasta

39.99 €
19.99 €
50%
Disintegration

Hasta

29.99 €
14.99 €
50%
Dissection

Hasta

4.99 €
1.99 €
60%
DISSIDIA FINAL FANTASY NT

Hasta

29.99 €
14.99 €
50%
Distrust

Hasta

14.99 €
3.74 €
75%
Do Not Feed the Monkeys

Hasta

12.99 €
9.09 €
30%
Doctor Who: The Edge of Time

Hasta

24.99 €
13.74 €
45%
Dogfight

Hasta

9.99 €
2.49 €
75%
Dollhouse - Deluxe Edition

Hasta

34.99 €
6.99 €
80%
Don Bradman Cricket

Hasta

29.99 €
14.99 €
50%
Don Bradman Cricket 17

Hasta

34.99 €
17.49 €
50%
Don't Knock Twice

Hasta

19.99 €
9.99 €
50%
Don't Starve Mega Pack 2020

Hasta

32.99 €
16.49 €
50%
Don't Starve Together: Console Edition

Hasta

14.99 €
5.99 €
60%
Don't Starve: Console Edition

Hasta

13.99 €
3.49 €
75%
Donut County

Hasta

12.99 €
3.89 €
70%
Doodle God: Evolution

Hasta

9.99 €
6.49 €
35%
Double Pug Switch

Hasta

7.99 €
4.79 €
40%
Downwell

Hasta

4.99 €
0.99 €
80%
Dracula's Legacy

Hasta

19.99 €
9.99 €
50%
DRAGON BALL FIGHTERZ

Hasta

69.99 €
9.79 €
86%
DRAGON BALL XENOVERSE 2

Hasta

19.99 €
9.99 €
50%
Dragon Ball Xenoverse: ediciσn Time Travel

Hasta

69.99 €
13.99 €
80%
DRAGON QUEST XI S: Ecos de un pasado perdido - Ediciσn definitiva

Hasta

39.99 €
31.99 €
20%
Dragon's Dogma: Dark Arisen

Hasta

24.99 €
9.99 €
60%
Dragon's Lair Trilogνa

Hasta

19.99 €
9.99 €
50%
Dragones: El amanecer de los nuevos jinetes

Hasta

39.99 €
15.99 €
60%
Drawful 2

Hasta

10.99 €
5.49 €
50%
Dread Nautical

Hasta

19.99 €
6.79 €
66%
DreamBall

Hasta

5.99 €
4.19 €
30%
Dreaming Canvas Valentine Special Bundle

Hasta

3.99 €
1.99 €
50%
Dreams

Hasta

39.99 €
29.99 €
25%
Dreamwalker: Never Fall Asleep

Hasta

14.99 €
2.24 €
85%
Drive Drive Drive

Hasta

9.99 €
4.99 €
50%
Drive on Moscow

Hasta

9.99 €
4.89 €
51%
Drowning

Hasta

2.99 €
1.49 €
50%
Drunkn Bar Fight

Hasta

17.99 €
14.39 €
20%
Duke Nukem 3D: 20th Anniversary World Tour

Hasta

19.99 €
4.99 €
75%
Dungeon Rushers

Hasta

14.99 €
2.99 €
80%
Dungeons 2

Hasta

19.99 €
3.99 €
80%
Dungeons 3

Hasta

29.99 €
11.99 €
60%
Dustoff Z

Hasta

11.99 €
5.99 €
50%
Dynamite Fishing - World Games

Hasta

4.99 €
0.99 €
80%
Earth Atlantis

Hasta

14.99 €
4.49 €
70%
EarthNight

Hasta

17.99 €
8.99 €
50%
Ediciσn definitiva Seρores de la guerra de Nueva York

Hasta

79.99 €
51.99 €
35%
Ediciσn Deluxe de Fallout 76: Amanecer de Acero

Hasta

69.99 €
55.99 €
20%
Ediciσn deluxe de LEGO Marvel's Vengadores

Hasta

69.99 €
43.39 €
38%
Ediciσn digital deluxe de Detroit: Become Human

Hasta

39.99 €
19.99 €
50%
Ediciσn especial digital de DISSIDIA FINAL FANTASY NT

Hasta

44.99 €
22.49 €
50%
Ediciσn Juego del Aρo de Marvel's Spider-Man

Hasta

49.99 €
39.99 €
20%
Edna & Harvey: The Breakout - Anniversary Edition

Hasta

19.99 €
7.99 €
60%
eFootball PES 2021 SEASON UPDATE STANDARD EDITION

Hasta

29.99 €
22.49 €
25%
El Extraρo

Hasta

4.99 €
1.99 €
60%
El Juego para reuniones informales: Jackbox 2

Hasta

26.99 €
10.79 €
60%
El lote BioWare

Hasta

59.99 €
35.99 €
40%
El paquete de juego para fiestas Jackbox

Hasta

24.99 €
9.99 €
60%
El Paquete de Pelνculas Interactivas

Hasta

21.99 €
18.69 €
15%
Elea - Deluxe Edition

Hasta

14.99 €
1.49 €
90%
Ellen

Hasta

8.99 €
4.49 €
50%
Elliot

Hasta

5.49 €
3.84 €
30%
EMMA: Lost in Memories

Hasta

7.99 €
3.99 €
50%
Energy Balance

Hasta

3.99 €
1.59 €
60%
Energy Bundle (Energy Invasion, Energy Cycle, Energy Balance)

Hasta

7.99 €
3.99 €
50%
Energy Cycle

Hasta

3.49 €
1.74 €
50%
Energy Cycle Edge

Hasta

4.99 €
1.99 €
60%
Energy Invasion

Hasta

3.99 €
1.59 €
60%
Enigmatis Collection

Hasta

35.99 €
5.39 €
85%
Enter the Gungeon: A Farewell to Arms

Hasta

14.99 €
7.49 €
50%
Epic Word Search Collection

Hasta

7.99 €
2.79 €
65%
Epic Word Search Collection 2

Hasta

7.99 €
3.99 €
50%
Erica

Hasta

9.99 €
4.99 €
50%
Escape From Tethys

Hasta

9.99 €
5.99 €
40%
Escape Game Fort Boyard

Hasta

39.99 €
29.99 €
25%
Espire 1: VR Operative

Hasta

29.99 €
11.99 €
60%
Esports Life Tycoon

Hasta

19.99 €
14.99 €
25%
Euro Fishing

Hasta

17.99 €
11.69 €
35%
Evan's Remains

Hasta

7.49 €
2.99 €
60%
Evasion

Hasta

16.99 €
10.19 €
40%
Eventide 2: Sorcerer's Mirror

Hasta

14.99 €
2.24 €
85%
Eventide 3: Legacy of Legends Deluxe

Hasta

19.99 €
2.99 €
85%
Eventide Collection

Hasta

35.99 €
5.39 €
85%
EVERSPACE

Hasta

29.99 €
7.49 €
75%
Everybody's Golf

Hasta

39.99 €
25.99 €
35%
Everybody's Golf VR

Hasta

29.99 €
9.89 €
67%
Everybody's Gone to the Rapture

Hasta

19.99 €
9.99 €
50%
Everyday Heroes Bundle

Hasta

34.99 €
12.24 €
65%
Everything

Hasta

14.99 €
3.74 €
75%
Evoland Legendary Edition

Hasta

19.99 €
7.99 €
60%
Exit the Gungeon

Hasta

9.99 €
6.99 €
30%
Explosive Jake

Hasta

4.99 €
2.24 €
55%
Extinction

Hasta

29.99 €
4.49 €
85%
Extinction: Deluxe Edition

Hasta

39.99 €
5.99 €
85%
F1 2020

Hasta

69.99 €
48.99 €
30%
Fade to Silence

Hasta

29.99 €
10.49 €
65%
Faeria

Hasta

19.99 €
13.39 €
33%
Faeria: Game + All DLC Bundle

Hasta

89.99 €
60.29 €
33%
Fall Guys: Ultimate Knockout

Hasta

19.99 €
14.99 €
25%
Fallout 4: Game of the Year Edition

Hasta

69.99 €
45.49 €
35%
Fantasy Friends

Hasta

29.99 €
14.99 €
50%
Fantasy General II: Invasion

Hasta

32.99 €
16.16 €
51%
Far Cry 4

Hasta

29.99 €
9.89 €
67%
Far Cry 4 - Gold Edition

Hasta

49.99 €
16.49 €
67%
Far Cry 5

Hasta

69.99 €
43.39 €
38%
Far Cry 5 + Far Cry New Dawn Ultimate Edition

Hasta

119.99 €
74.39 €
38%
FAR: LONE SAILS

Hasta

14.99 €
6.74 €
55%
Farm Together

Hasta

19.99 €
14.99 €
25%
Farmer & Forestry Bundle

Hasta

29.99 €
10.49 €
65%
Farming Simulator 19

Hasta

29.99 €
22.49 €
25%
Farming Simulator 19 - Platinum Edition

Hasta

39.99 €
31.99 €
20%
Farming Simulator 19 - Premium Edition

Hasta

49.99 €
39.99 €
20%
Fear Effect Sedna

Hasta

19.99 €
1.99 €
90%
Feist

Hasta

11.99 €
5.99 €
50%
Felix The Reaper

Hasta

24.99 €
2.49 €
90%
FIFA 21 Standard Edition PS4 y PS5

Hasta

69.99 €
47.59 €
32%
Fifty Words by POWGI

Hasta

7.99 €
3.99 €
50%
Fight'N Rage

Hasta

19.99 €
11.99 €
40%
Figment

Hasta

19.99 €
9.99 €
50%
Fill-a-Pix: Phil's Epic Adventure

Hasta

7.99 €
3.99 €
50%
Fimbul

Hasta

14.99 €
4.49 €
70%
FINAL FANTASY IX Digital Edition

Hasta

20.99 €
10.49 €
50%
FINAL FANTASY TYPE-0 HD

Hasta

19.99 €
9.99 €
50%
FINAL FANTASY VII

Hasta

15.99 €
7.99 €
50%
FINAL FANTASY VIII Remastered

Hasta

19.99 €
9.99 €
50%
FINAL FANTASY X/X-2 HD Remaster

Hasta

29.99 €
14.99 €
50%
FINAL FANTASY XII THE ZODIAC AGE

Hasta

49.99 €
24.99 €
50%
FINAL FANTASY XV MULTIPLAYER: COMRADES

Hasta

9.99 €
4.99 €
50%
FINAL FANTASY XV POCKET EDITION HD

Hasta

29.99 €
14.99 €
50%
FINAL FANTASY XV ROYAL EDITION

Hasta

34.99 €
17.49 €
50%
Firechief Bundle

Hasta

49.99 €
17.49 €
65%
Firefighters - The Simulation

Hasta

29.99 €
10.49 €
65%
Firefighters - The Simulation Platinum Bundle

Hasta

34.99 €
12.24 €
65%
Firefighters: Airport Fire Department

Hasta

24.99 €
8.74 €
65%
Firefighters: Airport Heroes

Hasta

29.99 €
14.99 €
50%
Firefighters: Plant Fire Department

Hasta

24.99 €
8.74 €
65%
Firewall Zero Hour

Hasta

29.99 €
12.89 €
57%
Fishing Sim World: Bass Pro Shops Edition

Hasta

39.99 €
31.99 €
20%
Fishing Sim World: Pro Tour

Hasta

19.99 €
6.99 €
65%
Fishing Sim World: Pro Tour + The Catch: Carp & Coarse

Hasta

34.99 €
17.49 €
50%
Five Dates

Hasta

12.99 €
10.39 €
20%
Five Nights at Freddy's

Hasta

7.99 €
6.39 €
20%
Five Nights at Freddy's 2

Hasta

7.99 €
6.39 €
20%
Five Nights at Freddy's 3

Hasta

7.99 €
6.39 €
20%
Five Nights at Freddy's 4

Hasta

7.99 €
6.39 €
20%
Five Nights at Freddy's: Help Wanted

Hasta

29.99 €
14.99 €
50%
Five Nights at Freddy's: Help Wanted - Bundle

Hasta

34.99 €
17.49 €
50%
Five Nights at Freddy's: Sister Location

Hasta

7.99 €
6.39 €
20%
Flashback

Hasta

19.99 €
1.99 €
90%
Flat Heroes

Hasta

9.99 €
4.49 €
55%
FlatOut 4 - Total Insanity

Hasta

19.99 €
4.99 €
75%
Flipping Death

Hasta

19.99 €
4.99 €
75%
Fluxteria Space Bundle

Hasta

4.99 €
2.49 €
50%
FMV Murder Mystery Bundle

Hasta

21.99 €
17.59 €
20%
Football Nation VR Tournament 2018

Hasta

12.99 €
5.19 €
60%
Football, Tactics & Glory

Hasta

39.99 €
13.99 €
65%
For Honor Complete Edition

Hasta

99.99 €
29.99 €
70%
FOR HONOR STANDARD EDITION

Hasta

29.99 €
9.89 €
67%
For The King

Hasta

24.99 €
6.24 €
75%
Forager

Hasta

19.99 €
12.99 €
35%
Foregone

Hasta

19.99 €
14.99 €
25%
Forestry 2017 - The Simulation

Hasta

19.99 €
6.99 €
65%
Forgotton Anne

Hasta

19.99 €
7.99 €
60%
FORM

Hasta

14.99 €
7.49 €
50%
Fort Boyard

Hasta

29.99 €
8.99 €
70%
Fossil Hunters

Hasta

13.99 €
6.99 €
50%
Freakout: Calamity TV Show

Hasta

10.99 €
5.49 €
50%
Freaky Awesome

Hasta

12.99 €
3.89 €
70%
FREEDIVER: Triton Down

Hasta

14.99 €
9.74 €
35%
Frostpunk: Console Edition

Hasta

29.99 €
11.99 €
60%
Fruit Ninja VR

Hasta

16.99 €
11.89 €
30%
Full Throttle Remastered

Hasta

14.99 €
4.49 €
70%
Furi

Hasta

19.99 €
5.99 €
70%
Furwind

Hasta

9.99 €
2.49 €
75%
Fury Unleashed

Hasta

19.99 €
9.99 €
50%
FUSER

Hasta

69.99 €
52.49 €
25%
FUSER VIP Edition

Hasta

109.99 €
93.49 €
15%
Galaxy of Pen & Paper +1 Edition

Hasta

12.99 €
6.49 €
50%
Gang Beasts

Hasta

19.99 €
9.99 €
50%
Garfield Kart - Furious Racing

Hasta

29.99 €
10.49 €
65%
Gauntlet: Slayer Edition

Hasta

19.99 €
4.99 €
75%
Gem Smashers

Hasta

5.49 €
1.64 €
70%
Generation Zero - Resistance Bundle

Hasta

39.99 €
25.99 €
35%
Get Even

Hasta

29.99 €
4.79 €
84%
Ghost Giant

Hasta

24.99 €
12.49 €
50%
Ghost of a Tale

Hasta

24.99 €
9.99 €
60%
Ghost Recon Breakpoint

Hasta

69.99 €
17.49 €
75%
Ghoulboy

Hasta

7.99 €
3.99 €
50%
Giana Sisters: Twisted Dreams - Director's Cut

Hasta

14.99 €
4.49 €
70%
Gigantosaurus El Juego

Hasta

39.99 €
15.99 €
60%
Ginger: Beyond the Crystal

Hasta

19.99 €
5.99 €
70%
Glass Masquerade 2: Illusions Deluxe Edition

Hasta

29.99 €
13.49 €
55%
Glass Masquerade Double Pack Bundle

Hasta

21.99 €
3.29 €
85%
Gleamlight

Hasta

16.99 €
8.49 €
50%
Goat Simulator

Hasta

9.99 €
2.49 €
75%
Goat Simulator: The GOATY

Hasta

23.99 €
5.99 €
75%
God Eater 3

Hasta

69.99 €
9.79 €
86%
God of War

Hasta

19.99 €
14.99 €
25%
God's Trigger

Hasta

14.99 €
5.24 €
65%
Going Under

Hasta

19.99 €
13.39 €
33%
Golazo! Football League

Hasta

17.99 €
3.59 €
80%
Golem Gates

Hasta

24.99 €
7.49 €
70%
Golf

Hasta

8.99 €
2.24 €
75%
Golf With Your Friends

Hasta

19.99 €
11.99 €
40%
GoNNER

Hasta

9.99 €
1.99 €
80%
GONNER2

Hasta

12.99 €
9.74 €
25%
GONNER2 Lose Your Head Deluxe Bundle

Hasta

19.99 €
14.99 €
25%
GOOD DOG, BAD DOG

Hasta

16.99 €
4.24 €
75%
Goosebumps Dead of Night

Hasta

32.99 €
16.49 €
50%
GORN

Hasta

19.99 €
14.99 €
25%
Gorogoa

Hasta

14.99 €
4.49 €
70%
Gotcha Racing 2nd

Hasta

9.99 €
4.99 €
50%
Grab the Bottle

Hasta

5.99 €
1.49 €
75%
Gran Turismo Sport

Hasta

19.99 €
9.99 €
50%
Gran Turismo Sport Spec II

Hasta

29.99 €
14.99 €
50%
Grand Kingdom

Hasta

49.99 €
9.99 €
80%
Grand Prix Rock 'N Racing

Hasta

7.99 €
3.99 €
50%
Grand Theft Auto III

Hasta

14.99 €
8.99 €
40%
Grand Theft Auto: San Andreas

Hasta

14.99 €
10.04 €
33%
Grand Theft Auto: The Trilogy

Hasta

34.99 €
17.49 €
50%
Grand Theft Auto: Vice City

Hasta

14.99 €
8.99 €
40%
Grass Cutter - Mutated Lawns

Hasta

6.99 €
2.79 €
60%
Grave Danger

Hasta

14.99 €
7.49 €
50%
Gravel Special Edition

Hasta

39.99 €
5.99 €
85%
GreedFall

Hasta

49.99 €
12.49 €
75%
GRIP Digital Deluxe

Hasta

49.99 €
9.99 €
80%
GRIS

Hasta

16.99 €
6.79 €
60%
Guacamelee! 2

Hasta

19.99 €
3.99 €
80%
Guacamelee! 2 al completo

Hasta

23.99 €
4.79 €
80%
Guacamelee! Super Turbo Championship Edition

Hasta

13.99 €
2.79 €
80%
Gun Club VR

Hasta

24.99 €
9.99 €
60%
GUNGRAVE VR

Hasta

29.99 €
8.99 €
70%
GUNGRAVE VR U.N

Hasta

14.99 €
4.49 €
70%
GUNGRAVE VR: Loaded Coffin Edition

Hasta

39.99 €
11.99 €
70%
Guns Gore and Cannoli 2

Hasta

12.99 €
5.19 €
60%
Guns, Gore and Cannoli

Hasta

9.99 €
3.99 €
60%
HAJWALA

Hasta

14.99 €
8.99 €
40%
Hammerwatch

Hasta

9.99 €
3.99 €
60%
Hammerwatch: Heroic Bundle

Hasta

24.99 €
19.99 €
20%
Hand of Fate 2

Hasta

24.99 €
7.49 €
70%
Hand of Fate Deluxe Edition

Hasta

19.99 €
4.99 €
75%
Hard Reset Redux

Hasta

23.99 €
4.79 €
80%
Hard West: Ultimate Edition

Hasta

19.99 €
10.99 €
45%
Has-Been Heroes

Hasta

24.99 €
9.99 €
60%
Hayfever

Hasta

14.99 €
4.49 €
70%
Headspun

Hasta

12.99 €
6.49 €
50%
Heart&Slash

Hasta

19.99 €
5.99 €
70%
Heavy Fire: Red Shadow

Hasta

39.99 €
19.99 €
50%
Hell Warders

Hasta

14.99 €
5.24 €
65%
HELLFRONT: HONEYMOON

Hasta

9.99 €
2.49 €
75%
Hello Neighbor

Hasta

29.99 €
7.49 €
75%
Help Will Come Tomorrow

Hasta

23.99 €
7.19 €
70%
Hero Defense

Hasta

29.99 €
8.99 €
70%
Heroes of Hammerwatch - Ultimate Edition

Hasta

19.99 €
15.99 €
20%
Heroine Anthem Zero Episode 1

Hasta

12.99 €
7.79 €
40%
Heroland

Hasta

29.99 €
8.99 €
70%
HexaMaze

Hasta

19.99 €
9.99 €
50%
Hidden

Hasta

8.99 €
2.24 €
75%
Hidden Through Time

Hasta

7.99 €
3.99 €
50%
HITMAN 2

Hasta

69.99 €
15.39 €
78%
HITMAN 2: Ediciσn Gold

Hasta

99.99 €
19.99 €
80%
Hitman HD Enhanced Collection

Hasta

59.99 €
17.99 €
70%
Holfraine

Hasta

4.99 €
2.49 €
50%
Hollow Knight: Ediciσn Corazσn Vacνo

Hasta

14.49 €
5.79 €
60%
Home Sweet Home

Hasta

29.99 €
17.99 €
40%
Homefront : The Revolution

Hasta

19.99 €
4.99 €
75%
HoPiKo

Hasta

6.99 €
2.09 €
70%
Hora de aventuras: Piratas del Enchiridiσn

Hasta

29.99 €
8.99 €
70%
Horizon Chase Turbo

Hasta

19.99 €
7.99 €
60%
Horizon Shift '81

Hasta

6.99 €
2.09 €
70%
Horned Knight

Hasta

5.99 €
4.79 €
20%
Horror Stories

Hasta

1.99 €
0.99 €
50%
Hotel R'n'R

Hasta

18.99 €
11.39 €
40%
Hotel Transylvania 3: monstruos al agua

Hasta

29.99 €
8.99 €
70%
Hotline Miami Collection

Hasta

19.99 €
4.99 €
75%
Hotshot Racing

Hasta

19.99 €
10.99 €
45%
House Flipper

Hasta

24.99 €
16.24 €
35%
Hover

Hasta

24.99 €
6.24 €
75%
How to Survive 2

Hasta

14.99 €
2.99 €
80%
How to Survive: Storm Warning Edition

Hasta

19.99 €
3.99 €
80%
Hue

Hasta

14.99 €
2.24 €
85%
Human: Fall Flat

Hasta

14.99 €
7.49 €
50%
Hunt

Hasta

9.99 €
2.49 €
75%
Hunt: Showdown

Hasta

39.99 €
15.99 €
60%
Huntdown

Hasta

19.99 €
10.99 €
45%
Hyper Light Drifter

Hasta

18.99 €
6.64 €
65%
Hyper Sentinel

Hasta

6.99 €
1.04 €
85%
HyperBrawl Tournament Ultimate Edition

Hasta

26.99 €
13.49 €
50%
Hypnospace Outlaw

Hasta

16.99 €
11.89 €
30%
I am Bread

Hasta

12.99 €
2.33 €
82%
I Expect You To Die

Hasta

24.99 €
12.49 €
50%
I'm Hungry

Hasta

16.99 €
10.19 €
40%
I, AI

Hasta

9.99 €
6.99 €
30%
I, Zombie

Hasta

4.49 €
1.12 €
75%
Ice Age: Una Aventura de Bellotas

Hasta

39.99 €
17.99 €
55%
Ice Cream Surfer [Cross-Buy]

Hasta

7.99 €
2.79 €
65%
Iconoclasts

Hasta

19.99 €
5.99 €
70%
Ikenfell

Hasta

19.99 €
15.99 €
20%
In Between

Hasta

11.99 €
3.59 €
70%
In Death

Hasta

29.99 €
14.99 €
50%
IN-VERT

Hasta

4.99 €
3.49 €
30%
INDIE BUNDLE: Shiness and Seasons after Fall

Hasta

14.99 €
3.74 €
75%
Indie Darling Bundle Vol.4

Hasta

49.99 €
7.49 €
85%
Industry Giant 2

Hasta

24.99 €
8.74 €
65%
Industry Giant 2 - Gold Edition

Hasta

19.99 €
6.99 €
65%
Inertial Drift

Hasta

19.99 €
13.99 €
30%
inFAMOUS First Light

Hasta

14.99 €
7.49 €
50%
inFAMOUS Second Son

Hasta

19.99 €
9.99 €
50%
Inferno 2

Hasta

4.99 €
3.24 €
35%
Infinite - Beyond the Mind

Hasta

8.99 €
2.24 €
75%
Injustice 2: Standard Edition

Hasta

19.99 €
14.99 €
25%
InnerSpace

Hasta

19.99 €
5.99 €
70%
Inside My Radio

Hasta

14.99 €
3.74 €
75%
Instant Indie Collection: Vol. 1

Hasta

21.99 €
2.19 €
90%
Instant Indie Collection: Vol. 2

Hasta

24.99 €
2.49 €
90%
Instant Indie Collection: Vol. 3

Hasta

24.99 €
2.49 €
90%
Instant Indie Collection: Vol. 4

Hasta

29.99 €
2.99 €
90%
Instant Indie Collection: Vol. 5

Hasta

28.99 €
2.89 €
90%
Invisible, Inc. Console Edition

Hasta

19.99 €
4.99 €
75%
Ironcast

Hasta

12.99 €
4.54 €
65%
Irony Curtain - Revolutionary Edition

Hasta

29.99 €
4.49 €
85%
Irony Curtain: From Matryoshka with Love

Hasta

19.99 €
2.99 €
85%
Island Flight Simulator

Hasta

19.99 €
9.99 €
50%
Island Time VR

Hasta

14.49 €
5.79 €
60%
Jagged Alliance: Rage!

Hasta

29.99 €
11.99 €
60%
Jetpack Joyride

Hasta

3.59 €
1.79 €
50%
Jewel Fever 2

Hasta

5.99 €
1.49 €
75%
JigSaw Abundance

Hasta

4.99 €
2.49 €
50%
JigSaw Solace

Hasta

3.99 €
1.99 €
50%
Job Simulator

Hasta

19.99 €
12.99 €
35%
Joe's Diner

Hasta

14.99 €
5.24 €
65%
John Wick Hex

Hasta

19.99 €
11.99 €
40%
Journey

Hasta

14.99 €
4.94 €
67%
Juegos clαsicos de Disney: Aladdin y El rey leσn

Hasta

14.99 €
7.49 €
50%
JUMANJI: El videojuego

Hasta

39.99 €
17.99 €
55%
JUMP FORCE - Ultimate Edition

Hasta

109.99 €
21.99 €
80%
Jump, Step, Step

Hasta

4.99 €
2.49 €
50%
Jurassic World Evolution

Hasta

49.99 €
9.99 €
80%
Jurassic World Evolution Deluxe Edition

Hasta

54.99 €
13.74 €
75%
Jurassic World Evolution: Ediciσn Jurassic Park

Hasta

64.99 €
16.24 €
75%
Just a Phrase by POWGI

Hasta

7.99 €
3.99 €
50%
Just Cause 4 - Gold Edition

Hasta

59.99 €
14.99 €
75%
Just Shapes & Beats

Hasta

16.99 €
13.59 €
20%
Just Shapes & Beats Mega Bundle

Hasta

21.99 €
17.59 €
20%
KAUIL'S TREASURE

Hasta

5.49 €
3.84 €
30%
Keep Talking and Nobody Explodes

Hasta

14.99 €
8.99 €
40%
Kentucky Route Zero: TV Edition

Hasta

21.99 €
13.19 €
40%
Kerbal Space Program Enhanced Edition

Hasta

39.99 €
9.99 €
75%
Killing Floor 2

Hasta

29.99 €
9.89 €
67%
Killing Floor: Incursion

Hasta

19.99 €
7.99 €
60%
KILLZONE SHADOW FALL

Hasta

19.99 €
9.99 €
50%
King's Quest: The Complete Collection

Hasta

29.99 €
5.99 €
80%
Kingdom Come: Deliverance

Hasta

29.99 €
19.49 €
35%
Kingdom Come: Deliverance Royal Edition

Hasta

39.99 €
25.99 €
35%
Kingdom: New Lands

Hasta

14.99 €
3.74 €
75%
Kingdoms of Amalur: Re-Reckoning - Fate Edition

Hasta

54.99 €
35.74 €
35%
KNACK

Hasta

19.99 €
5.99 €
70%
Knights and Bikes

Hasta

20.99 €
14.06 €
33%
Knights of Pen & Paper 2 Deluxiest Edition

Hasta

12.99 €
5.19 €
60%
Knights of Pen and Paper +1 Deluxier Edition

Hasta

14.99 €
5.24 €
65%
Knights of Pen and Paper Bundle

Hasta

21.99 €
8.79 €
60%
Knockout League

Hasta

19.99 €
11.99 €
40%
Kona

Hasta

14.99 €
2.99 €
80%
Kona VR Bundle

Hasta

19.99 €
3.99 €
80%
Krinkle Krusher

Hasta

4.99 €
1.49 €
70%
L. A. Noire

Hasta

39.99 €
19.99 €
50%
L.A. Noire: The VR Case Files

Hasta

29.99 €
14.99 €
50%
La LEGO NINJAGO Pelνcula El Video Juego

Hasta

59.99 €
14.99 €
75%
La Tierra Media : Sombras de Guerra

Hasta

39.99 €
14.79 €
63%
La Tierra Media : Sombras de Mordor

Hasta

19.99 €
9.99 €
50%
LA-MULANA

Hasta

14.99 €
8.99 €
40%
LA-MULANA 2

Hasta

24.99 €
14.99 €
40%
Lair of the Clockwork God

Hasta

17.99 €
9.89 €
45%
Lanternium

Hasta

4.49 €
3.14 €
30%
Lapis x Labyrinth

Hasta

29.99 €
9.89 €
67%
Laserlife

Hasta

8.99 €
4.49 €
50%
Late Shift

Hasta

12.49 €
6.24 €
50%
LAWS OF MACHINE

Hasta

3.49 €
2.79 €
20%
Layers of Fear

Hasta

19.99 €
5.99 €
70%
Layers of Fear: Masterpiece Edition

Hasta

21.99 €
7.69 €
65%
Legend of the Tetrarchs

Hasta

14.99 €
8.99 €
40%
Legends of Ethernal

Hasta

19.99 €
14.99 €
25%
LEGO Batman 3: MΑS ALLΑ DE GOTHAM

Hasta

19.99 €
14.99 €
25%
LEGO CITY Undercover

Hasta

59.99 €
14.99 €
75%
LEGO DC Super-Villains: Deluxe Edition

Hasta

74.99 €
18.74 €
75%
LEGO Harry Potter Collection

Hasta

39.99 €
23.99 €
40%
LEGO Marvel Super Heroes 2

Hasta

59.99 €
14.99 €
75%
LEGO Star Wars : The Force Awakens Ediciσn Deluxe

Hasta

69.99 €
17.49 €
75%
LEGO Worlds

Hasta

29.99 €
12.89 €
57%
Let Them Come

Hasta

7.99 €
2.63 €
67%
Levαntate: All Stars

Hasta

39.99 €
9.99 €
75%
Lichdom: Battlemage

Hasta

9.99 €
1.49 €
85%
Lichtspeer: Double Speer Edition

Hasta

9.99 €
2.99 €
70%
Lichtspeer: Double Speer Edition - OST Combo

Hasta

12.99 €
3.89 €
70%
Light Fairytale Episode 1

Hasta

9.99 €
4.99 €
50%
LIMBO & INSIDE Bundle

Hasta

26.99 €
6.74 €
75%
Ling: A Road Alone

Hasta

9.99 €
5.99 €
40%
Link-a-Pix Deluxe

Hasta

7.99 €
3.99 €
50%
Little Big Workshop

Hasta

19.99 €
15.99 €
20%
Little Misfortune

Hasta

19.99 €
9.99 €
50%
Little Nightmares Complete Edition

Hasta

29.99 €
7.49 €
75%
LittleBigPlanet 3

Hasta

19.99 €
9.99 €
50%
Loading Human : Chapter 1

Hasta

29.99 €
4.49 €
85%
Lock's Quest

Hasta

19.99 €
7.99 €
60%
Lonely Mountains: Downhill

Hasta

19.99 €
13.39 €
33%
Loot Hero DX

Hasta

4.99 €
3.74 €
25%
Lord Of The Click

Hasta

4.49 €
3.14 €
30%
Lords of the Fallen

Hasta

19.99 €
2.99 €
85%
Lords of the Fallen Complete Edition

Hasta

29.99 €
4.49 €
85%
Lornsword Winter Chronicle

Hasta

19.99 €
11.99 €
40%
Los pilares de la Tierra de Ken Follet

Hasta

39.99 €
3.99 €
90%
Los Sims 4 Ediciσn Fiesta Deluxe

Hasta

49.99 €
12.49 €
75%
Lost Ember

Hasta

29.99 €
14.99 €
50%
Lost Wing

Hasta

7.99 €
5.59 €
30%
Lote de clαsicos de PS2 de Rockstar Games

Hasta

69.99 €
29.39 €
58%
Lote de Grand Theft Auto V: Premium Edition y tarjeta Gran tiburσn blanco

Hasta

44.99 €
32.39 €
28%
Lote de Grand Theft Auto V: Premium Edition y tarjeta Gran tiburσn blanco

Hasta

59.99 €
41.99 €
30%
Lote de Grand Theft Auto V: Premium Edition y tarjeta Tiburσn megalodσn

Hasta

89.99 €
62.99 €
30%
Lote de Juegos Crash Team Racing Nitro-Fueled + Spyro

Hasta

69.99 €
52.49 €
25%
LovecraftΒ΄s Untold Stories

Hasta

14.99 €
7.49 €
50%
Lumini

Hasta

9.99 €
5.99 €
40%
MachiKnights -Blood bagos-

Hasta

10.99 €
5.49 €
50%
Machinarium

Hasta

14.99 €
3.74 €
75%
Mad Games Tycoon

Hasta

29.99 €
14.99 €
50%
Mad Max

Hasta

19.99 €
11.99 €
40%
Mad Tower Tycoon

Hasta

29.99 €
23.99 €
20%
Madden NFL 21 Ediciσn Superestrella para PS4 y PS5

Hasta

89.99 €
35.99 €
60%
Magicka 2

Hasta

14.99 €
3.74 €
75%
Maitetsu: Pure Station

Hasta

34.99 €
20.99 €
40%
Maneater PS4 & PS5

Hasta

39.99 €
23.99 €
40%
Maneater PS4 & PS5

Hasta

39.99 €
23.99 €
40%
Manhunt

Hasta

14.99 €
8.99 €
40%
Manifold Garden

Hasta

17.99 €
12.59 €
30%
Manual Samuel

Hasta

9.99 €
2.49 €
75%
Mars Alive

Hasta

16.99 €
10.19 €
40%
Mars Odyssey

Hasta

9.99 €
2.99 €
70%
Marvel's Avengers

Hasta

69.99 €
52.49 €
25%
Marvel's Iron Man VR

Hasta

39.99 €
23.99 €
40%
Marvel's Spider-Man

Hasta

39.99 €
29.99 €
25%
Mask of Mists

Hasta

14.99 €
8.99 €
40%
Masquerade: The Baubles of Doom

Hasta

14.99 €
7.49 €
50%
Masters of Anima

Hasta

9.99 €
2.99 €
70%
Max and the Book of Chaos

Hasta

7.99 €
3.99 €
50%
Max Payne

Hasta

14.99 €
8.99 €
40%
Mega Bundle - 2 Games + Avatars + Themes

Hasta

12.49 €
9.99 €
20%
Megadimension Neptunia VII

Hasta

29.99 €
8.99 €
70%
Megaquarium

Hasta

23.99 €
17.99 €
25%
Melbits World

Hasta

14.99 €
4.49 €
70%
Melbits World Party Edition

Hasta

19.99 €
6.99 €
65%
Memories of Mars

Hasta

19.99 €
8.99 €
55%
Memory Lane

Hasta

3.99 €
1.99 €
50%
Mercenary Kings: Reloaded Edition

Hasta

15.99 €
9.59 €
40%
Mervils: A VR Adventure

Hasta

15.99 €
4.79 €
70%
Metal Gear Solid V: The Definitive Experience

Hasta

19.99 €
3.99 €
80%
Metal Wolf Chaos XD

Hasta

24.99 €
12.49 €
50%
Metamorphosis

Hasta

24.99 €
12.49 €
50%
Metro Exodus

Hasta

39.99 €
13.99 €
65%
Metro Exodus Gold Edition

Hasta

64.99 €
19.49 €
70%
Metropolis: Lux Obscura

Hasta

9.99 €
2.49 €
75%
Mi Granja de Caballos

Hasta

19.99 €
13.99 €
30%
Mi Granja de Caballos 2: Una nueva aventura

Hasta

24.99 €
17.49 €
30%
Miden Tower

Hasta

14.99 €
10.49 €
30%
Mind Labyrinth VR Dreams

Hasta

19.99 €
15.99 €
20%
Mind Labyrinth VR Dreams & Brain Beats Bundle

Hasta

24.99 €
19.99 €
20%
Mini Motor Racing X

Hasta

24.99 €
9.99 €
60%
Mini Motor Racing X Digital Deluxe Edition

Hasta

34.99 €
13.99 €
60%
MINIT

Hasta

9.99 €
4.99 €
50%
Minoria

Hasta

20.99 €
14.69 €
30%
Mixups by POWGI

Hasta

7.99 €
3.99 €
50%
MLB The Show 20

Hasta

19.99 €
14.99 €
25%
MLB The Show 20 MVP Edition

Hasta

39.99 €
31.99 €
20%
Momonga Pinball Adventures

Hasta

5.99 €
2.03 €
66%
Monkey King: Hero is back

Hasta

39.99 €
13.99 €
65%
Monkey King: Master of the Clouds

Hasta

4.99 €
1.99 €
60%
Monopoly Family Fun Pack

Hasta

29.99 €
14.99 €
50%
MONOPOLY PLUS

Hasta

14.99 €
7.49 €
50%
Monster Boy y el Reino Maldito

Hasta

39.99 €
15.99 €
60%
Monster Dynamite

Hasta

19.99 €
9.99 €
50%
Monster Jam Steel Titans

Hasta

39.99 €
15.99 €
60%
MONSTER OF THE DEEP: FINAL FANTASY XV

Hasta

29.99 €
14.99 €
50%
Monstrum

Hasta

29.99 €
17.99 €
40%
Moonlighter

Hasta

19.99 €
7.99 €
60%
Moonlighter: Complete Edition

Hasta

23.99 €
11.99 €
50%
Morbid: The Seven Acolytes

Hasta

24.99 €
17.49 €
30%
Mortal Kombat X

Hasta

19.99 €
9.99 €
50%
MortalKombat11

Hasta

49.99 €
34.99 €
30%
Mosaic

Hasta

19.99 €
13.99 €
30%
Mosaic 1% Edition

Hasta

24.99 €
17.49 €
30%
Moss

Hasta

29.99 €
11.99 €
60%
Moto Racer 4

Hasta

39.99 €
7.99 €
80%
Moto Racer 4 - Deluxe Edition

Hasta

59.99 €
5.99 €
90%
MotoGP 20

Hasta

69.99 €
19.59 €
72%
Motor Strike: Immortal Legends

Hasta

19.99 €
9.99 €
50%
Motorbike Racing Bundle

Hasta

69.99 €
13.99 €
80%
Move or Die

Hasta

14.49 €
7.24 €
50%
Moving Out

Hasta

24.99 €
14.99 €
40%
Mr. Massagy

Hasta

4.99 €
3.99 €
20%
MudRunner

Hasta

34.99 €
8.74 €
75%
Music Racer

Hasta

6.99 €
4.89 €
30%
Mutant Year Zero: Road to Eden - Deluxe Edition

Hasta

44.99 €
17.99 €
60%
MX vs. ATV Supercross Encore

Hasta

29.99 €
5.99 €
80%
My Aunt is a Witch

Hasta

9.99 €
6.99 €
30%
My Friend Pedro

Hasta

19.99 €
9.99 €
50%
MY HERO ONE'S JUSTICE

Hasta

69.99 €
14.69 €
79%
My Night Job

Hasta

7.99 €
1.99 €
75%
My Time at Portia

Hasta

29.99 €
10.49 €
65%
My Universe - Cooking Star Restaurant

Hasta

39.99 €
31.99 €
20%
My Universe - Profe de Colegio

Hasta

39.99 €
33.99 €
15%
N Plus Plus (N++)

Hasta

14.99 €
7.49 €
50%
Narcos: Rise of the Cartels

Hasta

29.99 €
7.49 €
75%
NARUTO SHIPPUDEN: Ultimate Ninja STORM 2

Hasta

19.99 €
5.99 €
70%
NARUTO SHIPPUDEN: Ultimate Ninja STORM 3 Full Burst

Hasta

19.99 €
5.99 €
70%
NARUTO SHIPPUDEN: Ultimate Ninja STORM 4 Road to Boruto

Hasta

49.99 €
14.99 €
70%
NARUTO: Ultimate Ninja STORM

Hasta

19.99 €
5.99 €
70%
NASCAR Heat 5

Hasta

29.99 €
22.49 €
25%
NBA 2K21

Hasta

69.99 €
19.59 €
72%
Necromunda: Underhive Wars

Hasta

39.99 €
29.99 €
25%
NECROPOLIS: A Diabolical Dungeon Delve

Hasta

19.99 €
3.19 €
84%
Need a Packet?

Hasta

6.99 €
3.49 €
50%
Need for Speed Ediciσn Deluxe

Hasta

24.99 €
4.99 €
80%
Need for Speed Heat

Hasta

69.99 €
45.49 €
35%
Need for Speed Payback - Deluxe Edition

Hasta

39.99 €
11.99 €
70%
Need for Speed Ultimate Bundle

Hasta

99.99 €
56.99 €
43%
Neighbours back From Hell

Hasta

14.99 €
11.99 €
20%
NEKOPARA Vol.2

Hasta

13.49 €
6.74 €
50%
NEKOPARA Vol.3

Hasta

13.49 €
6.74 €
50%
NEKOPARA Vol.4

Hasta

10.99 €
8.79 €
20%
Neon Abyss

Hasta

19.99 €
13.39 €
33%
Neon Chrome

Hasta

14.99 €
4.49 €
70%
Neonwall

Hasta

9.99 €
2.49 €
75%
Nerved

Hasta

8.99 €
4.49 €
50%
NeuroVoider

Hasta

13.99 €
3.49 €
75%
Never Alone (Kisima Ingitchuna)

Hasta

14.99 €
2.99 €
80%
Never Alone Arctic Collection

Hasta

19.99 €
3.99 €
80%
NeverEnd

Hasta

3.59 €
1.07 €
70%
Neverlast

Hasta

9.99 €
2.49 €
75%
Neverout

Hasta

7.99 €
1.19 €
85%
Neversong

Hasta

14.99 €
7.49 €
50%
Neverwinter Nights: Enhanced Edition

Hasta

54.99 €
21.99 €
60%
Nex Machina

Hasta

19.99 €
5.99 €
70%
Nexomon: Extinction

Hasta

19.99 €
12.99 €
35%
Next Up Hero

Hasta

19.99 €
5.99 €
70%
Ni no Kuni II: Revenant Kingdom - The Prince's Edition

Hasta

89.99 €
17.99 €
80%
Night in the Woods

Hasta

23.99 €
11.99 €
50%
Nightmare Boy

Hasta

12.99 €
3.89 €
70%
Nightmares from the Deep Collection

Hasta

35.99 €
5.39 €
85%
Nine Parchments

Hasta

19.99 €
4.99 €
75%
Nine Witches: Family Disruption

Hasta

17.99 €
11.69 €
35%
Ninja Senki DX

Hasta

5.99 €
3.59 €
40%
Ninjin: Clash of Carrots

Hasta

9.99 €
1.99 €
80%
Nitroplus Blasterz: Heroines Infinite Duel

Hasta

19.99 €
9.99 €
50%
No Heroes Allowed! VR

Hasta

29.99 €
9.89 €
67%
No Man's Sky PS4 & PS5

Hasta

49.99 €
37.49 €
25%
No Straight Roads

Hasta

39.99 €
26.79 €
33%
Norman's Great Illusion

Hasta

4.99 €
2.99 €
40%
NORTH

Hasta

3.59 €
1.79 €
50%
Northgard

Hasta

29.99 €
14.99 €
50%
Not A Hero

Hasta

12.99 €
1.94 €
85%
Nowhere Prophet

Hasta

21.99 €
15.39 €
30%
NUBLA

Hasta

4.99 €
2.49 €
50%
NUBLA 2

Hasta

12.99 €
7.79 €
40%
Obey Me

Hasta

17.99 €
8.99 €
50%
Observation

Hasta

24.99 €
11.24 €
55%
Observer: System Redux

Hasta

29.99 €
19.49 €
35%
Octahedron

Hasta

12.99 €
5.19 €
60%
Octodad: Dadliest Catch

Hasta

13.99 €
2.79 €
80%
Oddworld: New 'n' Tasty: Complete Edition

Hasta

20.99 €
5.24 €
75%
OF MICE AND SAND -REVISED-

Hasta

9.99 €
4.99 €
50%
Of Tanks and Demons III

Hasta

4.49 €
3.14 €
30%
Offroad Racing - Buggy X ATV X Moto

Hasta

19.99 €
3.99 €
80%
Oh My Godheads

Hasta

14.99 €
2.99 €
80%
Oliver's Adventures in the Fairyland

Hasta

6.99 €
4.89 €
30%
One Eyed Kutkh

Hasta

5.99 €
1.79 €
70%
One Finger Death Punch 2

Hasta

8.99 €
5.84 €
35%
One Piece Burning Blood

Hasta

39.99 €
5.99 €
85%
ONE PIECE BURNING BLOOD - Gold Edition

Hasta

94.99 €
14.24 €
85%
One Piece: Unlimited World Red - Deluxe Edition

Hasta

39.99 €
9.99 €
75%
One Step From Eden

Hasta

19.99 €
14.99 €
25%
One Word by POWGI

Hasta

7.99 €
3.99 €
50%
Onimusha: Warlords

Hasta

19.99 €
7.99 €
60%
Oniria Crimes

Hasta

19.99 €
9.99 €
50%
ONRUSH

Hasta

9.99 €
6.19 €
38%
ONRUSH DELUXE EDITION

Hasta

14.99 €
3.59 €
76%
Operaciσn Triunfo 2017

Hasta

39.99 €
11.99 €
70%
Operencia: The Stolen Sun

Hasta

29.99 €
14.99 €
50%
Othercide

Hasta

39.99 €
19.99 €
50%
Out of Ammo

Hasta

14.99 €
4.49 €
70%
Out Of Space: Couch Edition

Hasta

9.99 €
7.99 €
20%
Outbreak

Hasta

9.99 €
4.99 €
50%
Outbreak

Hasta

14.99 €
8.99 €
40%
Outbreak: Epidemic

Hasta

12.99 €
6.49 €
50%
Outbreak: Epidemic

Hasta

14.99 €
8.99 €
40%
Outbreak: Lost Hope

Hasta

12.99 €
6.49 €
50%
Outbreak: The New Nightmare

Hasta

12.99 €
6.49 €
50%
Outbreak: The New Nightmare

Hasta

14.99 €
8.99 €
40%
Outbreak: The Nightmare Chronicles

Hasta

12.99 €
6.49 €
50%
Outbreak: The Nightmare Chronicles

Hasta

14.99 €
8.99 €
40%
Outcast - Second Contact

Hasta

44.99 €
4.49 €
90%
Outcast - Second Contact Deluxe Edition

Hasta

49.99 €
7.49 €
85%
Outer Wilds

Hasta

23.99 €
14.39 €
40%
Outlast

Hasta

18.99 €
2.84 €
85%
Outlast 2

Hasta

29.99 €
4.49 €
85%
Outward

Hasta

39.99 €
11.99 €
70%
Overcooked

Hasta

15.99 €
6.39 €
60%
Overcooked! + Overcooked! 2

Hasta

34.99 €
13.99 €
60%
Overcooked! 2

Hasta

24.99 €
12.49 €
50%
Overcooked! All You Can Eat

Hasta

49.99 €
37.49 €
25%
Overcooked: Gourmet Edition

Hasta

19.99 €
6.99 €
65%
Overland

Hasta

24.99 €
12.49 €
50%
Overpass

Hasta

59.99 €
23.99 €
60%
OVERPASS Deluxe Edition

Hasta

69.99 €
27.99 €
60%
Override: Mech City Brawl

Hasta

19.99 €
9.99 €
50%
Override: Mech City Brawl - Super Charged Mega Edition

Hasta

29.99 €
14.99 €
50%
OVIVO

Hasta

6.99 €
2.79 €
60%
Owlboy

Hasta

21.99 €
10.99 €
50%
Oxenfree

Hasta

9.99 €
0.99 €
90%
PAC-MAN CHAMPIONSHIP EDITION 2

Hasta

12.99 €
6.49 €
50%
PACER

Hasta

39.99 €
23.99 €
40%
Pacific Wings

Hasta

5.99 €
1.49 €
75%
Pack definitivo para Sound Shapes

Hasta

14.99 €
4.94 €
67%
Pack La LEGO Pelνcula: El videojuego

Hasta

59.99 €
19.79 €
67%
Pack triple Assassin's Creed: Black Flag, Unity, Syndicate

Hasta

79.99 €
51.99 €
35%
Panda Hero

Hasta

14.99 €
7.49 €
50%
Panda Hero Remastered

Hasta

19.99 €
13.99 €
30%
Pantsu Hunter: Back to the 90s

Hasta

12.99 €
9.09 €
30%
Paper Beast

Hasta

29.99 €
17.99 €
40%
Paper Dolls

Hasta

16.99 €
10.19 €
40%
Paper Dolls Original

Hasta

16.99 €
10.19 €
40%
Paquete familiar de EA

Hasta

39.99 €
23.99 €
40%
Party Panic

Hasta

16.99 €
11.04 €
35%
Pase de Temporada de We Happy Few

Hasta

24.99 €
6.24 €
75%
Path to Mnemosyne

Hasta

9.99 €
2.99 €
70%
Pathfinder: Kingmaker - Definitive Edition

Hasta

49.99 €
37.49 €
25%
Pathologic 2

Hasta

34.99 €
17.49 €
50%
PBA Pro Bowling

Hasta

14.99 €
7.49 €
50%
Peaky Blinders: Mastermind

Hasta

24.99 €
8.74 €
65%
Penn & Teller VR: F U, U, U, & U

Hasta

19.99 €
13.99 €
30%
Persona 5

Hasta

69.99 €
10.49 €
85%
Persona 5: Ultimate Edition

Hasta

99.99 €
14.99 €
85%
PGA TOUR 2K21

Hasta

59.99 €
47.99 €
20%
Phar Lap - Horse Racing Challenge

Hasta

34.99 €
17.49 €
50%
Pharaonic

Hasta

15.99 €
6.39 €
60%
PHOGS!

Hasta

24.99 €
18.74 €
25%
Pic-a-Pix Classic

Hasta

7.99 €
3.99 €
50%
Pic-a-Pix Classic 2

Hasta

7.99 €
3.99 €
50%
Pic-a-Pix Color

Hasta

7.99 €
3.99 €
50%
Pic-a-Pix Color 2

Hasta

7.99 €
3.99 €
50%
Pic-a-Pix Pieces

Hasta

7.99 €
3.99 €
50%
Pic-a-Pix Pieces 2

Hasta

7.99 €
3.99 €
50%
Pierhead Arcade

Hasta

14.99 €
8.99 €
40%
Pillars of Eternity II: Deadfire - Ultimate Edition

Hasta

59.99 €
35.99 €
40%
Pillars of Eternity: Complete Edition

Hasta

49.99 €
12.49 €
75%
Pinball FX2 VR Ultimate Bundle

Hasta

29.99 €
14.99 €
50%
Pineview Drive - Joe's Diner Horror Bundle

Hasta

24.99 €
8.74 €
65%
Pinstripe

Hasta

14.49 €
4.34 €
70%
Pistol Whip

Hasta

28.49 €
18.51 €
35%
Pixel Devil and the Broken Cartridge

Hasta

4.99 €
3.49 €
30%
Pixel Heroes: Byte & Magic

Hasta

14.99 €
4.49 €
70%
Pixel Ripped 1989

Hasta

14.99 €
7.49 €
50%
Pixel Ripped 1995

Hasta

19.99 €
13.99 €
30%
PixelJunk Shooter Ultimate

Hasta

11.99 €
2.39 €
80%
Planescape: Torment and Icewind Dale: Enhanced Editions

Hasta

54.99 €
27.49 €
50%
Planet Coaster: Ediciσn para consolas PS4 & PS5

Hasta

44.99 €
31.49 €
30%
Planet of the Eyes

Hasta

9.99 €
2.99 €
70%
Planet RIX-13

Hasta

4.99 €
2.49 €
50%
Planetbase

Hasta

14.99 €
8.99 €
40%
PlayStation VR Worlds

Hasta

29.99 €
9.89 €
67%
Police Chase

Hasta

29.99 €
11.99 €
60%
Ponpu

Hasta

14.99 €
9.74 €
35%
Pool

Hasta

9.99 €
2.49 €
75%
Pool and Snooker Bundle

Hasta

15.99 €
7.19 €
55%
Pool Nation

Hasta

12.49 €
5.62 €
55%
Potata

Hasta

14.99 €
8.99 €
40%
Predator: Hunting Grounds

Hasta

39.99 €
29.99 €
25%
Predator: Hunting Grounds Ediciσn Digital Deluxe

Hasta

59.99 €
47.99 €
20%
Prison Architect - Total Lockdown Edition

Hasta

59.99 €
29.99 €
50%
Prison Architect: PlayStation 4 Edition

Hasta

24.99 €
4.99 €
80%
Prison Boss VR

Hasta

19.99 €
9.99 €
50%
Professional Construction - The Simulation

Hasta

24.99 €
7.49 €
70%
Professional Farmer 2017

Hasta

19.99 €
5.99 €
70%
Professional Farmer 2017 - Gold Edition

Hasta

19.99 €
5.99 €
70%
Professional Farmer: American Dream

Hasta

24.99 €
8.74 €
65%
Project CARS 3

Hasta

69.99 €
48.99 €
30%
Project Highrise: Architect's Edition

Hasta

29.99 €
7.49 €
75%
Project Warlock

Hasta

14.99 €
10.49 €
30%
Projection: First Light

Hasta

17.99 €
8.99 €
50%
Psychonauts In The Rhombus Of Ruin

Hasta

18.99 €
5.69 €
70%
Pumped BMX +

Hasta

9.99 €
1.99 €
80%
Punch Club

Hasta

9.99 €
2.49 €
75%
Pure Farming 2018

Hasta

29.99 €
10.49 €
65%
Pure Farming 2018 Digital Deluxe Edition

Hasta

39.99 €
13.99 €
65%
Quar: Infernal Machines

Hasta

24.99 €
7.49 €
70%
Queen's Quest 4: Sacred Truce

Hasta

14.99 €
2.24 €
85%
QuiVr

Hasta

23.99 €
19.19 €
20%
Rad Rodgers

Hasta

19.99 €
7.99 €
60%
Radical Rabbit Stew

Hasta

15.99 €
3.99 €
75%
Raiden V: Director's Cut

Hasta

29.99 €
11.99 €
60%
Rain World

Hasta

19.99 €
4.99 €
75%
Rainswept

Hasta

9.99 €
5.99 €
40%
Raji: An Ancient Epic

Hasta

24.99 €
16.74 €
33%
Ray's The Dead

Hasta

19.99 €
13.99 €
30%
Rayman Legends

Hasta

19.99 €
9.99 €
50%
Rayon Riddles - Rise of the Goblin King

Hasta

11.99 €
5.99 €
50%
RAZED

Hasta

9.99 €
3.49 €
65%
Real Farm

Hasta

39.99 €
3.99 €
90%
Realms of Arkania: Blade of Destiny

Hasta

29.99 €
8.99 €
70%
Realms of Arkania: Star Trail

Hasta

29.99 €
8.99 €
70%
Rebel Galaxy Outlaw

Hasta

29.99 €
17.99 €
40%
Reborn: A Samurai Awakens

Hasta

14.99 €
8.99 €
40%
Red Dead Revolver

Hasta

14.99 €
8.99 €
40%
Red Matter

Hasta

29.99 €
14.99 €
50%
Red Rope: Don't Fall Behind +

Hasta

12.99 €
6.49 €
50%
Redeemer: Enhanced Edition

Hasta

29.99 €
8.99 €
70%
Regions of Ruin

Hasta

9.99 €
2.49 €
75%
Reknum

Hasta

5.99 €
4.19 €
30%
Relicta

Hasta

19.99 €
9.99 €
50%
Remothered: Broken Porcelain

Hasta

29.99 €
19.49 €
35%
Remothered: Tormented Fathers

Hasta

29.99 €
8.99 €
70%
Renzo Racer

Hasta

24.99 €
19.99 €
20%
resident evil 4

Hasta

19.99 €
7.99 €
60%
RESIDENT EVIL 5

Hasta

19.99 €
7.99 €
60%
Resident Evil 6

Hasta

19.99 €
7.99 €
60%
Resident Evil: Deluxe Origins Bundle

Hasta

39.99 €
9.99 €
75%
Return of the Obra Dinn

Hasta

23.99 €
17.99 €
25%
Reus

Hasta

14.99 €
2.24 €
85%
Revenant Saga

Hasta

14.99 €
7.49 €
50%
Reverie

Hasta

12.99 €
3.89 €
70%
RGX: Showdown

Hasta

9.99 €
2.49 €
75%
Rift Keeper

Hasta

9.99 €
3.99 €
60%
Rigid Force Redux

Hasta

15.99 €
11.19 €
30%
Rigid Force Redux - Digital Deluxe Edition

Hasta

19.99 €
13.99 €
30%
RIGS Mechanized Combat League

Hasta

19.99 €
9.99 €
50%
RiME

Hasta

34.99 €
13.99 €
60%
RIOT - Civil Unrest

Hasta

19.99 €
5.99 €
70%
Riptide GP2

Hasta

6.99 €
4.89 €
30%
Riptide GP: Renegade

Hasta

9.99 €
6.99 €
30%
Rise & Shine

Hasta

14.99 €
3.74 €
75%
Rise of the Tomb Raider: 20ΒΊ aniversario

Hasta

29.99 €
5.99 €
80%
Risk of Rain 2

Hasta

24.99 €
17.49 €
30%
Ritual: Crown of Horns

Hasta

19.99 €
7.99 €
60%
River City Girls

Hasta

29.99 €
22.49 €
25%
River City Melee: Battle Royal Special

Hasta

24.99 €
3.74 €
85%
Riverbond

Hasta

21.99 €
6.59 €
70%
Road Rage

Hasta

19.99 €
2.99 €
85%
Road Redemption

Hasta

19.99 €
7.99 €
60%
Roarr! Jurassic Edition

Hasta

6.59 €
2.63 €
60%
Robinson: The Journey

Hasta

29.99 €
8.99 €
70%
Robox

Hasta

14.99 €
3.74 €
75%
Rock Band 4 Rivals Bundle

Hasta

59.99 €
44.99 €
25%
Rock of Ages 3: Make & Break

Hasta

29.99 €
14.99 €
50%
Rock'N Racing Off Road DX

Hasta

7.99 €
3.99 €
50%
Rogue Stormers

Hasta

19.99 €
5.99 €
70%
Rogue Stormers & Giana Sisters Bundle

Hasta

24.99 €
7.49 €
70%
Rollercoaster Dreams

Hasta

20.99 €
6.29 €
70%
Roundguard

Hasta

16.99 €
7.64 €
55%
Roundout by POWGI

Hasta

7.99 €
3.99 €
50%
Rugby Challenge 3

Hasta

34.99 €
17.49 €
50%
Rugby League Live 3

Hasta

34.99 €
17.49 €
50%
Rugby League Live 4

Hasta

59.99 €
29.99 €
50%
Ruiner

Hasta

19.99 €
4.99 €
75%
Runbow

Hasta

14.99 €
2.99 €
80%
Rune Lord

Hasta

6.99 €
4.89 €
30%
Runner3

Hasta

15.99 €
7.99 €
50%
Rusty Gun

Hasta

4.49 €
3.14 €
30%
Rusty Spout Rescue Adventure

Hasta

6.99 €
5.59 €
20%
Saints Row: The Third Remastered

Hasta

39.99 €
17.99 €
55%
Sakura Wars Digital Deluxe Edition

Hasta

79.99 €
59.99 €
25%
Samurai Jack: Battle Through Time

Hasta

39.99 €
23.99 €
40%
SAMURAI SHODOWN NEOGEO COLLECTION

Hasta

39.99 €
19.99 €
50%
Santa's Xmas Adventure

Hasta

7.99 €
2.39 €
70%
Save the Ninja Clan

Hasta

3.99 €
1.59 €
60%
Sayonara Wild Hearts

Hasta

11.99 €
7.19 €
40%
Scarlett Mysteries: Cursed Child

Hasta

14.99 €
2.24 €
85%
Scribblenauts Mega Pack

Hasta

29.99 €
7.49 €
75%
Sea of Solitude

Hasta

19.99 €
8.99 €
55%
Season Match

Hasta

9.99 €
4.99 €
50%
Seasons after Fall

Hasta

9.99 €
1.99 €
80%
Secret of Mana

Hasta

39.99 €
19.99 €
50%
SENRAN KAGURA Burst Re:Newal

Hasta

39.99 €
14.79 €
63%
SENRAN KAGURA ESTIVAL VERSUS

Hasta

29.99 €
9.89 €
67%
SENRAN KAGURA Peach Beach Splash

Hasta

29.99 €
9.89 €
67%
SENRAN KAGURA Peach Beach Splash Sexy Soaker Edition

Hasta

39.99 €
12.79 €
68%
SEPARATION

Hasta

14.99 €
10.49 €
30%
Serial Cleaner

Hasta

14.99 €
2.99 €
80%
Serious Sam Collection

Hasta

29.99 €
14.99 €
50%
SEUM: Speedrunners from Hell

Hasta

14.99 €
4.49 €
70%
Shadow Legend VR

Hasta

24.99 €
14.99 €
40%
Shadow Tactics: Blades of the Shogun

Hasta

49.99 €
4.99 €
90%
Shadow Warrior 2

Hasta

39.99 €
9.99 €
75%
Shadows: Awakening

Hasta

29.99 €
7.49 €
75%
Shadwen

Hasta

16.99 €
4.24 €
75%
Shape of the World

Hasta

14.99 €
3.74 €
75%
Sherlock Holmes: Crimes and Punishments

Hasta

39.99 €
9.99 €
75%
Shiftlings

Hasta

14.99 €
4.94 €
67%
Shiness: The Lightning Kingdom

Hasta

9.99 €
2.99 €
70%
SHINY - A Robotic Adventure

Hasta

14.99 €
1.49 €
90%
Shovel Knight: Specter of Torment

Hasta

9.99 €
6.99 €
30%
Shovel Knight: Treasure Trove

Hasta

24.99 €
17.49 €
30%
Shutshimi

Hasta

3.99 €
2.99 €
25%
Shuttle Commander

Hasta

24.99 €
14.99 €
40%
Sigi - A Fart for Melusina

Hasta

5.99 €
2.39 €
60%
Silence

Hasta

29.99 €
2.99 €
90%
Silver Chains

Hasta

24.99 €
18.74 €
25%
SIMULACRA

Hasta

12.99 €
9.09 €
30%
Sine Mora EX

Hasta

19.99 €
5.99 €
70%
Skatemasta Tcheco

Hasta

4.99 €
3.49 €
30%
Skater XL

Hasta

39.99 €
31.99 €
20%
Ski Jumping Pro VR

Hasta

19.99 €
9.99 €
50%
Skully

Hasta

29.99 €
14.99 €
50%
Skyhill

Hasta

19.99 €
1.99 €
90%
SkyTime

Hasta

2.99 €
1.19 €
60%
Skyworld

Hasta

29.99 €
7.49 €
75%
SlabWell - The Quest for kaktun's alpaca

Hasta

7.99 €
1.99 €
75%
Slain: Back from Hell

Hasta

14.99 €
3.74 €
75%
Slay the Spire

Hasta

24.99 €
13.74 €
45%
Slender: The Arrival

Hasta

9.99 €
1.99 €
80%
SLICE, DICE & RICE

Hasta

17.99 €
8.99 €
50%
Slide Stars

Hasta

39.99 €
19.99 €
50%
Slime Rancher

Hasta

19.99 €
5.99 €
70%
Slime-san: Superslime Edition

Hasta

14.99 €
5.99 €
60%
Smashbox Arena

Hasta

9.99 €
5.99 €
40%
Smoots Summer Games

Hasta

9.99 €
4.99 €
50%
Smoots World Cup Tennis

Hasta

9.99 €
6.99 €
30%
Snakes & Ladders

Hasta

8.99 €
2.24 €
75%
Snakeybus

Hasta

11.99 €
7.19 €
40%
Sniper

Hasta

8.99 €
2.24 €
75%
Sniper Elite 3 ULTIMATE EDITION

Hasta

39.99 €
7.99 €
80%
Sniper Elite 4 Digital Deluxe Edition

Hasta

99.99 €
9.99 €
90%
Sniper Elite V2 Remastered

Hasta

34.99 €
5.24 €
85%
Sniper Ghost Warrior 3 Season Pass Edition

Hasta

39.99 €
4.79 €
88%
Sniper Ghost Warrior Contracts

Hasta

39.99 €
9.99 €
75%
Sniper Ghost Warrior Contracts & SGW3 Unlimited Edition

Hasta

59.99 €
14.39 €
76%
SNK 40th ANNIVERSARY COLLECTION

Hasta

39.99 €
19.99 €
50%
Snooker Nation Championship

Hasta

8.99 €
4.04 €
55%
Snow Moto Racing Freedom

Hasta

12.99 €
3.89 €
70%
SnowRunner

Hasta

49.99 €
29.99 €
40%
SnowRunner - Premium Edition

Hasta

69.99 €
55.99 €
20%
Solo: Islands of the Heart

Hasta

19.99 €
5.99 €
70%
SOMA

Hasta

28.49 €
2.84 €
90%
Songbird Symphony

Hasta

14.99 €
7.49 €
50%
SOULCALIBUR β…₯ Deluxe Edition

Hasta

99.99 €
19.99 €
80%
South Park : La Vara de la Verdad

Hasta

29.99 €
9.89 €
67%
South Park : Retaguardia en Peligro

Hasta

59.99 €
17.99 €
70%
South Park : Retaguardia en Peligro - Gold Edition

Hasta

79.99 €
51.99 €
35%
Space Blaze

Hasta

19.99 €
6.99 €
65%
Space Crew

Hasta

19.99 €
11.99 €
40%
Space Pirate Trainer

Hasta

14.49 €
5.79 €
60%
SPACE RIFT - Episode 1

Hasta

19.99 €
9.99 €
50%
Sparkle Unleashed PS4 & PS5

Hasta

7.99 €
2.39 €
70%
Sparklite

Hasta

24.99 €
12.49 €
50%
Spartan Fist

Hasta

14.99 €
3.74 €
75%
Speed 3: Grand Prix

Hasta

29.99 €
17.99 €
40%
Spelunky

Hasta

14.99 €
4.49 €
70%
Spiral Splatter

Hasta

5.99 €
2.39 €
60%
Spirit Arena

Hasta

5.49 €
3.84 €
30%
Spirit of the North

Hasta

16.99 €
5.94 €
65%
Spirit of the North: Enhanced Edition

Hasta

24.99 €
19.99 €
20%
Spiritfarer

Hasta

24.99 €
18.74 €
25%
Spitlings

Hasta

14.99 €
8.99 €
40%
Sports Bar VR 2.0

Hasta

12.49 €
4.99 €
60%
Sprint Vector

Hasta

24.99 €
7.49 €
70%
Spy Chameleon

Hasta

4.99 €
2.49 €
50%
Squishies

Hasta

9.99 €
2.99 €
70%
Star Hammer: the Vanguard Prophecy

Hasta

19.99 €
9.79 €
51%
STAR OCEAN - THE LAST HOPE - 4K & Full HD Remaster

Hasta

20.99 €
10.49 €
50%
STAR OCEAN First Departure R

Hasta

20.99 €
10.49 €
50%
Star Ocean Till The End Of Time

Hasta

20.99 €
10.49 €
50%
STAR OCEAN: INTEGRITY AND FAITHLESSNESS - EDICIΣN DIGITAL

Hasta

29.99 €
11.99 €
60%
STAR WARS : Squadrons

Hasta

39.99 €
31.99 €
20%
STAR WARS Battlefront II Celebration Edition

Hasta

39.99 €
25.99 €
35%
STAR WARS Episode I Racer

Hasta

14.99 €
8.99 €
40%
STAR WARS Jedi Knight II: Jedi Outcast

Hasta

9.99 €
5.99 €
40%
STAR WARS Jedi Knight: Jedi Academy

Hasta

23.99 €
14.39 €
40%
State of Anarchy: Master of Mayhem

Hasta

8.99 €
1.79 €
80%
State of Mind

Hasta

39.99 €
3.99 €
90%
STAY

Hasta

11.99 €
2.99 €
75%
Steam Tactics

Hasta

9.99 €
5.99 €
40%
SteamWorld Dig

Hasta

8.99 €
2.24 €
75%
SteamWorld Dig 2

Hasta

19.99 €
7.99 €
60%
SteamWorld Heist

Hasta

14.99 €
3.74 €
75%
STEEP

Hasta

19.99 €
9.99 €
50%
Stellaris: Console Edition - Deluxe Edition

Hasta

59.99 €
19.79 €
67%
Stellaris: Console Edition - Standard Edition

Hasta

39.99 €
13.19 €
67%
STELLATUM

Hasta

14.99 €
4.49 €
70%
Steredenn: Binary Stars

Hasta

12.99 €
3.24 €
75%
Stikbold! La aventura del balσn prisionero

Hasta

9.99 €
4.99 €
50%
Stranded Deep

Hasta

19.99 €
11.99 €
40%
Stranded Sails - Explorers of the Cursed Islands

Hasta

24.99 €
12.49 €
50%
Strange Brigade

Hasta

49.99 €
4.99 €
90%
Strange Brigade Deluxe Edition

Hasta

79.99 €
9.59 €
88%
Stranger Things 3: El juego

Hasta

17.99 €
8.99 €
50%
Street Outlaws: The List

Hasta

39.99 €
9.99 €
75%
Street Racer Underground

Hasta

5.99 €
4.19 €
30%
Stunt Kite Masters VR

Hasta

14.99 €
4.49 €
70%
Stunt Kite Party

Hasta

9.99 €
3.99 €
60%
Styx: Shards of Darkness

Hasta

19.99 €
3.99 €
80%
Subject 13

Hasta

6.99 €
1.39 €
80%
Sublevel Zero Redux

Hasta

19.99 €
5.99 €
70%
Subnautica

Hasta

29.99 €
19.49 €
35%
Summer Funland

Hasta

19.99 €
15.99 €
20%
Summer Sports Games

Hasta

24.99 €
12.49 €
50%
Super Blackjack Battle II - Turbo Edition - The Card Warriors

Hasta

7.99 €
2.39 €
70%
Super Blood Hockey

Hasta

14.99 €
7.49 €
50%
Super Cane Magic ZERO

Hasta

24.99 €
12.49 €
50%
Super Dodgeball Beats

Hasta

14.99 €
7.49 €
50%
Super Hyperactive Ninja

Hasta

7.99 €
1.99 €
75%
Super Night Riders

Hasta

4.99 €
2.49 €
50%
Super Pixel Racers

Hasta

12.99 €
5.84 €
55%
Super Skelemania

Hasta

4.99 €
2.49 €
50%
Super Soccer Blast

Hasta

7.99 €
3.99 €
50%
SUPER SPORTS BAR & FOOTBALL VR BUNDLE

Hasta

16.99 €
6.79 €
60%
Super Sports Blast

Hasta

24.99 €
17.49 €
30%
Super Stardust Ultra VR

Hasta

19.99 €
9.99 €
50%
Super Street: The Game

Hasta

24.99 €
9.99 €
60%
Super Tennis Blast

Hasta

14.99 €
7.49 €
50%
Super Time Force Ultra

Hasta

16.99 €
3.39 €
80%
Super Volley Blast

Hasta

9.99 €
4.99 €
50%
SUPERHOT

Hasta

24.99 €
9.99 €
60%
SUPERHOT MIND IS SOFTWARE BUNDLE

Hasta

39.99 €
15.99 €
60%
SUPERHOT ONE OF US BUNDLE

Hasta

39.99 €
19.99 €
50%
SUPERHOT VR

Hasta

24.99 €
9.99 €
60%
SUPERHOT: MIND CONTROL DELETE

Hasta

24.99 €
14.99 €
40%
Superliminal

Hasta

20.99 €
14.69 €
30%
Supermarket Shriek

Hasta

19.99 €
14.99 €
25%
SuperMash

Hasta

18.99 €
3.79 €
80%
Supraland

Hasta

19.99 €
14.99 €
25%
Surgeon Simulator A&E + I Am Bread

Hasta

19.99 €
3.59 €
82%
Surgeon Simulator: Anniversary Edition

Hasta

10.99 €
1.97 €
82%
Surgeon Simulator: Experience Reality

Hasta

19.99 €
5.99 €
70%
Survival

Hasta

9.99 €
2.49 €
75%
Surviving Mars

Hasta

29.99 €
8.99 €
70%
Surviving Mars - Digital Deluxe Edition

Hasta

39.99 €
11.99 €
70%
Surviving Mars - First Colony Edition

Hasta

64.99 €
19.49 €
70%
Sword & Fairy 6

Hasta

26.99 €
8.09 €
70%
Sword Art Online Re: Hollow Fragment

Hasta

19.99 €
4.99 €
75%
Swordbreaker The Game

Hasta

4.99 €
3.49 €
30%
Swordsman VR

Hasta

16.99 €
13.59 €
20%
Syberia 3

Hasta

49.99 €
29.99 €
40%
Table Tennis

Hasta

9.99 €
2.49 €
75%
Taimumari: Complete Edition

Hasta

4.99 €
3.49 €
30%
Tales of the Tiny Planet

Hasta

14.99 €
7.49 €
50%
Tales of Zestiria - Ediciσn digital estαndar

Hasta

29.99 €
7.49 €
75%
Tamarin

Hasta

29.99 €
23.99 €
20%
Tamarin : Deluxe Edition

Hasta

39.99 €
29.99 €
25%
Tango Fiesta

Hasta

9.99 €
2.99 €
70%
TEKKEN 7

Hasta

49.99 €
4.99 €
90%
TEKKEN 7 - Ultimate Edition

Hasta

99.99 €
19.99 €
80%
Telling Lies

Hasta

19.99 €
9.99 €
50%
Terra Bomber

Hasta

9.99 €
2.99 €
70%
Terra Lander

Hasta

9.99 €
2.99 €
70%
Terra Lander II - Rockslide Rescue

Hasta

9.99 €
2.99 €
70%
Tesla Force PS4 & PS5

Hasta

14.99 €
10.49 €
30%
Tesla vs Lovecraft

Hasta

14.99 €
2.24 €
85%
Tharsis

Hasta

15.99 €
9.59 €
40%
The Adventure Pals

Hasta

14.99 €
4.49 €
70%
The Adventures of 00 Dilly

Hasta

14.99 €
8.99 €
40%
The Bard's Tale: Remastered and Resnarkled

Hasta

9.99 €
2.49 €
75%
The BIT.TRIP

Hasta

9.99 €
6.99 €
30%
The Bluecoats: North & South

Hasta

29.99 €
23.99 €
20%
The Bradwell Conspiracy

Hasta

19.99 €
7.99 €
60%
The Bridge

Hasta

9.99 €
1.49 €
85%
The Bunker

Hasta

19.99 €
7.99 €
60%
THE COMPLETE SUPERHOT BUNDLE

Hasta

49.99 €
24.99 €
50%
The Complex

Hasta

12.99 €
9.74 €
25%
The Count Lucanor

Hasta

14.99 €
4.49 €
70%
The Crew 2 - Gold Edition

Hasta

89.99 €
17.99 €
80%
The Crew 2 Standard Edition

Hasta

49.99 €
9.99 €
80%
The Curious Tale of the Stolen Pets

Hasta

14.99 €
6.74 €
55%
The Dark Eye Bundle

Hasta

39.99 €
13.99 €
65%
The Dark Eye: Chains of Satinav

Hasta

19.99 €
14.99 €
25%
The Dark Eye: Memoria

Hasta

19.99 €
14.99 €
25%
The Dark Pictures Anthology: Man Of Medan

Hasta

29.99 €
9.89 €
67%
The Division 2 - Standard Edition

Hasta

29.99 €
9.89 €
67%
The Division 2: Ediciσn Seρores de la guerra de Nueva York

Hasta

59.99 €
38.99 €
35%
The Dwarves

Hasta

39.99 €
5.99 €
85%
The Elder Scrolls Online: Greymoor

Hasta

59.99 €
38.99 €
35%
The Elder Scrolls V: Skyrim Special Edition

Hasta

59.99 €
41.99 €
30%
The Escapists + The Escapists 2

Hasta

34.99 €
10.49 €
70%
The Escapists + The Escapists: The Walking Dead Collection

Hasta

24.99 €
4.99 €
80%
The Escapists 2

Hasta

21.99 €
5.49 €
75%
The Escapists: The Walking Dead

Hasta

17.99 €
3.59 €
80%
The Evil Within

Hasta

19.99 €
9.99 €
50%
The Exorcist: Legion VR - serie completa

Hasta

29.99 €
20.99 €
30%
The First Tree

Hasta

11.99 €
3.59 €
70%
The Fisherman - Fishing Planet

Hasta

59.99 €
23.99 €
60%
The Flame in the Flood: Complete Edition

Hasta

14.99 €
2.99 €
80%
The Gardens Between

Hasta

19.99 €
4.99 €
75%
The Giants Bundle

Hasta

29.99 €
10.49 €
65%
The Incredible Adventures of Van Helsing II

Hasta

14.99 €
2.99 €
80%
The Incredible Adventures of Van Helsing III

Hasta

14.99 €
6.74 €
55%
The Incredible Adventures of Van Helsing III Deluxe Edition

Hasta

16.99 €
8.49 €
50%
The Incredible Adventures of Van Helsing: Extended Edition

Hasta

19.99 €
3.99 €
80%
The Infectious Madness of Doctor Dekker

Hasta

12.99 €
5.84 €
55%
The Inner World

Hasta

14.99 €
2.99 €
80%
The Inner World - The Last Wind Monk

Hasta

19.99 €
6.99 €
65%
The Inpatient

Hasta

19.99 €
9.99 €
50%
The Journey Down Trilogy Bundle

Hasta

39.99 €
19.99 €
50%
The Journey Down: Chapter One

Hasta

6.99 €
4.89 €
30%
The Last Campfire

Hasta

14.99 €
10.49 €
30%
The Last Dead End

Hasta

5.49 €
3.84 €
30%
The Last Door - Complete Edition

Hasta

14.49 €
6.52 €
55%
THE LAST REMNANT Remastered

Hasta

19.99 €
9.99 €
50%
The Liar Princess and the Blind Prince

Hasta

19.99 €
9.99 €
50%
The Little Acre

Hasta

12.99 €
2.59 €
80%
The Long Dark

Hasta

24.99 €
12.49 €
50%
The Long Journey Home

Hasta

39.99 €
3.99 €
90%
The Long Reach

Hasta

14.99 €
4.49 €
70%
The Mage's Tale

Hasta

29.99 €
9.89 €
67%
The Mean Greens - Plastic Warfare

Hasta

19.99 €
9.99 €
50%
The Messenger

Hasta

19.99 €
9.99 €
50%
The MISSING J.J. Macfield and the Island of Memories

Hasta

24.99 €
12.49 €
50%
The Mooseman

Hasta

7.99 €
3.19 €
60%
The Ninja Saviors: Return of the Warriors

Hasta

19.99 €
9.99 €
50%
The Occupation

Hasta

29.99 €
17.99 €
40%
The Outer Worlds

Hasta

59.99 €
41.99 €
30%
The Padre

Hasta

19.99 €
7.99 €
60%
The Park

Hasta

12.99 €
5.19 €
60%
The Perfect Sniper (VR)

Hasta

9.99 €
6.99 €
30%
The Persistence

Hasta

29.99 €
14.99 €
50%
THE QUIET MAN

Hasta

14.99 €
3.74 €
75%
The Room VR: A Dark Matter

Hasta

29.99 €
20.09 €
33%
The Seven Deadly Sins: Knights of Britannia

Hasta

69.99 €
14.69 €
79%
The Sexy Brutale

Hasta

19.99 €
4.99 €
75%
The Shadow Warrior Collection

Hasta

59.99 €
14.99 €
75%
The Shapeshifting Detective

Hasta

12.99 €
7.14 €
45%
The Spectrum Retreat

Hasta

12.99 €
4.54 €
65%
The Survivalists

Hasta

24.99 €
18.74 €
25%
The Survivalists - Deluxe Edition

Hasta

26.31 €
17.62 €
33%
The Swords of Ditto: Mormo's Curse

Hasta

14.99 €
7.49 €
50%
The Talos Principle

Hasta

39.99 €
3.99 €
90%
The Technomancer

Hasta

19.99 €
3.99 €
80%
The Telltale Batman Shadows Edition

Hasta

29.99 €
14.99 €
50%
The Tower of Beatrice

Hasta

5.99 €
2.39 €
60%
The Town of Light

Hasta

19.99 €
2.99 €
85%
The True

Hasta

9.99 €
7.99 €
20%
The Unfinished Swan

Hasta

12.99 €
4.93 €
62%
The Unicorn Princess

Hasta

29.99 €
7.49 €
75%
The Vanishing of Ethan Carter

Hasta

18.99 €
3.79 €
80%
The Walker

Hasta

19.99 €
11.99 €
40%
The Walking Dead Onslaught

Hasta

29.99 €
16.49 €
45%
The Walking Dead: La temporada final: pase de temporada

Hasta

23.99 €
10.79 €
55%
The Walking Dead: Michonne - A Telltale Miniseries

Hasta

12.99 €
5.19 €
60%
The Walking Dead: Saints & Sinners - Standard Edition

Hasta

39.99 €
27.99 €
30%
The Walking Dead: Saints & Sinners - Tourist Edition

Hasta

49.99 €
34.99 €
30%
The Walking Dead: Saints & Sinners - Tourist Edition Upgrade

Hasta

9.99 €
6.99 €
30%
The Walking Dead: Season Two

Hasta

14.99 €
4.49 €
70%
The Walking Dead: The Complete First Season

Hasta

14.99 €
4.49 €
70%
The Walking Vegetables: Radical Edition

Hasta

12.99 €
3.89 €
70%
The Warriors

Hasta

14.99 €
8.99 €
40%
The Witcher 3: Wild Hunt

Hasta

29.99 €
5.99 €
80%
The Wolf Among Us

Hasta

14.99 €
7.49 €
50%
theHunter: Call of the Wild - 2021 Edition

Hasta

64.99 €
42.24 €
35%
TheNightfall

Hasta

29.99 €
11.99 €
60%
They Are Billions

Hasta

29.99 €
13.49 €
55%
Thief Simulator

Hasta

19.99 €
15.59 €
22%
Thimbleweed Park

Hasta

19.99 €
6.99 €
65%
This is the Zodiac Speaking

Hasta

19.99 €
11.99 €
40%
This War of Mine: The Little Ones

Hasta

19.99 €
3.99 €
80%
Thomas Was Alone

Hasta

7.99 €
1.19 €
85%
Those Who Remain

Hasta

19.99 €
14.99 €
25%
Thronebreaker: The Witcher Tales

Hasta

19.99 €
7.99 €
60%
Through the Darkest of Times

Hasta

14.99 €
11.24 €
25%
Tic-Tac-Letters by POWGI

Hasta

7.99 €
3.99 €
50%
Timber Tennis: Versus

Hasta

1.99 €
0.49 €
75%
Time Carnage

Hasta

19.99 €
7.99 €
60%
Time Recoil

Hasta

13.99 €
4.19 €
70%
Titan Quest

Hasta

29.99 €
10.49 €
65%
Titan Souls

Hasta

14.99 €
2.99 €
80%
Titanic VR

Hasta

19.99 €
11.99 €
40%
Toby: The Secret Mine

Hasta

14.99 €
3.74 €
75%
TOHU

Hasta

12.99 €
10.39 €
20%
TOKI

Hasta

19.99 €
3.99 €
80%
Tom Clancy's Ghost Recon Breakpoint - Gold Edition

Hasta

99.99 €
24.99 €
75%
Tom Clancy's Ghost Recon Breakpoint - Ultimate Edition

Hasta

119.99 €
29.99 €
75%
Tom Clancy's Ghost Recon Wildlands - Standard Edition

Hasta

49.99 €
14.99 €
70%
Tony Stewart's All-American Racing

Hasta

29.99 €
23.99 €
20%
Tools Up!

Hasta

19.99 €
9.99 €
50%
Toren

Hasta

9.99 €
1.99 €
80%
Torn

Hasta

29.99 €
10.49 €
65%
Totally Reliable Delivery Service

Hasta

14.99 €
7.49 €
50%
Totally Reliable Delivery Service Deluxe Edition

Hasta

23.99 €
11.99 €
50%
Touhou Double Focus

Hasta

19.99 €
1.99 €
90%
Touhou Genso Rondo: Bullet Ballet

Hasta

29.99 €
7.49 €
75%
Touhou Genso Wanderer Reloaded

Hasta

49.99 €
12.49 €
75%
Touhou Kobuto V: Burst Battle

Hasta

29.99 €
7.49 €
75%
Tower of Time

Hasta

24.99 €
14.99 €
40%
Townsmen - A Kingdom Rebuilt

Hasta

29.99 €
17.99 €
40%
Trailmakers

Hasta

29.99 €
22.49 €
25%
Train Sim World 2

Hasta

29.99 €
14.99 €
50%
Train Sim World 2020

Hasta

29.99 €
11.99 €
60%
Train Sim World 2020 Collector's Edition

Hasta

54.99 €
38.49 €
30%
Transcripted

Hasta

7.99 €
1.99 €
75%
TRANSFORMERS: CAMPO DE BATALLA

Hasta

39.99 €
23.99 €
40%
Trax

Hasta

14.99 €
3.74 €
75%
TrΓΌberbrook

Hasta

29.99 €
11.99 €
60%
Trials of Mana

Hasta

49.99 €
29.99 €
40%
Tricky Towers

Hasta

14.99 €
6.74 €
55%
Trine 4: The Nightmare Prince

Hasta

29.99 €
7.49 €
75%
Trine Trilogy

Hasta

29.99 €
7.49 €
75%
Trine: Ultimate Collection

Hasta

49.99 €
14.99 €
70%
Troll and I

Hasta

29.99 €
4.49 €
85%
Tropico 5 - Complete Collection

Hasta

34.99 €
14.69 €
58%
Trover Saves the Universe

Hasta

29.99 €
16.49 €
45%
Truck Driver

Hasta

39.99 €
27.99 €
30%
True Fear: Forsaken Souls - Part 1

Hasta

9.99 €
3.99 €
60%
True Fear: Forsaken Souls - Part 2

Hasta

9.99 €
3.99 €
60%
Trulon: The Shadow Engine

Hasta

19.99 €
5.99 €
70%
Tumblestone

Hasta

29.99 €
4.49 €
85%
Twilight Path

Hasta

14.99 €
10.49 €
30%
Twin Breaker: A Sacred Symbols Adventure

Hasta

10.99 €
6.04 €
45%
Twin Mirror

Hasta

29.99 €
19.79 €
34%
TY the Tasmanian Tiger HD

Hasta

26.99 €
17.81 €
34%
Type:Rider

Hasta

7.99 €
1.99 €
75%
Typoman

Hasta

9.99 €
2.99 €
70%
Typoman Ediciσn Deluxe

Hasta

12.99 €
3.89 €
70%
Ugly Dolls: Una aventura imperfecta

Hasta

39.99 €
5.99 €
85%
Ultimate Chicken Horse

Hasta

17.99 €
8.99 €
50%
Ultimate Edition de Tom Clancy's Ghost Recon Wildlands

Hasta

99.99 €
63.99 €
36%
Ultimate Fishing Simulator

Hasta

29.99 €
18.89 €
37%
ULTIMATE MARVEL VS. CAPCOM 3

Hasta

24.99 €
17.49 €
30%
Ultimate Runner

Hasta

14.99 €
7.49 €
50%
Una silla en una habitaciσn: Greenwater

Hasta

21.99 €
7.69 €
65%
UNBOX: NEWBIE'S ADVENTURE

Hasta

24.99 €
7.49 €
70%
Uncanny Valley

Hasta

14.49 €
2.89 €
80%
Uncharted Tides: Port Royal

Hasta

14.99 €
2.24 €
85%
Undead Horde PS4 & PS5

Hasta

16.99 €
5.09 €
70%
Underhero

Hasta

16.99 €
10.19 €
40%
Undertale

Hasta

14.99 €
10.49 €
30%
Unearthing Mars

Hasta

14.99 €
8.99 €
40%
Unearthing Mars 2: The Ancient War

Hasta

19.99 €
11.99 €
40%
UNO

Hasta

9.99 €
4.99 €
50%
UNO Ultimate Edition

Hasta

19.99 €
9.99 €
50%
Unravel Two

Hasta

19.99 €
3.99 €
80%
Unruly Heroes

Hasta

19.99 €
8.99 €
55%
Until Dawn

Hasta

19.99 €
9.99 €
50%
Until Dawn: Rush of Blood

Hasta

19.99 €
9.99 €
50%
Until You Fall

Hasta

24.99 €
18.74 €
25%
Untitled Goose Game

Hasta

19.99 €
13.99 €
30%
Unto The End

Hasta

24.99 €
19.99 €
20%
Use Your Words

Hasta

14.99 €
7.49 €
50%
Vacation Simulator

Hasta

32.99 €
21.44 €
35%
Valfaris Modo Metal

Hasta

24.99 €
13.74 €
45%
Valhalla Hills - Definitive Edition

Hasta

19.99 €
4.99 €
75%
Valley

Hasta

14.99 €
2.99 €
80%
Vambrace: Cold Soul

Hasta

24.99 €
9.99 €
60%
Vaporum

Hasta

29.99 €
11.99 €
60%
Vasilis

Hasta

4.99 €
2.49 €
50%
Vegas Party

Hasta

14.99 €
4.49 €
70%
Vera Blanc: Ghost In The Castle

Hasta

4.99 €
3.74 €
25%
Victor Vran

Hasta

19.99 €
4.99 €
75%
Victor Vran Overkill Edition

Hasta

39.99 €
9.99 €
75%
Visage

Hasta

34.99 €
26.24 €
25%
Void Bastards

Hasta

29.99 €
19.49 €
35%
void TRRLM(); //Void Terrarium

Hasta

24.99 €
14.99 €
40%
VR Ping Pong

Hasta

14.99 €
4.49 €
70%
VR Ping Pong Pro

Hasta

24.99 €
9.99 €
60%
VRobot

Hasta

14.99 €
8.24 €
45%
Wandersong

Hasta

19.99 €
4.99 €
75%
Warface: Breakout - Ediciσn Deluxe

Hasta

29.99 €
5.99 €
80%
Warface: Breakout - Ediciσn Ultimate

Hasta

44.99 €
26.99 €
40%
Warhammer 40,000: Inquisitor - Martyr

Hasta

39.99 €
7.99 €
80%
Warhammer 40,000: Inquisitor - Martyr Complete Collection

Hasta

89.99 €
17.99 €
80%
Warhammer 40,000: Inquisitor - Martyr Complete Upgrade Pack

Hasta

39.99 €
7.99 €
80%
Warhammer 40,000: Inquisitor - Martyr | Imperium edition

Hasta

54.99 €
10.99 €
80%
Warhammer: Chaosbane

Hasta

39.99 €
9.99 €
75%
Warhammer: Chaosbane - Magnus Edition

Hasta

49.99 €
12.49 €
75%
Warhammer: Vermintide 2 - Lote de Ultimate Edition

Hasta

54.99 €
16.49 €
70%
Warparty

Hasta

19.99 €
7.99 €
60%
WARSAW

Hasta

19.99 €
13.99 €
30%
Warzone VR

Hasta

15.99 €
7.99 €
50%
Wasteland 2: Director's Cut

Hasta

29.99 €
9.89 €
67%
Wasteland 3

Hasta

59.99 €
35.99 €
40%
Watch Dogs 2 - Ediciσn Gold

Hasta

109.99 €
68.19 €
38%
Wattam

Hasta

19.99 €
9.99 €
50%
We Are The Dwarves

Hasta

11.99 €
3.59 €
70%
We Happy Few

Hasta

69.99 €
17.49 €
75%
We. The Revolution

Hasta

23.99 €
7.19 €
70%
West of Dead

Hasta

19.99 €
12.99 €
35%
West of Dead Ediciσn La senda del Cuervo

Hasta

20.99 €
13.64 €
35%
What Remains of Edith Finch

Hasta

19.99 €
7.99 €
60%
Where Are My Friends?

Hasta

6.99 €
1.39 €
80%
Where the Water Tastes Like Wine

Hasta

23.99 €
5.99 €
75%
while True: learn()

Hasta

14.99 €
8.24 €
45%
Whipseey and the Lost Atlas

Hasta

5.99 €
1.19 €
80%
White Noise 2

Hasta

7.49 €
3.74 €
50%
Willy Jetman: AstromonkeyΒ΄s Revenge

Hasta

14.99 €
7.49 €
50%
Windbound

Hasta

29.99 €
17.99 €
40%
Windfolk: Sky is just the beginning

Hasta

14.99 €
8.99 €
40%
Winter Sports Games

Hasta

24.99 €
12.49 €
50%
Wintermoor Tactics Club

Hasta

19.99 €
13.19 €
34%
Witching Tower VR

Hasta

19.99 €
6.99 €
65%
Wizard of Legend

Hasta

15.99 €
6.39 €
60%
Woah Dave!

Hasta

3.99 €
2.99 €
25%
WonderBoyReturnsRemix

Hasta

9.99 €
4.99 €
50%
Word Maze by POWGI

Hasta

7.99 €
3.99 €
50%
Word Search by POWGI

Hasta

7.99 €
3.99 €
50%
Word Sudoku by POWGI

Hasta

7.99 €
3.99 €
50%
Word Wheel by POWGI

Hasta

7.99 €
3.99 €
50%
Wordsweeper by POWGI

Hasta

7.99 €
3.99 €
50%
WORLD OF FINAL FANTASY

Hasta

24.99 €
12.49 €
50%
World of Simulators Bundle

Hasta

49.99 €
19.99 €
60%
Worms Battlegrounds

Hasta

24.99 €
6.99 €
72%
Worms Battlegrounds + Worms W.M.D

Hasta

34.99 €
8.74 €
75%
Worms W.M.D

Hasta

29.99 €
7.49 €
75%
Wraith (VR)

Hasta

4.99 €
3.49 €
30%
WRC 6 FIA World Rally Championship

Hasta

19.99 €
2.99 €
85%
WRC 8 FIA World Rally Championship

Hasta

59.99 €
14.99 €
75%
Wreckfest: Drive Hard. Die Last.

Hasta

29.99 €
19.49 €
35%
Wuppo

Hasta

19.99 €
1.99 €
90%
WWE 2K Battlegrounds

Hasta

39.99 €
29.99 €
25%
XCOM 2 Collection

Hasta

89.99 €
53.99 €
40%
Xenon Racer

Hasta

29.99 €
2.99 €
90%
XIII

Hasta

49.99 €
42.49 €
15%
Yaga

Hasta

24.99 €
14.99 €
40%
Year 2 Gold Edition de Tom Clancy's Ghost Recon Wildlands

Hasta

69.99 €
45.49 €
35%
Yesterday Origins

Hasta

24.99 €
4.99 €
80%
YesterMorrow

Hasta

17.99 €
10.79 €
40%
YOGA MASTER

Hasta

24.99 €
19.99 €
20%
YOGA MASTER - Dreams Fantasy Bundle

Hasta

26.99 €
21.59 €
20%
YOGA MASTER - Magic Atmosphere Bundle

Hasta

26.99 €
21.59 €
20%
Yooka-Laylee

Hasta

39.99 €
7.99 €
80%
Yooka-Laylee and the Impossible Lair

Hasta

29.99 €
10.49 €
65%
Yooka-Laylee: Buddy Duo Bundle

Hasta

44.99 €
17.99 €
60%
Youtubers Life OMG

Hasta

29.99 €
17.99 €
40%
Ys VIII: Lacrimosa of DANA

Hasta

59.99 €
19.79 €
67%
Zenith

Hasta

19.99 €
5.99 €
70%
ZOMB

Hasta

10.99 €
2.74 €
75%
Zombie Vikings

Hasta

11.99 €
2.99 €
75%
Zotrix

Hasta

9.99 €
2.99 €
70%